Sacromonte in Granada – Authentic Gypsy Neighborhood and Flamenco Capital
The Sacromonte in Granada offers diverse geography, with mountain views, meadows and rivers, and ethnic variety, with Arabs, Jews, Spaniards and gypsies, along with a new type of house, the cave.
The Gypsies settled in Granada in the eighteenth century on the slopes of Cerro de San Miguel on the edge of the Camino del Sacromonte, the old route of the Guadix Muslims.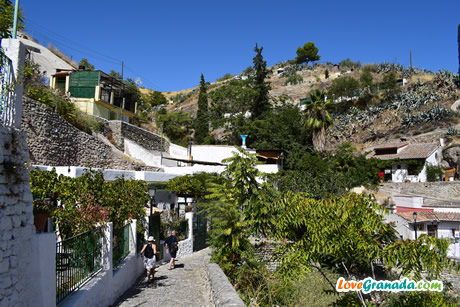 The Sacromonte offers views of indescribable beauty: the towers of
the Alhambra
, the white slopes of
the Albaycin
, the Valparaiso valley and the
River Darro
.
The caves of Sacromonte are grouped around ravines, forming what amounts to streets. There are caves of several categories. The best known to visitors are those devoted to Zambra: spacious, white and adorned with shiny copper pots.
These caves of Sacromonte in Granada are located near the road and are easily accessible. In the upper part of Sacromonte are the caves in better condition: they have an entrance also serving as a kitchen and dining area, and one or two bedrooms.
The caves of Sacromonte have for centuries been the home of gypsies, bohemians and Flemish artists.
The Gypsies, like the Jews, are a group that has preserved its pure racial identity over the centuries.
Although the performances of flamenco in Sacromonte are now commercial and directed primarily at groups of foreign tourists, it is a must to spend at least one night in a cave of the Sacromonte to watch a flamenco show.
Flamenco shows in Granada
You can visit the
flamenco show
in authentic and traditional Sacromonte caves of Sacromonte.
How to Get to Sacromonte
You can reach Sacromonte by bus number C34. For more information, see
Alhambra Bus
.
©
Copyright
• LoveGranada.com • The reproduction of the whole content or parts of it is prohibited
Personal data
protection policy
.
You Might Also Be Interested In