Sacromonte in Granada – Authentic Gypsy Neighborhood and Flamenco Capital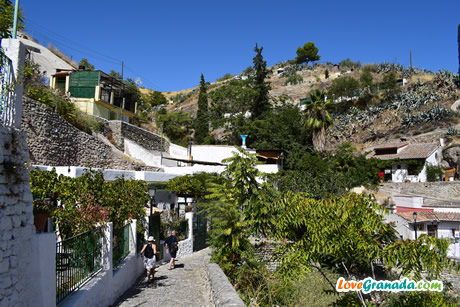 The
Sacromonte in Granada
offers diverse geography, with mountain views, meadows and rivers, and ethnic variety, with Arabs, Jews, Spaniards and gypsies, along with a new type of house, the cave.
☞
If you want to
enjoy a special visit
these guided tours offer unique opportunity to discover Granada.
☆
Alhambra + Albaicín + Sacromonte Tour
: a
combination of the complete tour
of the Alhambra (Palaces, Alcazaba, Generalife) + the Albaicín + the Sacromonte.
☆
Albaicin and Sacromonte Guided Tour
: discover this
old arab quarter
of Granada with this
guided tour
.
The Gypsies settled in Granada
in the eighteenth century
on the slopes of Cerro de San Miguel on the edge of the Camino del Sacromonte, the old route of the Guadix Muslims.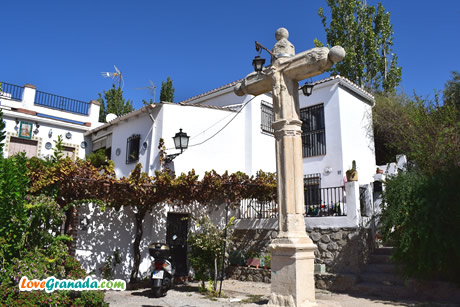 The
Sacromonte offers
views of indescribable beauty: the towers of
the Alhambra
, the white slopes of
the Albaycin
, the Valparaiso valley and the
River Darro
.
The caves of Sacromonte are
grouped around ravines
, forming what amounts to streets. There are caves of several categories.
The best known
to visitors are those devoted to Zambra: spacious, white and adorned with shiny copper pots.
These caves of Sacromonte in Granada are located near the road and are easily accessible.
In the upper part
of Sacromonte are the caves in better condition: they have an entrance also serving as a kitchen and dining area, and one or two bedrooms.
The caves of Sacromonte have for centuries been the home of gypsies, bohemians and Flemish artists.
The Gypsies, like the Jews, are a group that has preserved its pure racial identity over the centuries.
Although the performances of flamenco in Sacromonte
are now commercial
and directed primarily at groups of foreign tourists, it is a must to spend at least one night in a cave of the Sacromonte to watch a flamenco show.
Flamenco shows in Granada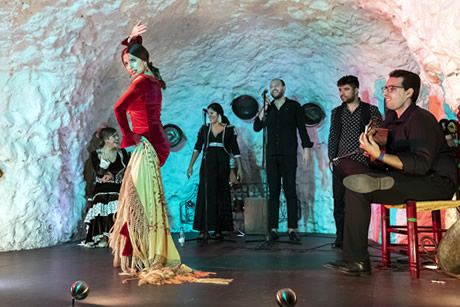 There are many places and caves that offer flamenco shows in Sacromonte.
How to Get to Sacromonte
You can reach Sacromonte by bus number C34. For more information, see
Alhambra Bus
.
You Might Also Be Interested In
Page Updated: Aug 13, 2020
©
Copyright
• LoveGranada.com • Any use of the content, including copying of it in whole or in part is prohibited.
Opinions about Sacromonte in Granada
Beautiful Sacromonte
The Sacromonte quarter is amazing. A very recommended visit.
Take the minibus up to the Abbey and enjoy the most amazing views of Granada and the Alhambra. Then walk your way back and see the beautifully decorated caves, but don´t accept any invitation to visit private homes.
There are many caves open to the public as restaurants or flamenco night shows. They display clear signs at the door and sell official tickets.