Alcaiceria in Granada – an Ancient Arab Market near the Cathedral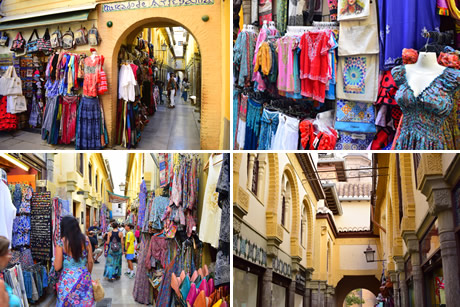 The Alcaicería street is located next to the Cathedral, running from the Plaza Alonso Cano to the Ermita street. It is a commercial area full of small shops, mostly dedicated to the sale of souvenirs and handicrafts from Granada.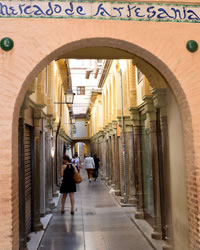 The whole neighbourhood of the Alcaiceria once was an Arab marketplace but was almost completely destroyed in a fire in 1843.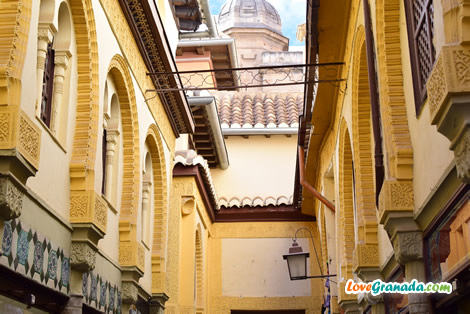 Its name comes from the Arabic word al-qaysariya, which means a commercial institution. It is also said to be related to the name of Caesar, to whom the Arabs were grateful for allowing them to trade in silk.
The Alcaicería was founded in the 14th century next to the Great Mosque in the time of Muhammad V. It was accessed through nine doors that were closed at night to protect it.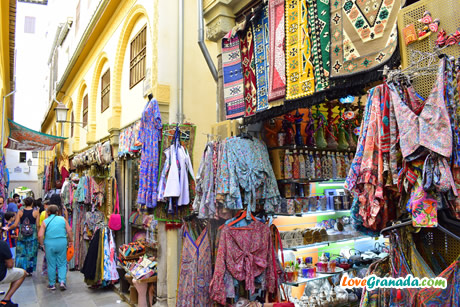 It was a closed and well-protected marketplace owned by the monarch after the conquest, where taxes where collected and high-priced goods were sold: silk, silverware and sumptuous clothing, the sale of which was prohibited outside the market.
It was closed at night with solid doors, and inside only the warden and the guards remained. In the 16th century it had almost 200 small shops.
In the 17th century significant changes took place, all kinds of silk, woven and hank, gold, cloth, linen and other goods were sold in the Alcaicería.
Its govenor's guards were watching it with dogs at night, opened it during day time and took care of its cleanliness.
At night, not just all the establishments were closed but also the surrounding houses shutted their doors with bars to prevent theft, and the guard went on a thorough round, leaving only two of them inside and the warden with the dogs.
In the 18th century the silk culture suffered a setback and some shops were not rented.
The enclosure was divided into two parts: one, with the silk wholesale markets or shops, and the other, with the jellies, the customs and their offices.
Thus, liners, scribes and other shops unrelated to the art of silk were set up. An emblematic place that you will not forget.
How to get there and where is the Alcaicería located?
Lines 4, 8, 11, 21, 33, C31, C32, C34 of the city buses pass through Gran Vía, which is next to Alcaicería street.
It is located in the historical center of Granada, next to the famous
Bib Rambla square
, the Cathedral and the Royal Chapel, and its network of narrow streets, its beautiful decoration and its form reminds us that we are in the old souk or Arab market.
Page Updated: August 14, 2020
©
Copyright
• LoveGranada.com • The reproduction of the whole content or parts of it is prohibited
Personal data
protection policy
.
Opinions about Alcaiceria in Granada
No reviews yet.

Please send your suggestions and thoughts. Your opinion will be of great help to other visitors.