Sacromonte Caves Museum - Culture, Nature and History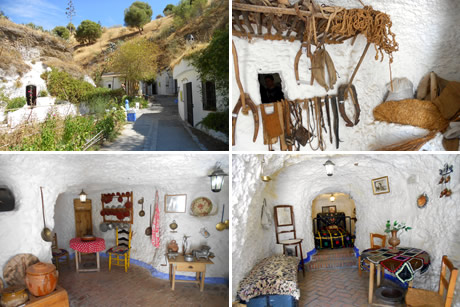 This Ethnographic Museum helps you to understand the history, culture and nature of such a
unique neighborhood in Granada
.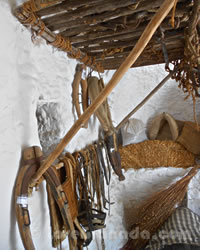 ☞
If you want to
enjoy a special visit
these guided tours offer unique opportunity to discover Granada.
☆
Alhambra + Albaicín + Sacromonte Tour
: a
combination of the complete tour
of the Alhambra (Palaces, Alcazaba, Generalife) + the Albaicín + the Sacromonte.
☆
Albaicin and Sacromonte Guided Tour
: discover this
old arab quarter
of Granada with this
guided tour
.
The
Sacromonte Caves Museum
is
located in the Barranco de los Negros
, in the Sacromonte district, and it offers
stunning views of the Alhambra
and the Darro Valley (Valparaiso). It is very close to the historic Albaicín district, World Heritage site.
In this museum
ten caves
have been
recreated as they were 100 years ago
, so visitors can learn about the living conditions and trades of its inhabitants.
You can also learn about the origins of flamenco here, in the Sacromonte.
A part of the museum is dedicated to Nature, offering information about flora, fauna, climate, landscape and agriculture of the area.
There are
many cultural activities
and events taking place here during the year: guided tours (only in Spanish), walking tours in the area, flamenco live shows and summer cinema. Check the programme before your visit.
Entrance Fees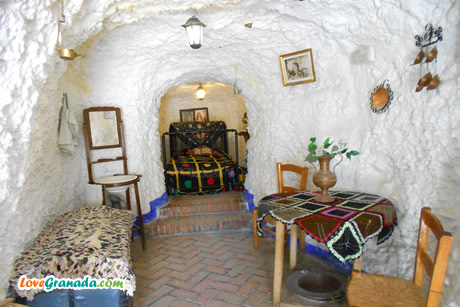 General ticket
: 5 euros.
For groups
(+10 people): 3 euros per person.
Guided tours
(minimum 2 people): 30 euros. 3 people: 45 euros. 4 to 10 people: 50 euros. Over 10 people: 5 euros per person.
Walking tours
in the area (there are different itineraries and subjects): 1 - 10 people 100 euros; + 10 people 10 euros per person.
During the summer you can enjoy the outdoors
flamenco shows and cinema
in the Museum of Sacromonte.
Sacromonte Museum Opening Hours
Summer Time
From 15th of March to 14th of October: from 10:00 to 20:00 (every day).
Winter Time
From 15th of October to 14th of March: from 10:00 to 18:00 (every day).
The visit can last about an hour, but you can stay as long as you wish.
Contact Details and How to Get to the Museum of Sacromonte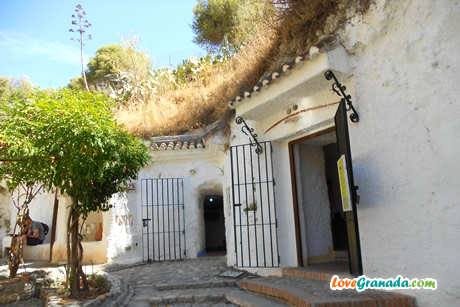 You can
reach the Sacromonte Museum
on the bus C34, leaving from Plaza Isabel Católica (near the Cathedral) and get off at 'Sacromonte 2'.
Or you can take bus C1 which goes to Albaicin, get off at 'Peso de la Harina' and walk a little, stunning views are worth the effort.
Taxi will cost you around 8 euros from the Cathedral.
Address
: Barranco de los Negros s/n, 18010 Granada, Spain. Phone: 958 215 120.
More Information in
Sacromonte Buses
.
You Might Also Be Interested In
Page Updated: May 17, 2022
©
Copyright
• LoveGranada.com • Any use of the content, including copying of it in whole or in part is prohibited.
Opinions about Sacromonte Museum in Granada
A must see museum in Granada
Sacromonte Museum shows how the gypsies in Sacromonte lived (actually some of them are still living in the caves in this area), the history of flamenco and the history of the region. The museum has several little caves carved in stone painted in white.
It's a bit of walk uphill to reach the museum but the views on the way are amazing. This is a must see museum, probably there is no other city in Spain that has the museum about gypsies life, at least of this size.
Very good information posters
The museum gives you a good idea of how people lived in Sacromonte. Very good information provided, not just a simple sign with the name of the cave but very detailed descriptive information in English, you do not need to buy a book to learn about the history of this area.
Museum has about 10 caves, each cave shows a different aspect of gypsies' life.
It's a 20 minutes' walk uphill to get there starting from Paseo de los Tristes, if you are not fit probable it is better to take a bus or a taxi. If you walk, take some water and bring your walking shoes.
Great museum and fantastic view of the Alhambra
The museum is located in Sacromonte district, the birthplace of Flamenco, on the hill overlooking the Alhambra. You can go to Plaza de San Nicolas in the Albaicin (also up the hill) first and then visit the museum, so you would need to climb twice.
Lots of written information in English and signs so you need at least an hour to see and read everything. People actually lived in these caves until recently.
The entry fee is 5 euros, very reasonable price.
There is also a nice snack bar, so you can have a cold beer and enjoy the fantastic view of the Alhambra and the mountains.
Authentic caves inside the rock
The Sacromonte is an authentic district that hasn't change much during several centuries.
The museum shows 11 houses caved inside the rock with beds, furniture, traditional crafts, tools for farming and other elements of everyday life.
Also you can enjoy amazing view of Granada and the Alhambra.
Practical advice
Unique museum. Here you can learn about the history of its people, the history of flamenco, the development of the cave houses and everyday life of gypsies.
If you have a car, do not drive; do not risk getting a fine, this area is full of restricted zones only local residents to pass through. Just take a bus or a taxi.
Taxi would cost you 6-8 euros from the centre of Granada, if you are a family of four it would be almost the same as paying 4 bus tickets.