The Generalife of Granada - History, Prices, Opening Hours of the Gardens
The Generalife and the
Alhambra have reopened on 17th June 2020
with capacity restrictions and other necessary safety measures. The use of face masks is required.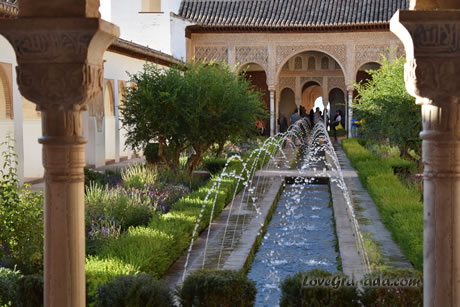 What is the Generalife?
The Generalife are the only example of Arab art which gives us an approximate idea of how these gardens used to be, where the Arab spirit, in all its sensually instinctive and improvised construction, was finally carried away.
History of Generalife
The name 'Generalife' means 'garden of the architect'. The Generalife is located on the hill Cerro del Sol, adjacent to the
Alhambra
. Originally it was most probably an architect's house that later passed to the royal family and was remodelled.
The Generalife is composed of a series of large gardens, where every corner holds a novelty and a pleasant surprise for the eyes, with a minimum of obtrusive buildings.
Some buildings within the Generalife are 'parasitic' structures, the work of later Christian hands, such as the West Gallery in the eastern part of the gardens, and two levels that rise at the northern headwall.
The Patio is the true heart of the Generalife. Here, Arab sensuality becomes sparse yet spiritual.
The most beautiful and striking features in the Generalife gardens are the plants, the water with its continuous interplay with light, and its sounds.
Where to Buy Tickets to the Generalife and Opening Hours
Find information on purchasing entrances to the Generalife in
Alhambra Tickets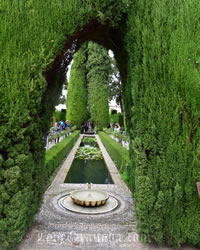 There are nighttime and daytime visits, to see more information about these visits see
Alhambra opening hours
page.
Generalife Entrance Prices
▸ General admission (Alhambra and Generalife): 14,00 euros.
▸ Generalife (Alcazaba and gardens): 7,00 euros.
▸ Generalife at night: 8 euros.
▸ Children under 12 years old and disabled: free.
There is a fee of 0,42 - 0,85 euros per ticket, if you are buying on the Internet.
Information and the Generalife Tickets
Find more information about how to buy the Generalife and the Alhambra tickets
here
.
When the tickets to the Alhambra are sold out, there are other options to get a ticket. See all information in
what to do when the tickets are sold out?
If you you'd like to
discover the incredible history, architecture and legends
of the Alhambra and the Generalife you can choose a
Alhambra Guided Tour
. This tour
incudes all
the Palaces, Alcazaba and Generalife.
Page Updated: August 06, 2020
©
Copyright
• LoveGranada.com • The reproduction of the whole content or parts of it is prohibited
Personal data
protection policy
.
Opinions about Generalife Gardens
Wonderful time visiting the Generalife
The Generalife gardens are out of this world, magic place, a beautiful mix of small pools, fountains, plants and beautiful flowers. It's better to arrive early morning when its more peaceful, less people around.