Granada City in Spain - Population, Geography, Weather and Other Facts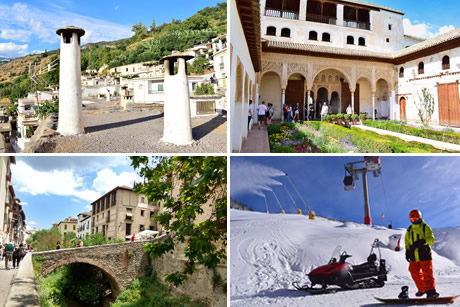 Granada
(not Grenada, Grenada is a country in the Caribbean) is in the south of Spain and is capital of the province known by the same name, with a population of
265,000 inhabitants
and is located at the foot of Sierra Nevada.
Location and Distances
Distances to Granada by road from various Spanish cities: Madrid, 433 km; Cadiz, 454 km; Malaga, 128 km; Seville, 251 km.
Granada's airport
is 15 km away from the city on the road to Malaga. Sierra Nevada is 30 km and Granada tropical coast is 65 km away from the city.
Granada's Climate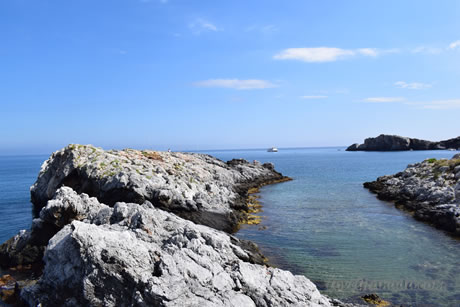 Granada's
climate is friendly and dry, the air clean and healthy, with clear and cheerful skies. Strong winds, fog and snow are rare.
The Granada region offers Spain's richest variety of climate and landscape, from the alpine vegetation of the
Sierra Nevada
to the
tropical coast
of Motril, where winter temperatures average 15 C while some villages in the Sierra experience minus 10 C.
Perhaps no other region on the peninsula has such contrasting and manifold variety, unfolding at the foot of snow-topped mountains with the best skiing slopes and rich fertile plains, such as those mentioned for Granada and Motril, and those of Loja, Guadix and Baza.
Granada's Geography
Granada
is situated at the foot of the Sierra Nevada between two hills, separated by the Darro Valley, which cast their views over the wide vega. The
River Darro
flows through the centre of the city, dividing the hills of
Sacromonte
and
Albaycin
, that of
the Alhambra
.
Granada's mountains
Granada
offers some of Europe's highest mountains, the
Sierra Nevada
being
the principal mountain range whose peaks are snow covered all year; they reach their maximum altitude in Mulhacen (3,481 m), Veleta (3,470 m) and Alcazaba (3,314 m).
Temperatures in Granada, Spain
The mean annual temperature is 14C, maximum 40C and minimum 4C. Rain is heaviest in November, March and April. The most stable temperatures are during spring and autumn, which are the best times of the year to visit the city.
Flora and Fauna
Animal life is diverse due to the varied habitats. Wolves, foxes, and large predators such as royal eagles, vultures and hawks exist in mountainous parts.
Granada's
flora comprises a wonderful botanical mix, with tropical plants growing but a short distance from alpine slopes.
Do people leave tips in Granada?
In Granada, service is already included in the bill, so it is not a must to leave a tip. However, you may wish to leave something if you are happy with the service. People sometimes leave loose change. Related information
Eating Out
Granada's Coast
The coast is the most limited zone of the litoral region, rising moderately towards Malaga and with beaches such as Almunecar, Salobrena and Motril. The main rivers of the province are the Genil and the Guadalfeo.
Best time of the year to visit Granada
Granada
is ideal for visiting all year round. July and August temperatures average 35 C, sometimes reaching 40 C. However, the nights are usually comfortable but chilly.
During the summer months, Granada's provincial array of beaches offers a more refreshing option.
In winter, the arrival of snow in the Sierra Nevada leaves a most beautiful mark on Granada. It is then that winter sports are practised in the ski resorts.
Business opening hours in Granada
Granada shops
usually open at 10 a.m. and close between 1.30 and 2 p.m., opening again between 4.30 and 5 p.m. In winter (a little later in summer) and closing finally at 8.30 p.m. (9 p.m. in summer).
They are closed on Sundays and feast days and occasionally on Saturday afternoons, with the exception of the larger department stores which open on some Sundays during the year, at Christmas and during the Sales.
Bars and restaurants
serving food and tapas open around 1 p.m. and close about 4 p.m. Evening opening times are about 8 p.m. and closing time is between 11.30 p.m. and midnight.
Bars
serve tapas while the kitchens are open, more or less within the above hours. Cafeterias or bars serving breakfast open very early, some even before 7 a.m. and others a little later. They may close at midday (if it is only a cafeteria and not a bar), between 1.30 and 3 p.m., and re-open for coffee around 3.30 p.m., remaining open until 8.30 or 9 p.m.
What is the frequency of bus services and their timetables?
To see a map of each route with its stops, frequency, and first and last buses, visit
Granada Buses
.
Timetables often change, so it is preferable to call Transportes Rober Customer Services free on 900 710 900, lines open from 7 a.m. to midnight 7 days a week.
Here you can find out about timetables, journeys, fares and any other information on
Granada's urban bus network
.
Medical attention in Granada
Granada
has good hospitals and medical services. Anyone from the European Union visiting Granada receives free medical treatment, providing they have form E-111/128 with them. Visitors from beyond the European Union are advised to obtain travel insurance before leaving their country.
Is smoking allowed in public places?
Spanish legislation prohibits smoking in enclosed public places.
How to reach Granada from the airport?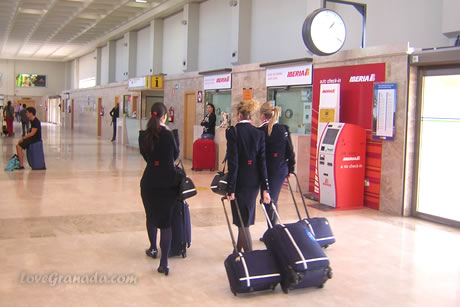 There is a
bus service
from
the airport
to central Granada.
The journey lasts around 50 minutes depending on the time of day, since traffic levels vary and the bus makes several stops in the city centre.
You can also reach the centre of Granada from the airport by
taxi
, which costs around 25 to 30 euros.
Lost property on Granada's buses
The Customer Service and Lost Property Office of Granada's bus company is situated in Calle Joaquin Costa 4, Bajo.
Telephone: 958 22 04 50. From here you can get bus maps, collect lost property found on Granada's buses, make comments, suggestions or complaints on transport services, request a youth pass or recharge your ticket.
Are there bus passes for travel in Granada?
There are passes called
City Pass
and
CrediBus
which the visitor can use when travelling by bus in Granada. More information in
bus fairs
©
Copyright
•
LoveGranada.com • The reproduction of the whole content or parts of it is prohibited
Personal data
protection policy
.
You Might Also Be Interested In
Opinions about Granada
Really enjoyed the trip
I recently visited Granada, Cordoba and Malaga for 4 days and really enjoyed the trip. It was good to see various historical places which are well looked after. I wish I had more time but hopefully I will get another opportunity in the future. Make sure you get Granada card because it's really worth it (Az).