Alhambra Parking - Prices, Location and How to Get There
The car park of the Alhambra has 500 spaces and is guarded 24 hours a day. There are four zones, one for buses and caravans, this is the first one you encounter.
The prices are: 6.35 euros for 3 hours, 8.15 euros for 4 hours, taking into account that to see the Alhambra at ease requires at least three hours, and if you decide to walk around the grounds and have a drink to relax, you can pay more for the parking fees than for the price of an Alhambra entrance ticket.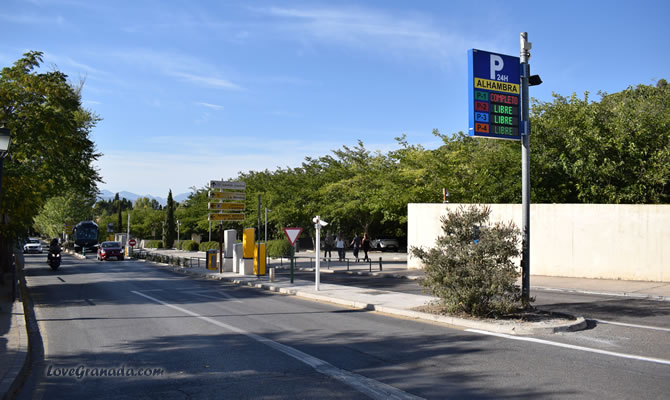 The Alhambra Parking Prices for the Cars and Buses, Year 2020
The last is the closest to the entrance to the Generalife and is right next to
the Alhambra
entrance where you buy the tickets. This is the parking area which is filled first.
Hours
Price for Cars
Price for Buses
Maximum/day
18.85 €
30.50 €
* The prices are the same in summer and winter.

* Price of motorhomes is the same as for buses.

* You can leave cars, buses and motorhomes at night.


Map of the Alhambra Parking Zones
How To Get To The Alhambra Parking from Granada
The Alhambra parking area is reached by the new access from the Ronda Sur. From this road there are beautiful views of Granada and a very attractive viewing point.
Once you reach the end of the road, you will find a roundabout, to the right of which is the cemetery and to the left
the Generalife
and the Alhambra parking facility.
Location of the Alhambra Parking
©
Copyright
• LoveGranada.com • The reproduction of the whole content or parts of it is prohibited
Personal data
protection policy
.
You Might Also Be Interested In
Opinions About Alhambra Parking
Alhambra Parking
Be sure to bring your parking ticket with you after you park. You muct pay for parking at one of the automats. Automats accept bills and coins but you have 10 minutes after you pay your parking to get your car out of the parking lot.
I am not sure what happens if you don't make it but I am sure it is going to cost you more money one way or another. One other thing to mention, the Alhamara does not accept credit cards unless you have a pin for your credit card.
Neither the auto ticket machines nor the cashiers would accept a credit card unless you had a pin. I missed visiting because I did not have enough cash for the entrance and the parking and my credit card does not have a pin.