Triunfo Gardens in Granada - Beautiful Gardens with Colourful Fountains
Until the seventeenth century, the Triunfo (Triumph) Gardens in Granada were one of the most
important districts of Granada
where many of the
important festivals in Granada
were celebrated.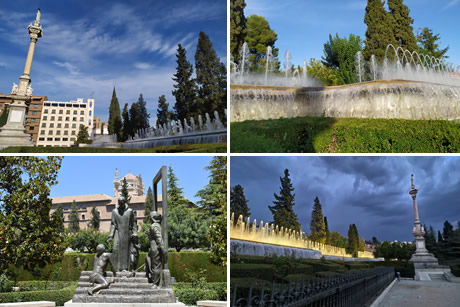 The Triunfo Gardens was originally a large Arab cemetery, founded in the thirteenth century. A strong wall enclosed the cemetery and there was a tower at the entrance of each of the access roads.
On the one side the gardens, the compound was joined to the fortifications of the
Albaicin
, and the other side was linked with the outskirts of Granada.
Through the centuries the population grew and many buildings were built in the
early sixteenth century
, with whole right side of the Triunfo Gardens being urbanized.
During French rule, many Spanish patriots were in hanged and shot in the Triunfo Gardens, and it remained a place of public execution until 1840.
In 1856, Mayor D. Manuel Gadea and Subiza transformed the squalid place into a small park, with gardens and fountains. The opening of the Gran Vía de Colón, and its subsequent expansion changed the face of the Triunfo Gardens.
The architect Antonio Flores demolished the gardens, leaving only the isolated column of the monument to the Virgin until it was moved in 1960. The new Triunfo Gardens were created on the site formerly occupied by the old Plaza de Toros.
How to get to the Triunfo Gardens
You can reach the Triunfo Gardens by bus routes 4, 8, 11, 21, 33, N8, N9, for more information please visit
Granada Buses
.
©
Copyright
• LoveGranada.com • The reproduction of the whole content or parts of it is prohibited
Personal data
protection policy
.
You Might Also Be Interested In