Sierra Nevada Hotels Comparison - Hotels with Gym, Sauna, Jacuzzi and Pool
There is a wide range of hotels in Sierra Nevada. You are more likely to find
good deals at the beginning of the season and in the spring
, although the skiable surface and quality of snow might not be so good at this time of the year.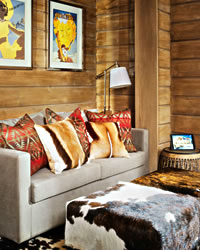 A
good way to get to know Granada
and its history is
by taking a tour
. There are several interesting
free and private
tours offered by Civitatis:
Free Tour of Granada
: What better way to get to know the hisotric centre of Granada than on a
free walking tour
with a local expert guide?!
Private Tour of Granada
: Discover the hidden treasures and secrets of Granada
exclusively just for you
and your partner, friends, or family.
It is advisable to book a hotel in advance. During high season it is difficult to find available rooms in
Sierra Nevada
, especially for weekends, bank holidays,
Christmas Eve
and New Year.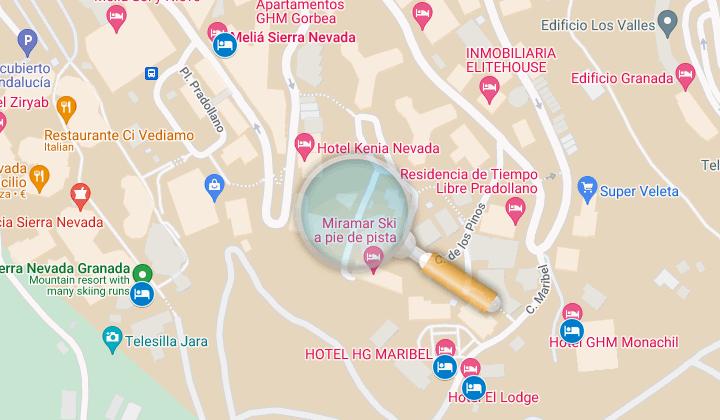 We have made a
selection of the most popular hotels in Sierra Nevada
, with a list of prices and services they offer. This will help you compare different hotels, but bear in mind that the prices that appear on it may vary.
Comparison of Sierra Nevada Hotel Prices
During the winter season prices vary according to the date of entry and the type of hotel.
High season starts
in Sierra Nevada in December and lasts until February. During this time you might find special offers during weekdays.
El Lodge
*****
290-2000
yes, free
Vincci Rumaykiyya
*****
250-2000
28 €/day
Telecabina Montana
**
60-700
no, public parking
Meliá Sierra Nevada
****
100-450
24 €/día
HG Maribel
****
150-220
25 €/day
December is usually the peak season, specially during the Christmas holidays, which in Spain lasts until the 6th of January.
Comparison of Hotel Facilities and Services
In Sierra Nevada most hotels provide services such as, ski storage, ski rental and ski classes. Some of them can even get the ski passes for you. Sometimes, hotels offer a courtesy service that allows guests to ski the same day they are checking out.
Slopes
Restaurant
Sauna
Pool
El Lodge
next to slopes
yes
yes
yes, heated
Telecabina Montana
next to slopes
yes
no
no
Meliá Sierra Nevada
next to slopes
yes
yes
no
HG Maribel
next to slopes
yes
yes
no
Vincci Rumaykiyya
next to slopes
yes
yes
no
Some hotels in Sierra Nevada have direct access to the ski slopes, so you can ski out. However, the ski in/ski out service is only appropriate for experienced skiers.
If you are a beginner, you should use the hotel bus service to access the ski lifts.
Hotel El Lodge in Sierra Nevada(*****)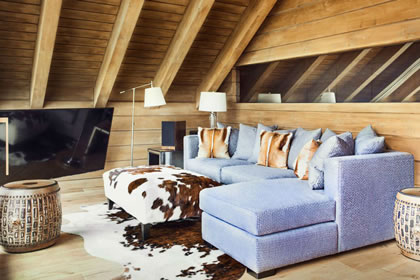 A small
luxury hotel
with Nordic decoration, which makes it very cozy and warm.
It is the most expensive hotel in Sierra Nevada, not everybody can afford a hotel room for 300 euros o more a night, but you will get value for your money.
Some rooms have own jacuzzi, there is the spa area inside the hotel, a heated outdoor pool, large jacuzzi bathtub and sauna. Very calming wood interior interior decoration.
Located next to the ski slopes so that you can go skiing directly from the terrace to Maribel y Aguila ski slopes.
Services and Facilities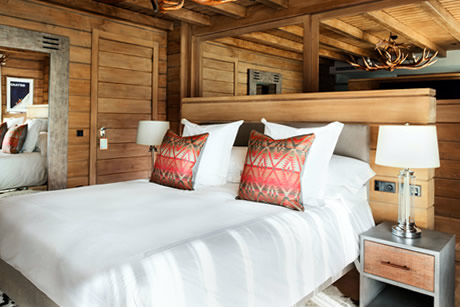 It has a games room for children and offers many activities like table pool, gym, spa, heated swimming pool and sundeck.
The
terrace is prepared for winter
, equipped with small shovels, blankets and you can eat something or have a cocktail while enjoying the stunning views of the Sierra Nevada mountains.
The hotel offers transportation to take you to the
ski lifts
and
entertainment area
, and free parking.
El Lodge Prices, Year 2021/22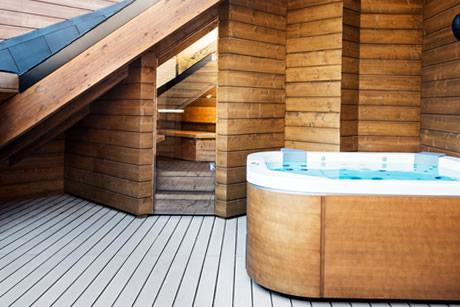 The room prices will not fall below
300 euros
a night and you have to book well in advance, as it has very few rooms and is always busy.
Contact Details and Reservations
Enquiries and reservations: 958 480 600. Email: reservas@ellodge.com
Hotel Telecabina Montana (**)
This 2 star hotel is located in the city center station, in the Plaza de Andalucia, near the Al-Andalus cable car.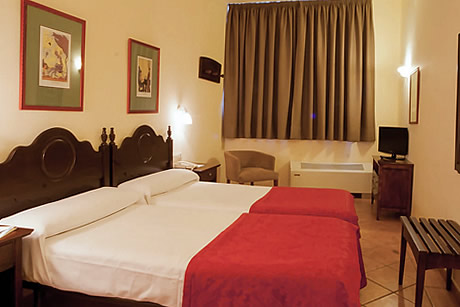 The 2-star rating in our opinion is too low. The furniture is a bit dated but this hotel deserves a three star level.
The rooms are very comfortable, clean and spacious with big windows, staff are very friendly and helpful. Try to get a room towards the square for fabulous mountain views.
Nice restaurant, bar and cafe on the ground floor. A large TV room on the first floor with sofas.
Very good location, right in the heart of Pradollano, close to the shops and restaurants, very short walking distance to the skilifts.
Services and Facilities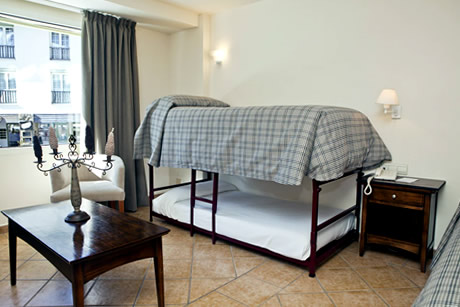 It has direct access from the
public car park
, which makes it particularly recommended if you use a wheelchair or pushchair.
From your car to the elevator and from the elevator to the hotel directly, without going outside.
Hotel guests have a 20% discount on parking, ski rental and ski passes. Ask at reception.
On departure day the hotel offers a free "courtesy service" that allows you to enjoy the snow until the last minute, take a shower and live your luggage until you go home.
Ski-lockers free of charge.
Telecabina Montana Prices, Year 2021/22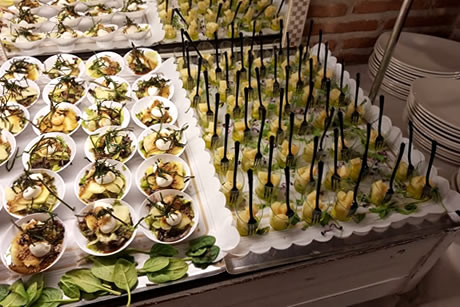 The prices range from
60 to 300 euros
but the price can go up to 600 euros on Christmas day and New Yaer Eve. The most common price is 130-180 euros per person.
Contact Details and Reservations
Tel: +34 958 482 000. Email: htelecabina@cetursa.es
Hotel Melia Sierra Nevada (****)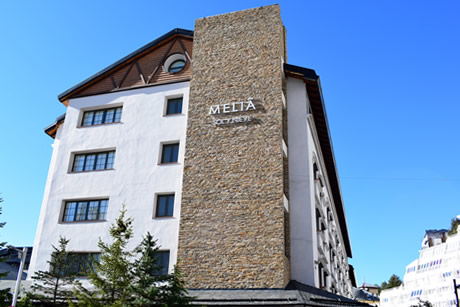 Four-star hotel is located in the center of the
Sierra Nevada ski resort
, in the Pradollano.
Near to both main lifts (only 200m from the Gondola), restaurants, bars and shops.
The rooms are clean, spacious and modern. Some with lovely full or partial views of the Sierra Nevada mountains, the slopes and the pine trees.
Breakfast with wide choices: fresh juice and fruits, cheeses, omelettes, hams, sausages, etc.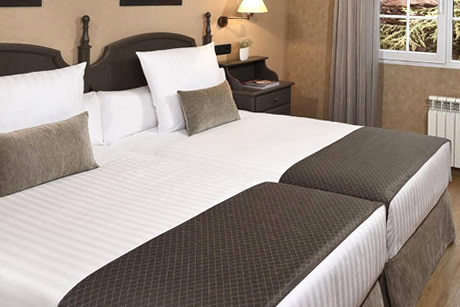 Good dinner buffet for 40 euro for adult and 28 euro for children, plenty of selection, fish, meat and sea food. If you are looking for a more economical option there are
cheaper restaurants in the village
.
Services and Facilities
It has a jacuzzi, Turkish bath, lovely pool sauna, video games, billiards and table football. Underground car park.
A variety of
activities for kids
are available at the hotel.
It also has a storage room where clients can keep their
ski equipment
for free.
Melia Sierra Nevada Prices, Year 2021/22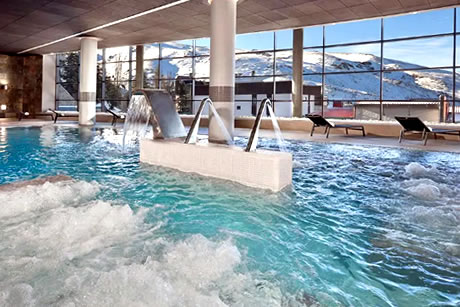 The
lowest price
per person per night is from 100 euros in the ski season but the more common price is around 180 euros or more per night.
In April prices fall considerably: from
65 euros
per person.
The price of the parking is 25 euros a day.
Contact Details and Reservations
Hotel Reservations: tel. 902 144 440. Email: melia.sierra.nevada@melia.com
Hotel HG Maribel Sierra Nevada (****)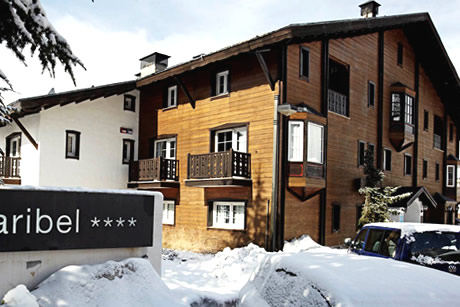 It has a bus service for its customers to and from the lifts until 17:30.
It is a small four-star hotel in Sierra Nevada integrated in the ski slopes, with only 31 rooms, most of the rooms face the slopes.
Services and Facilities
The hotel has a
health club
with views of the Sierra Nevada offering sauna sessions for 13.50 euros, jacuzzi sessions for 15 euros, and massage.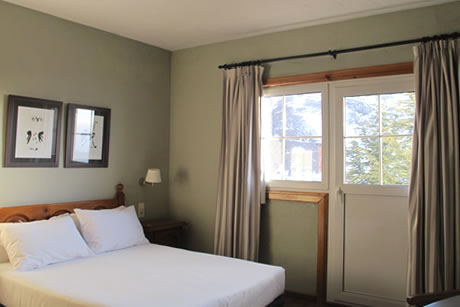 It has a restaurant, café and bar. A dinner costs 20 euros for an adult without drinks.
The breakfast is basic, limited selection, but of good quality: eggs, ham, cheese, fresh juice, pastries, etc.
It also has a nice little bar with seated area and open fire in the corner.
It also offers storage for ski equipment and laundry, and has easy access for the disabled.
HG Maribel Sierra Nevada Prices, Year 2021/22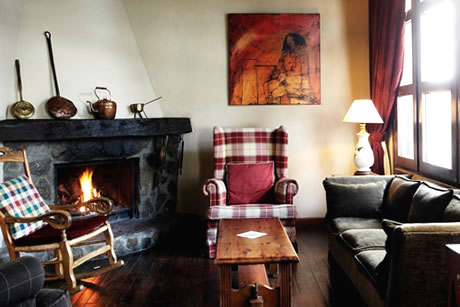 Prices from
100 euros
in ski season. Double room Bed and Breakfast is from 110 euros, double room half board from 130 euros per night.
Contact Details and Reservations
Reservations and offers: tel. 902 205 902. Email: hgmaribel@grupohg.com
Vincci Rumaykiyya Selection (*****)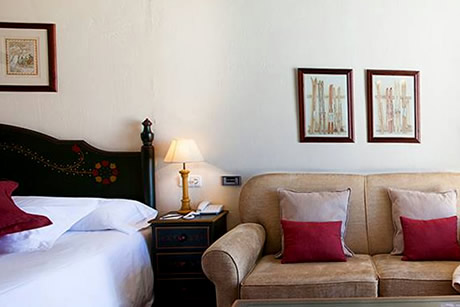 5 star hotel
located on the top of the hill next to chair lift with large rooms with warm decor.
Great location for skiing, but 5km from village center by road. The hotel offers free shuttle service until 23:00.
The rooms have beautiful views of the Sierra Nevada. Large and comfortable bed and pillows.
Services and Facilities
The
main areas
are nicely decorated and very welcoming. It has a small spa, lounge with fireplace, restaurant and bar, pool table and gym.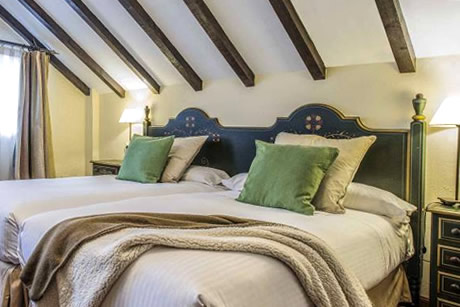 Lounge
terrace
overlooking the mountains, with good music and good atmosphere, private parking costs about 30 euros/day.
Fantastic
location
for intermediate and advanced skiers, just next to the blue and red slopes, but beginners (green slopes) have to go down to Pradollano.
The
staff
is very friendly and professional. They will help you to buy ski passes, book ski lessons and with equipment rental.
There is a large
restaurant
with alpine-style decoration: beams, stone walls, etc. and great views. The buffet breakfast has a good selection: iberian ham, cheeses, natural orange juice, etc.
Prices Year 2021/22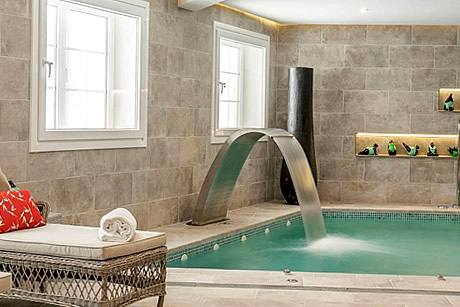 It is quite expensive. The prices are from 250 euros double room and can reach 1500 euros or more for one night for a 3 bedroom suite in high season.
Contact Details and Reservations
Address: Urbanization Sol y Nieve s/n, 18196 Sierra Nevada, Granada, Spain.
Reservations and offers, tel: 958 482 508. Email: rumaykiyya@vinccihoteles.com.
You Might Also Be Interested In
Page Updated: Oct 26, 2021
©
Copyright
• LoveGranada.com • The reproduction of the whole content or parts of it is prohibited
Personal data
protection policy
.