Granada Shops - Where to Go Shopping in Granada - Where to Buy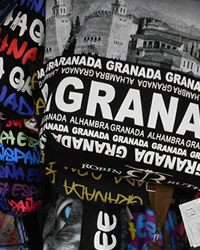 ☞
If you want to
enjoy a special visit
these guided tours offer unique opportunity to discover Granada.
☆
Alhambra + Albaicín + Sacromonte Tour
: a
combination of the complete tour
of the Alhambra (Palaces, Alcazaba, Generalife) + the Albaicín + the Sacromonte.
☆
Albaicin and Sacromonte Guided Tour
: discover this
old arab quarter
of Granada with this
guided tour
.
Guitar Workshop in Granada
The guitars in Granada are made entirely by hand, even if you are not going to buy any guitar, it is interesting to take a look at the workshops.
Some of the workshops are: German Perez Barranco, Address: Camino Nuevo de San Nicolas, Albaizyn, Granada. Juan Lopez Aguilarte, Address: Plaza Aliatar 18, Albaizyn, Granada;
Where to Buy Handicrafts in Granada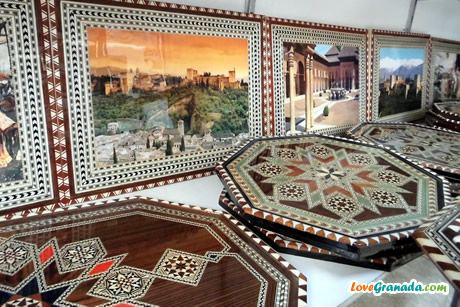 There are several handicrafts stores of precious woods in Granada.
Some of them are:
Francisco Rienda
: Address: Cuesta de Chapiz, near Paseo de los Tristes.
Angel Poveoano Alonso
: Address: Cruz de Arqueros 17, Albaicin district.
Metal Objects Shops in Granada
You can find the objects of hammered copper and wrought iron in the Albayzin.
Hermanos Lopez
: Lamps and shop windows. Address: Plaza de las Castillas 7, Granada.
Hermanos Diez
: wrought iron shop, is in the same area that Hermanos Lopez, Address: Pages 14, near Carretera de la Murcia.
Ceramic Shops in Granada
Near the Cathedral there is a
market of Alcaiceria
with oriental atmosphere where you can buy pottery. Another site is the Cuesta de Gomerez and
Albaycin
with ceramic shops.
Textile Crafts in Granada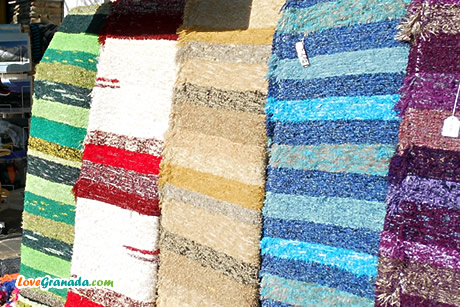 In the neighborhood of Albayzin you can find carpets, bedspreads, curtains and cushions.
Manuel Mejias Sanchez
: Puente Mariano 2, Granada.
Antonio Alvea Maldonado
: Cuesta del Chapiz 29, Granada.
Amalia Castro Elizonoo
: Plaza de San Nicolas 4, Granada.
Tejidos Manueles Albayzin
: Cuesta de Alhacaba 114, Granada.
Where to Buy Leather in Granada
This material is treated in two ways: embossing and polychrome. Direct sales: Calle del Agua 19, Granada, located in Albayzin.
Sweets in Granada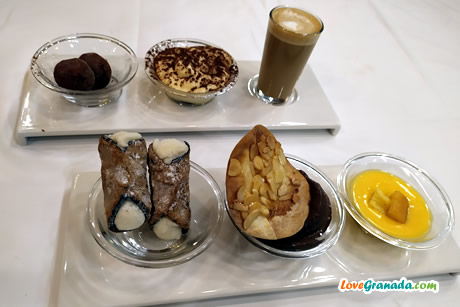 The nuns of Granada make very nice cakes. You can buy them at:
Convento de Santa Catalina de Zafra
: Address: Carrera del Darro, 43. They only sell sweets from November until
Christmas
.
In Granada there are several good bakeries, some of them:
La Ysla
: it is a chain that has several locals. One of them is in Avenida de la Constitucion 48.
Flor y Nata
: This in the same area as Ysla, in the Avenida de la Constitucion
You Might Also Be Interested In
©
Copyright
• LoveGranada.com • Any use of the content, including copying of it in whole or in part is prohibited.