Flights to Granada - Where to Buy Flight Tickets to Granada
Here you can find the information about low cost and regular airlines that offer
flights to Granada
, flight reservations phone numbers, aircraft fleet and types.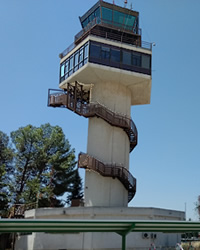 A
good way to get to know Granada
and its history is
by taking a tour
. There are several interesting
free and private
tours offered by Civitatis:
Free Tour of Granada
: What better way to get to know the hisotric centre of Granada than on a
free walking tour
with a local expert guide?!
Private Tour of Granada
: Discover the hidden treasures and secrets of Granada
exclusively just for you
and your partner, friends, or family.
These are the airlines operating in the
Granada Airport
which offer direct flights to Madrid, Barcelona and Palma de Mallorca, and with stopovers to other cities of Spain and the world:
EasyJet has temporarily suspended its flights to Granada
.
EasyJet flies from Granada airport to London, Gatwick Airport.
It is a low cost airline that offers flights from 17 euros one way, which is cheaper than to go to Madrid by bus.
Easyjet is a large airline, has about 230 aircrafts and fly to various destinations in Europe, Africa and Asia.
Gatwick Airport is about 45 km from London and the center can be reached by train in 30 min.
Mor information in '
Granada-London with EasyJet
'.
Vueling
The Vueling Airlines offers cheap flights to various cities in Spain, Europe and North Africa
Fleet
: Vueling's fleet has 35 aircrafts and is composed solely of Airbus A-320.
Vueling offers flights to Granada and another 37 cities in Spain and Europe.
It has non-stop flights from Granada to Barcelona and Mallorca, and one stop flihts to A Coruña, Alicante, Asturias, Barcelona, Bilbao, Ciudad Real, Fuerteventura, Gran Canaria, Ibiza, Lanzarote, Majorca, Madrid, Menorca,
Malaga
, Santiago, Sevilla, Tenerife, Valencia and Vigo.
And flights to other cities in the world: Amsterdam, Athens, Berlin, Brussels, Copenhagen, Crete, Bordeaux, Bucharest, Dubrovnik, Genoa, Lille, Lisbon, Lyon, London, Malta, Marrakech, Mykonos, Milan, Moscow, Nantes, Naples, Nice, Palermo, Paris, Prague, Pisa, Rome, St. Petersburg, Santorini, Tel Aviv, Toulouse, Venice, Warsaw, Verona, Vienna and Zurich
Luggage
: A passenger can carry up to 23 kg of luggage at a cost of 8-15 euros per bag. The cost depends on the destination. Every extra kilo costs 10 euros. A passenger can carry up to 50 kg. 32 kg is the maximum weight per bag. It is cheaper if you check your luggage online at the time of ticket purchase.
Phone Reservations
: call 807 200 100, from 08:00 to 24:00 every day of the week. Beware! has a cost of 0.89 euros/min from landline, 1.24 euros/min from a mobile and tickets cost 10 euros more than the internet. It is better to sbuy the tickets online.
Air Europa
Fleet
: Air Europa has 43 aircrafts: Airbus 330, Boeing 767, Boeing 737 and Embraer 195. Planes have an average age of 3 years.
Destination
: Air Europa offers non-stop flights from Granada to Barcelona and Palma de Mallorca; flights with stops: Alicante, Barcelona, Bilbao, Canary Islands, Mardid, Menorca, Malaga, Oviedo, Santiago de Compostela, Sevilla, Valencia, Vigo and Zaragoza.
Luggage
: 1 bag of 23 kg is free, overweight 23-32 kg - 60 euros.
Phone Reservations
: 902 401 501
Iberia
Iberia offers travelers nearly 116 destinations in 45 countries
Destination
: Iberia has direct flights from Granada to Barcelona and Madrid, with stops to all major cities in Spain and other countries.
Luggage
: a maximum weight of 23 kg per package is free. Excess luggage from 24 kg to 32 kg 60 euros per bug.
Where to Book Fights
: 902 400 500
You Might Also Be Interested In
©
Copyright
• LoveGranada.com • The reproduction of the whole content or parts of it is prohibited
Personal data
protection policy
.