La Herradura - Beautiful Cliffs in a Protected Natural Area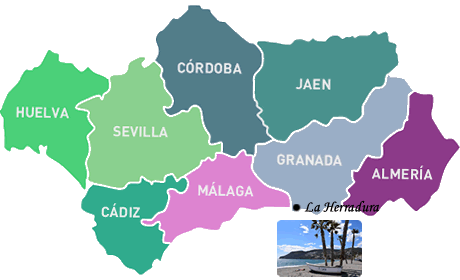 La Herradura
is located in a beautiful bay on the border with Málaga province. The beach extends from the marina known as
Marina del Este
to the
Cerro Gordo
Cliffs, a protected natural area where the
Sierra de la Almijara
plunges abruptly into the Mediterranean Sea.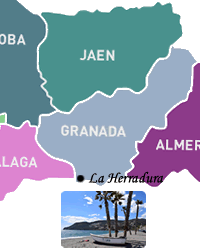 This quiet fishermen village is a very popular destination for families and scuba divers.
Its amazing seabed is full of corals, anemones, sponges, and some of the best meadows of Posidonia oceanica in the Mediterranean Sea.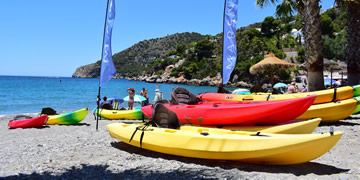 This pebbly beach with dark sand is very popular for scuba diving and windsurfing. It  has a National Marine Reserve underwater and numerous caves.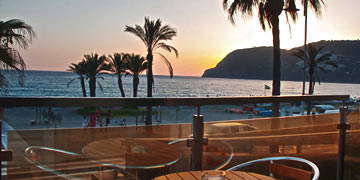 There are few small hotels located in this typical fishermen village. Some of them have balconies overlooking the beach and swimming pool.
Cerro Gordo
is a protected natural area on the far western end of La Herradura, on the border with Málaga.
This part of the coast was declared
Paraje Natural
in 1989 and occupies some 400 hectares that are distributed between the provinces of Granada and Málaga.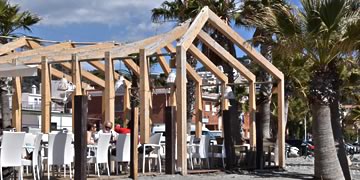 A selection of restaurants in La Herradura where you can enjoy some traditional food made with fresh fish from the Costa Tropical sitting on the beach.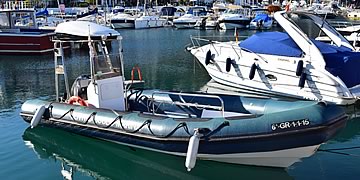 A practical guide to diving centres in La Herradura. What type of courses do they offer? List of companies, prices and services included.
At the top of
Cerro Gordo
there is an ancient watchtower where you get fantastic views of the coast: to the east, the beach of La Herradura, and to the abrupt cliffs.
Right on the border with the province of Málaga, you can find the
Cantarriján
, a nudist beach.
You Might Also Be Interested In
Page Updated: May 23, 2021
©
Copyright
• LoveGranada.com • Any use of the content, including copying of it in whole or in part is prohibited.
Opinions about La Herradura Guide
Small beautiful village surrounded by mountains
La Herradura (horseshoe shape) is a small village but there are plenty of activities that you can do there.
Many good restaurants right on the beach, some just next to the sea called chirrignuitos. La Herradura is famous for scuba diving, you can have introduction lesson in English for 60-80 euros, you can rent kayak, surf or kitesurf board, go fishing, etc.
It's also great place for hiking, there are several routes just next to the sea, there is also a lighthouse and old watch tower on each side of the village.
It also offers stunning scenery from the mountains,