Granada Tourist Offices - Services, Location and Opening Hours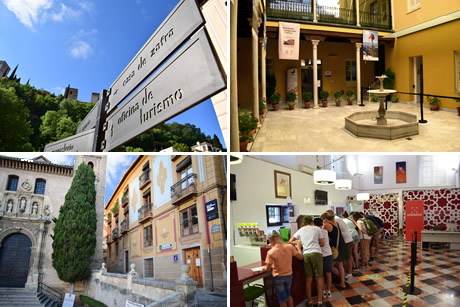 In Granada you'll find several tourist offices with friendly staff who can offer helpful advice and traveller information, and give you maps and brochures of the city.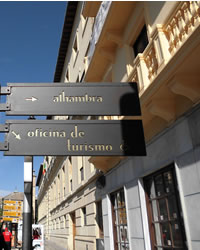 ☞
If you want to
enjoy a special visit
these guided tours offer unique opportunity to discover Granada.
☆
Alhambra + Albaicín + Sacromonte Tour
: a
combination of the complete tour
of the Alhambra (Palaces, Alcazaba, Generalife) + the Albaicín + the Sacromonte.
☆
Albaicin and Sacromonte Guided Tour
: discover this
old arab quarter
of Granada with this
guided tour
.
Granada has
three tourist offices
all located in the city centre (near the Cathedral, Plaza Nueva and Town Hall) and
one information point
within the Alhambra site.
Granada Provincial Board Tourist Office
Services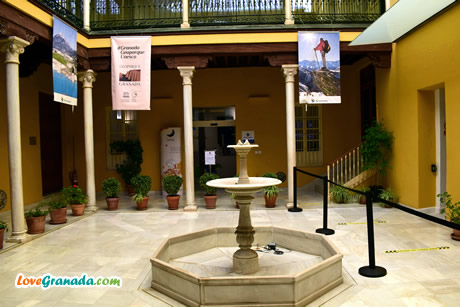 Contact Details
This Tourist Office is located near the Granada Cathedral.

Telephone: 958 247 128.
Email: informacion@turgranada.es.
Address: Calle Cárcel Baja 3, Granada, Spain.

Opening Hours
Monday to Friday: 9:00-20:00 h. Saturdays: 10:00-19:00 h. Sundays and Holidays: 10:00-15:00 h.


Tourist Office of the Regional Government of Andalusia
Services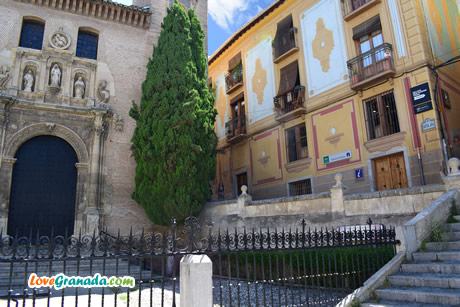 It offers comprehensive and updated information to the visitor, not only about Granada, but also about the province.
Contact Details
Located next to the
Plaza Nueva
, to the right of the Church of Santa Ana.
Telephone: 958 575 202.
Email: otgranada@andalucia.org. Address: Santa Ana street 4, 18009 Granada, Spain.
Opening Hours:
Monday to Friday: 9:00-19:30 h. Saturdays, Sundays and Holidays: 9:00-15:00 h.


Granada Municipal Tourism Office of the City Council
Services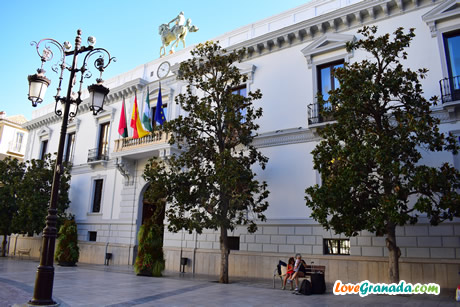 Contact Details
A modern tourist information office located in the Town Hall, in the Plaza del Carmen.

Telephone: 958 248 280.
Address: Plaza del Carmen s/n, Granada, Spain.
Opening Hours
Monday to Friday: 9:00-13:00 h.


Alhambra Information Point
Offered Services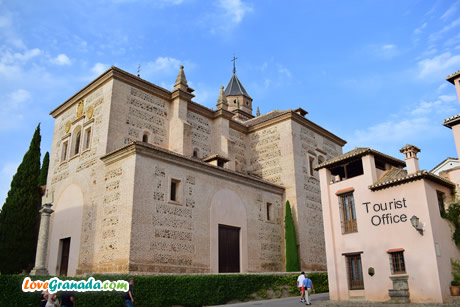 A small office, provides information on the Alhambra and the sites nearby.
Location
Opening Hours
From Monday to Sunday: 9:00-20:00 h.


You Might Also Be Interested In
Page Updated: Jul 07, 2020
©
Copyright
• LoveGranada.com • Any use of the content, including copying of it in whole or in part is prohibited.
Opinions about Tourist Offices of Granada
Two guys working there were amazing
This is the first visitor centre in 3 weeks travelling where people are nice , happy and helpful . We needed some bus tickets printed off with the Grabada card and they did it straight away with a smile on their face ! Well done Chicos.