Beaches of Salobreña - Facilities, Parking and Places to Eat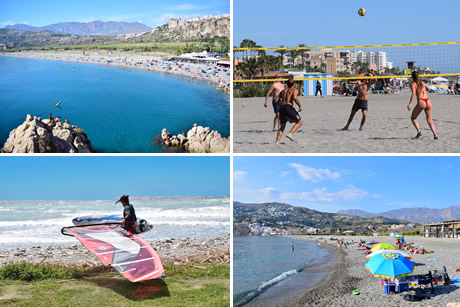 Almost all the
charming beaches of Salobreña
are unspoiled by built-up areas. Its 6 km of coastline offer beautiful, quiet coves and some larger beaches with very good facilities.
The
chiringuitos
(beach bars) on the seafront prepare delicious sardines, octopus and grilled squid.
Opposite the promenade, on the
beach of La Guardia
, there is a protected area that has managed to regenerate the seabed and make these waters home again to their traditional marine species.
La Guardia Beach in Salobreña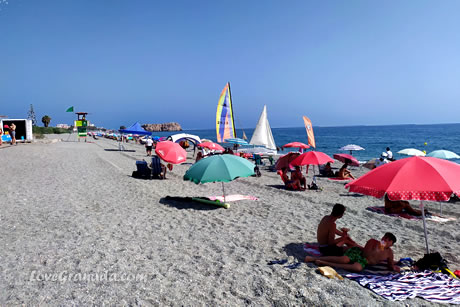 Surrounded by agricultural crops and sugar cane fields, with
the Rock
at one end and apartments on the other, it is over 1 km long and 25 m wide.
There are several chiringuitos where you can eat, suchas
La Bahía
and
El Peñón
, and some other traditional
family-run restaurants
near the residential areas. There are showers near the Rock and at the other end of the beach.
The waves here are usually moderate, especially near the Rock, from which young local people perform a very dangerous practice: diving.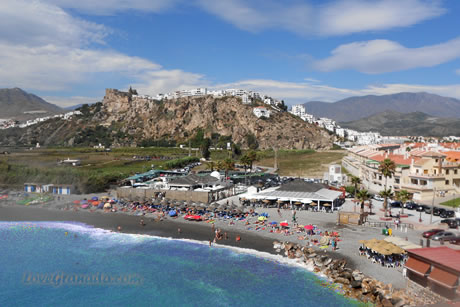 This beach is formed of pebbles and dark sand. It usually gets quite crowded.
There are two parking areas:
If you enter the beach from the
National Road N-340
following the
sign for La Guardia
, look for parking through the streets of the residential areas before reaching the beach.
If you access from the seafront, coming from
La Charca
, there is a public car park just behind the
La Bahía Restaurant
.
It is recommended to arrive early to secure a parking space.
La Charca/Salomar Beach in Salobreña
La
Charca/Salomar beach
begins on the other side of the Rock, and is wider than
La Guardia beach
, almost 2 km long and about 64 m wide.
It is more comfortable for playing ball sports as it is made up of fine sand, but as you get closer to the shoreline its composition changes to pebbles.
On this beach there is a rental service for sunbeds and umbrellas, disabled access, a
Red Cross post
, showers, boat rentals and nautical activities.
The long promenade reaches the
residential areas of Salomar
. On the beach, there are chiringuitos for snacks and cool drinks.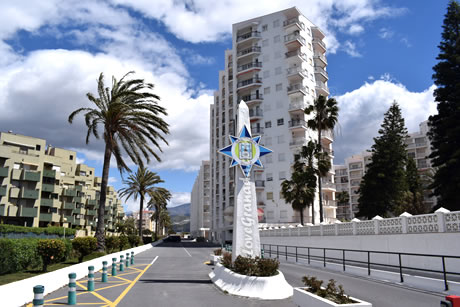 The bars and restaurants on the promenade are magnets for most tourists, especially in the
Peñón area
, although close to Salomar there are some more traditional family-run restaurants and pizzerias.
The beach is usually quite busy during the summer months and waves tend to be moderate.
There are some parking spaces along the seafront and in the streets around the residential areas. If you go to the
Peñón area
, there is a car park behind La Bahía but it is usually full.
Punta del Río or La Cagadilla Beach in Salobreña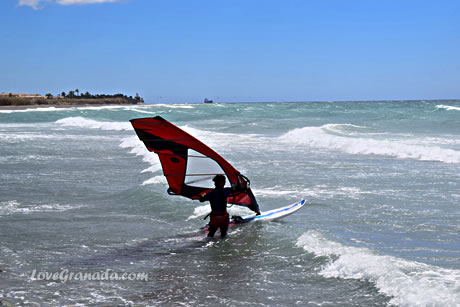 Punta del Río or La Cagadilla beach
stretches to Motril and extends between 1 km and 200 m, with a width of 30 m, and a composition of sand and gravel, like the other beaches of
Salobreña
.
It is an unspoilt beach which is accessible only on foot. It receives few visits as it is in an agricultural area and does not have the amenities associated with the other beaches (such as showers, restaurants, etc.).
This is the beach into which the
river Guadalfeo
flows and it features wetlands for migratory seabirds. Waves are usually moderate.
El Caletón Beach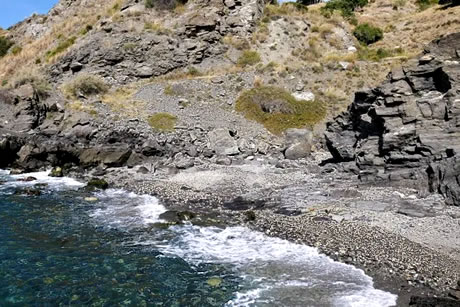 El
Caletón beach
is a small cove of 30 m long and 10 m wide.
It has very calm waters and a nice seabed, so it is suitable for diving.
There are usually not many people here. It is located in a semi-urban area, has disabled access, but it has no promenade.
It is accessed by a foot path that starts at La
Caleta beach
and goes through the cliffs.
El Cambrón Beach
El Cambrón beach
is located in the urbanized area of Torre del Cambrón.
It is quite difficult to reach, and added to the fact that it does not provide any facilities, it is rarely crowded.
It is a small beach, about 86 m long and 21 m wide.
Page Updated: April 02, 2020
©
Copyright
• LoveGranada.com • The reproduction of the whole content or parts of it is prohibited
Personal data
protection policy
.
Opinions about Salobreña Beaches
No reviews yet.

Please send your suggestions and thoughts. Your opinion will be of great help to other visitors.