5 Beaches of Motril – Practical Guide, Prices and Facilities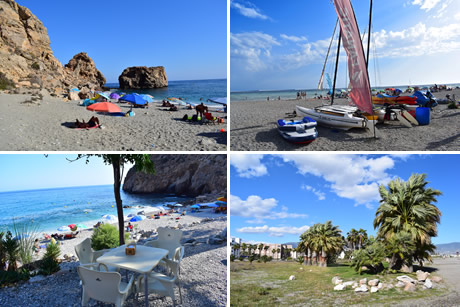 The
beaches of Motril
enjoy a good reputation. Three of them, Calahonda, Carchuna and Playa Granada, usually receive a blue flag.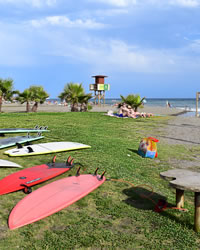 This European accreditation is granted only to those beaches meeting stringent environmental requirements and a high standard of facilities.
In
Motril
there are beaches catering for everyone: you can choose between shallow sandy, very deep and clean pebble, or nudist.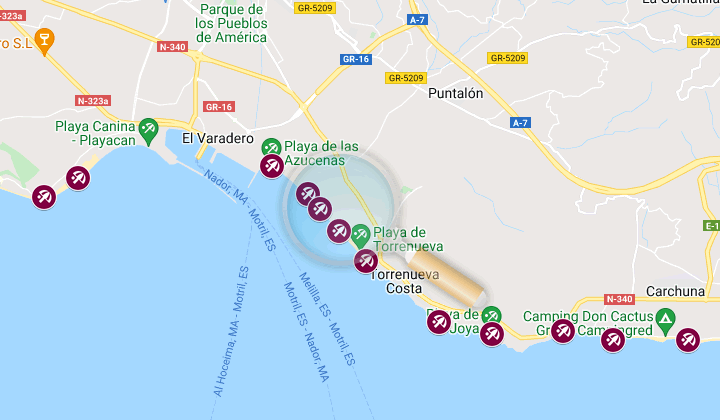 Its beaches do not possess so many small coves surrounded by cliffs as you would find in
Almuñécar
or
Salobreña
, but they are usually much larger and wider.
Something you will find in this area, however, are the greenhouses that spoil the views, some of them very close to the beach.
Granada Beach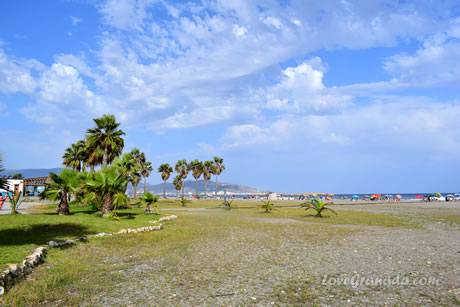 Almost
1,5 km long and 20 m wide
. This is a beach of fine sand, with few buildings nearby.
Playa Granada has the
European Blue Flag
awarded to the beaches that have meet the European Union's high standard of environmental quality.
On this beach the
king of Belgium
, Baudouin, and his wife Fabiola, built their dream retreat, and they enjoyed it discretely in summer until he died here in 1993.
Villa Astrida
stands to this day on this beach, a witness to times gone by.
Gold Course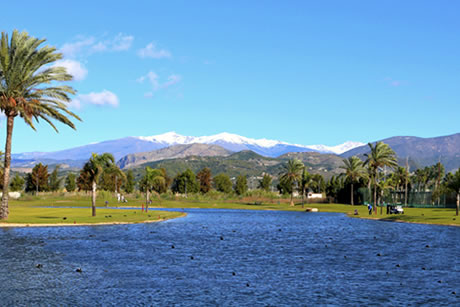 In its vicinity, but not on the seafront, some beautiful Moorish-style residential areas and a golf course have been built, which is unique on the
Costa Tropical
.
Los
Moriscos Golf Club
is located near the beach and also has a nice
bar/restaurant
with the same name.
Facilities and Services
Playa Granada
has parking, showers, surveillance and rescue equipment. There is also a campsite,
Camping Playa Granada
.
Poniente Beach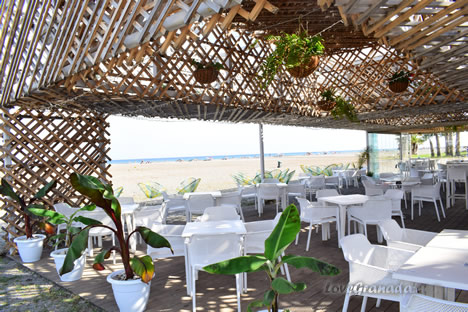 Playa Poniente
is the closest beach to
Motril
, and the busiest.
Playa Poniente more than
2 km long
and
1 km wide
. It is composed of coarse sand and pebbles.
On this beach, many
cultural activities
are laid on by the town council during the summer, although the truth is that the local nightlife is very lively all year round.
Facilities and Services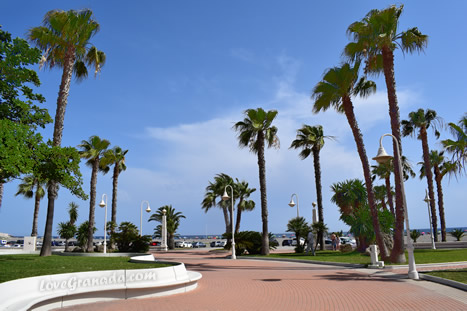 It is very built up and has many chiringuitos, pubs and bars, as well as all kinds of facilities.
It also has two campsites in front of the beach: Playa de Poniente y Playa Granda.
This beach has disabled access, surveillance and rescue equipment, a promenade, and a rental service of umbrellas and hammocks, showers and barbecue area, although permission is required to use them.
Calahonda Beach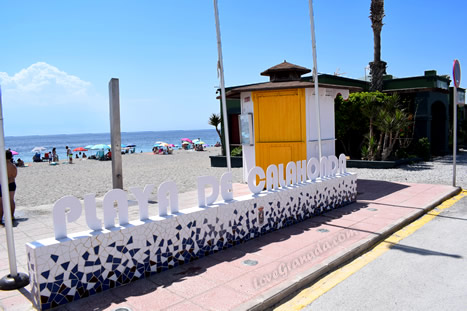 The name
Calahonda
(Deep Bay) already gives us some clue as to what kind of beach this is.
If you are looking for a beach where you can go in the sea gradually and wade calmly without being suddenly submerged, then this is not your beach.
After taking two steps into the water you suddenly sink. Still, it is a very popular beach.
The
beach of Calahonda
is almost
1.5 km long
and
50 m wide
. It is formed by coarse sand and its waters are normally calm.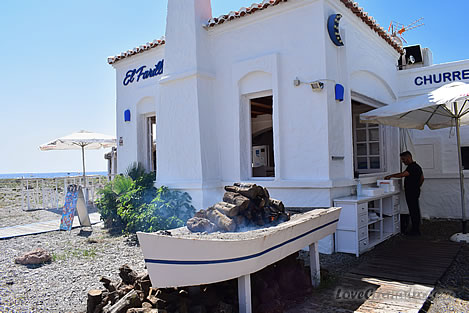 It has the reputation of being one of the cleanest beaches of the
Costa Tropical of Granada
. Year after year it gets the blue flag award, a European-funded grant for beaches with good environmental management.
Calahonda Village
Calahonda is a small fishing village 13 km from Motril with a beautiful beach located in the centre of
Cabo Sacratif
.
It is the southernmost village on the
Costa Tropical of Granada
and, like many coastal villages, it grew around its port which was once of greater importance than Motril.
Facilities and Services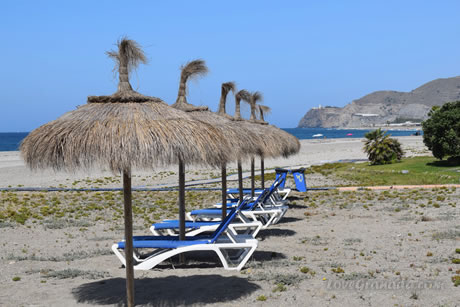 Its clean and deep waters abound with fish, so it is frequented by divers and lovers of other water sports. In Calahonda there is also a diving school.
It has a surveillance service and a
Red Cross post
. It also has a promenade, showers, umbrella rental and disabled access.
Calahonda is a very well equipped beach with many restaurants, beach bars, parking and tourist apartments. It is not as crowded as Torrenueva.
Perhaps because their urbanizations are not so on top of each other or because they are of a different style.
Carchuna Beach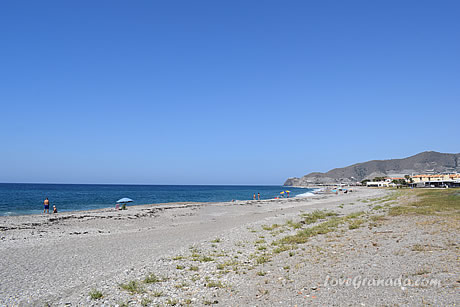 Before reaching Calahonda, you will come across the
beach of Carchuna
.
The beach of Carchuna is more than
3.5 km long
and more than
50 m wide
. It consists of coarse sand and gravel.
Like Calahonda, this is a beach with deep and clean waters which has been awarded the European Union's environmental
Blue Flag
.
Lighthouse of Sacratif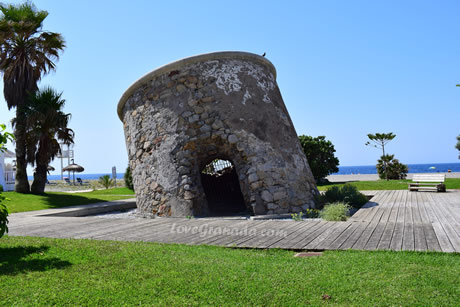 It is located between the
Lighthouse of Sacratif
and the Farillo, an old Arab tower that was once a lighthouse. It is also known as the Torre del Llano and dates back to the sixteenth century.
The tower has been leaning more and more with the passage of time owing to the force of the waves.
This leaning tower, like the one in Pisa, has become the landmark of the area and separates Carchuna beach from Calahonda beach, so it is clearly visible from both.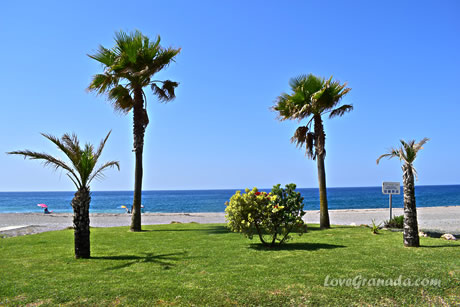 Facilities and Services
The Carchuna Beach has parking, surveillance equipment and a Red Cross post, showers, umbrellas rental service, promenade, beach bars, restaurants and tourist apartments.
There is also a nice campsite: the
Don Cactus
. The only thing that spoils this place somewhat is the number of greenhouses that surround Carchuna.
Torrenueva Beach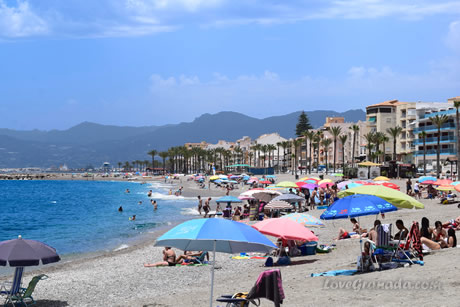 Unlike the previous beaches,
Torrenueva Beach
has shallow, calm waters and dark sand. It is more than
2 km long
and
50 m wide
.
This beach is very urbanized, with many of its apartment blocks being situated virtually right on the beach.
The beach gets very busy. It has good restaurants and beach bars, in addition to many other facilities.
Facilities and Services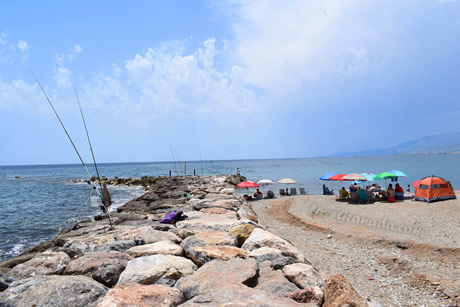 There is some parking in the residential area streets not far from the beach.
It has a beautiful promenade with one of the best ice cream shops on the Costa Tropical of Granada,
La Perandrés
, famous for its exquisite curly milk.
It provides its visitors with plenty of facilities. It has a surveillance service, a Red Cross post and recreational facilities. There is also showers, umbrellas and sunbeds rental.
You Might Also Be Interested In
Page Updated: Jun 11, 2021
©
Copyright
• LoveGranada.com • Any use of the content, including copying of it in whole or in part is prohibited.