What to See in Motril – Monuments and Sites with Charm
Motril is a beautiful town, well worth a visit, there's a lot of history, green spaces, restaurants and cultural attractions to enjoy.
At about 2 km from the centre of town you will find the fishing port and the beaches of Motril. The fishing port is animated by numerous beach bars and restaurants where you can eat locally caught fresh fish. Don't miss the daily fish auction.
Here we have selected the most popular attractions, places to visit and things to see in Motril.
Collegiate Church of Motril
The Collegiate Church of Motril, located in the centre of the city, presents a beautiful variety of styles.
Built on the Great Mosque at the beginning of the sixteenth century, it is a Mudejar work that mixes several styles, from Gothic to Baroque.
Its impressive appearance reminds us that originally the church had a defensive purpose; the Muslim minaret, known as Torre de la Vela, has been preserved.
Opening hours: 18:00 to 20:00.
Address: Plaza de España 9.
Town Hall
The Town Hall, next to the Colegiata, is a Baroque building built in 1631, with a Mudejar-coffered ceiling at the main entrance and in the Meeting Room.
Visiting hours change every month. If you come between 18:00 and 18:30 or between 10:00 and 11:30 on Saturdays and Sundays, it will be open no matter what timetable is being used.
Address: Plaza de España.
Iglesia del Carmen
This Baroque church is also located in the Plaza Mayor.
It was built at the end of the sixteenth century on a rocky hill where the victims of a swine fever were buried.
Address: Plaza de España.
Casa de la Palma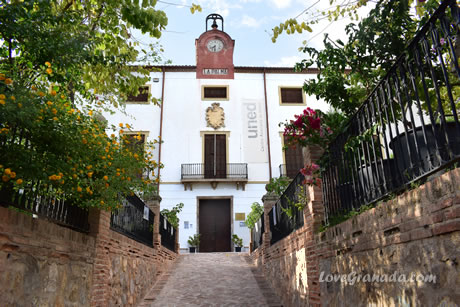 Casa de la Palma is a Moorish sugar mill in a colonial-style building. Its origin dates back to the sixteenth century.
Today it hosts a cultural centre. It is also known as La Casa del Reloj (Watch House) de Vitoria.
Inside there is a garden with trees from America and a small Mudejar-coffered ceiling.
Opening hours: Monday to Friday, 09:00 to 21:00.
Address: Avenida Marquesa de Esquilache 4, Motril. Telephone: 958 604 711.
Church of the Capuchins
It was built towards the middle of the seventeenth century as a chapel in honour of San Antón.
Originally it was in the Mudejar style, but later the church was extended and transformed into a single-nave temple. It is also known as the Iglesia de la Divina Pastora (Church of the Holy Shepherdess).
Address: Avda Pío XII. Telephone: 958 821 203
Nuestra Señora de la Cabeza
A church dedicated to the Patron Saint of Motril. It is believed that in this place the palace of the mother of Boabdil once stood. The architect was Isidro de la Chica.
Well worth looking at are the altarpiece and the dressing room of the Virgin, by Manuel González Ligero. It has a carving of the Virgin dating from the sixteenth century.
In the seventeenth century the chapel became a Franciscan convent. From this vantage point you can enjoy great views of the town.
Opening hours: 18:00 to 20:00. Address: Cerro de la Virgen, Motril.
Parque de los Pueblos de América
To the south of Cerro de la Virgen, next to Nuestra Señora de la Cabeza, there is a beautiful park, El Parque de los Pueblos de América (Park of the People of America), ideal for a peaceful walk in the midst of streams and exotic plants.
In summer it is the scene of many activities and shows.
It is still a very nice place to go for a stroll or to take the children, where they can play while you relax on the lawn.
Opening hours: 10:00 to 00:00
Calderón Theatre
Founded in 1880 and restored not that long ago, its style is an imitation of the Italian fashion of the time.
Address: Plaza de España, Motril. Telephone: 958 604 713
Hermitage of San Antonio
Built in 1679 and in the Baroque style, it is located on the outskirts of Motril.
Address: Camino de San Antonio.
©
Copyright
• LoveGranada.com • The reproduction of the whole content or parts of it is prohibited
Personal data
protection policy
.