The Beaches of Almuñécar with the Most Charm
Almuñécar
has 19 km of coastline, where almost
30 beaches
are located, many more than any other town on the
Costa Tropical
. This makes it the main tourist area of the
Granada coast
.
Its wonderful beaches offer great variety, meaning the visitor will never get bored and experience something different every day.
Some of the beaches are small coves with calm waters, like those of
Cabria or Calaiza
, and others, longer beaches of up to 1 km, like
San Cristóbal
, offer all kinds of tourist services.
There are also the naturist beaches of
Cantarriján and El Muerto
. On all of them it is possible to practise varied water and other sports, such as paragliding or hang-gliding.
La Herradura
stands out among other things for its wonderful seabed, where you can find important posidonia meadows and interesting marine species.
San Cristóbal Beach
San Cristóbal
is a long beach, just
over 1 km long
and 50 m wide, very popular and with many facilities. It has fine dark sand and has been awarded the Blue Flag for its cleanliness.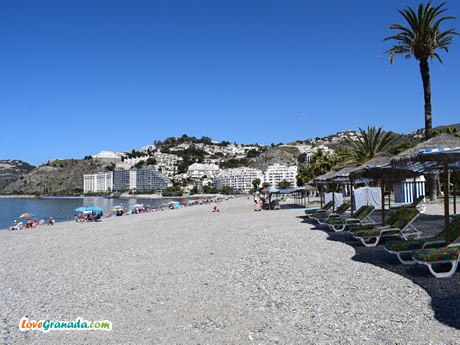 It has a long, very built-up promenade, swings, disabled access, surveillance and rescue equipment, showers, sunbeds and umbrellas, and plenty of bars and restaurants to choose from.
At one end of
Almuñécar
(called La China), which
faces Cotobro
, the sea encroaches a little, forming a beautiful cove.
At the other extreme, we find an unusual natural feature on the Mediterranean coast: the
Peñones de San Cristóbal
.
Three rocky formations, lined up one behind the other, enter the sea ranging from largest to smallest.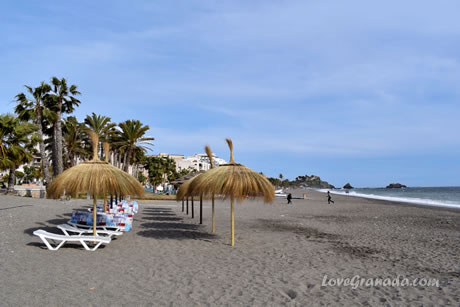 The largest, the
Peñón del Santo
, is 30 m high and separates the beaches of
San Cristóbal
and
Puerta del Mar
.
It is a very popular viewpoint on the Granada coast, crowned by a saint on a cross, from which wonderful views are afforded of the sea, the mountain and
Almuñécar
, views of great charm at any time of day, but especially at sunset.
In this area there is also the
LoroSexi Ornithological Park
, and not far from here, the Majuelo Botanical-Archaeological Park.
Parking is difficult, as in almost all of Almuñécar.
Beach Puerta del Mar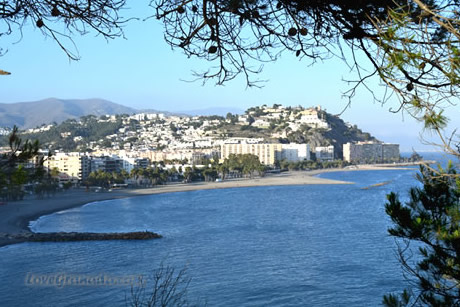 The beach of Puerta del Mar is located in the centre of Almuñécar, it is 1,140 m long and 50 m wide. It gets very busy since it is in the centre of the town.
It has a beautiful promenade, featuring the
Monument to the Phoenicians
, and there is public underground parking.
Puerta del Mar has a full range of facilities: rental of sunbeds and umbrellas, surveillance and rescue equipment, disabled access, bars and beach bars. This beach consists of gravel and fine dark sand.
Velilla Beach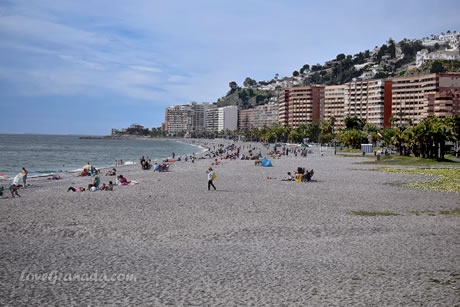 Playa Velilla
is another long beach,
almost 1.5 km
, very built up and with all kinds of services. It consists of gravel and fine sand.
It has a promenade, hammock and umbrella rental, surveillance and rescue equipment, disabled access, and many beach bars throughout.
There is an underground public car park and some children's play areas with swings.
The beach usually gets very busy. Here we find the
Aquatropic
saltwater water park.
El Tesorillo Beach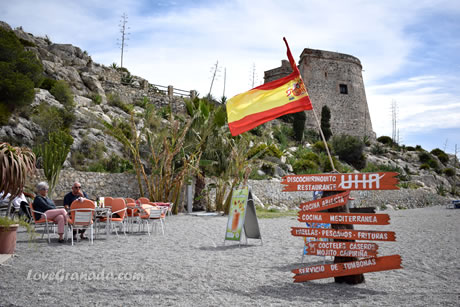 El Tesorillo beach
is a beautiful beach with fine sand,
80 m long
and 55 m wide. It has a promenade, disabled access, sunbed rental, etc.
It is located between the end of Playa Velilla and Playa del Pozuelo, separated from them by a rocky promontory on top of which there is a
watchtower from the 16th century
.
There are some
excellent restaurants
here like Uha or Sol y Mar, with very nice views of the sea and a great variety of seafood.
Page Updated: April 07, 2020
©
Copyright
• LoveGranada.com • The reproduction of the whole content or parts of it is prohibited
Personal data
protection policy
.
Opinions about Beaches of Almuñecar
No reviews yet.

Please send your suggestions and thoughts. Your opinion will be of great help to other visitors.