Beaches in La Herradura - Impressive Cliffs and an Exceptional Seabed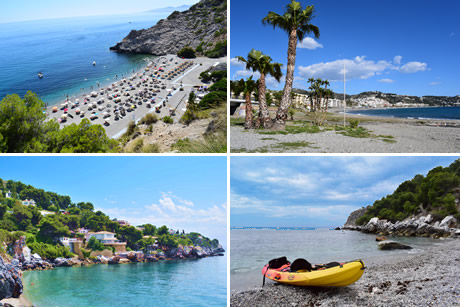 La Herradura
is a small town that
has three beaches
: the main is
La Herradura beach
, nearby there is a semi-nudist
Cantarriján beach
and a small
Calaiza cove
surrounded by a beautiful pine forest.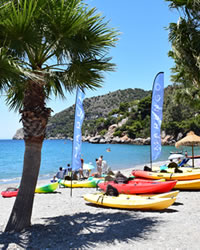 La Herradura - is the main beach located next to the promenade of the town and has all the necessary services.
Cantarriján Beach - is a very nice semi-nudist beach with all services and a restaurant next to the seaside.
Calaiza Beach - a small cove accessible only on foot, without any facilities or services.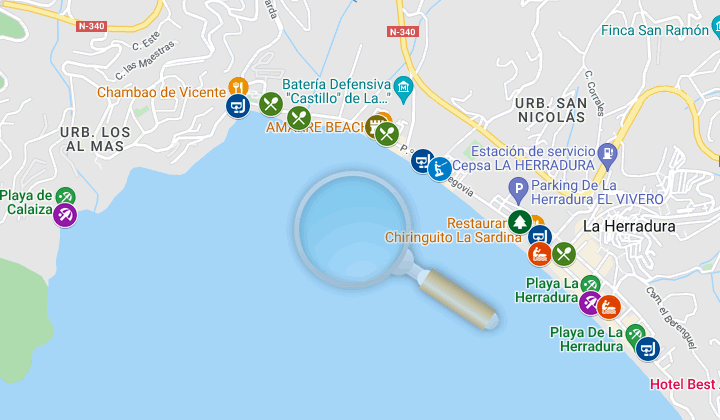 After Cantarriján the next beach is
Cañuelo
, but this beach belongs to the province of Malaga.
La Herradura Beach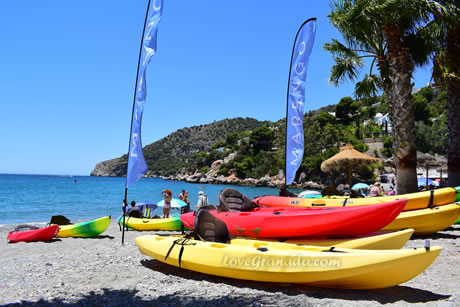 La Herradura's coastline
has a distinctive horseshoe shape, hence its name (
herradura
means horseshoe in Spanish).
The
Herradura Beach
is nicely protected from the wind by the marina on the East and the
Cerro Gordo
cliffs on the West.
This pebbly beach with dark sand is very popular. It is not a very big beach, just
over 2 km long
and almost
50 m wide
.
Facilities and Services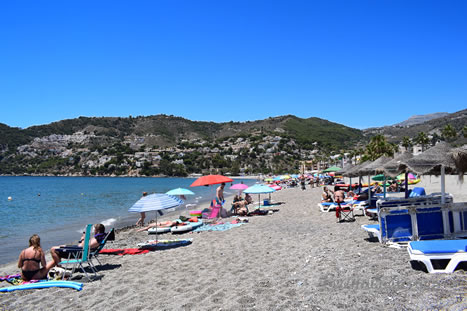 La Herradura
has a long promenade and some areas with good access for people with disabilities.
It offers
all type of services
including: lifeguards, sunbeds with beach umbrellas, showers and
restaurants
. On the seafront you can find some children's play area too.
This is a great location for
scuba diving
and windsurfing. There are some companies offering different types of services for you to practice water sports.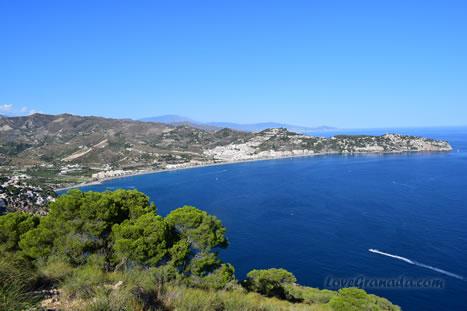 Cerro Gordo
The area surrounding area is
Cerro Gordo
, that stretches between
Nerja
(Málaga) and
La Herradura
, has a
National Marine Reserve
underwater, with a landscape of exceptional beauty and numerous caves.
This impressive landscape invites you to explore it, whether diving to admire a rich variety of marine fauna and flora, canoeing to discover caves and grottos, or hiking to enjoy amazing views and birdwatching from the cliffs.
Cantarrijan Beach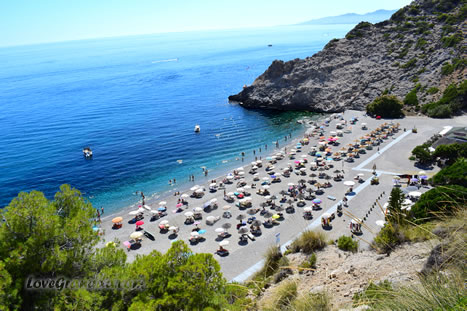 The Cantarrijan Beach is located between high cliffs of
Maro-Cerro Gordo
, near the Natural Park of the same name and on the
boundary of the provinces
of Granada and Malaga.
Beautiful beach, surrounded by vegetation. It is completely isolated from urbanized areas.
It's been a nudist beach
for a long time, although clothes could be worn there as well. In fact, Cantarriján was one of the first beaches in Spain to be officially considered naturist.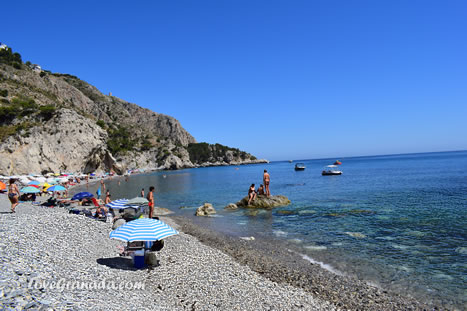 It has the Association of Friends of the
Nudist Beach of Cantarriján
which ensures the conservation of the natural area and organizes naturist activities.
The Cantarrijan Beach is about
400 metres long
and a
43 metres wide
. It is made of black sand and bathed in calm waters.
How to Get to Cantarriján Beach
The access to the beach is not complicated but you will have to
walk 1.5 km
from the national road to reach it.
In
summer season
(July 1 - August 31)
no private vehicle are permitted
, however, the beach has a minibus service that normally starts operating in mid-June.
Facilities and Services
. The Cantarriján Beach has two restaurants (La Barraca and Bola Marina 2) and hammock rental. The beach is quite popular, but usually is not too crowded.
There are outdoor toilet facilities, showers and sun beds.
Calaiza Beach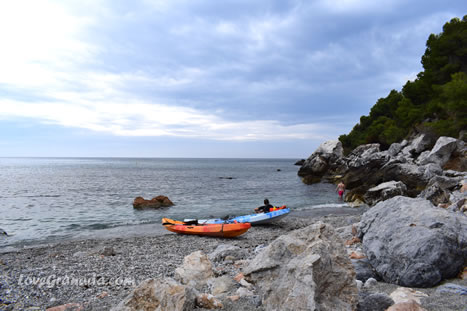 A
small cove
of dark sand and calm waters with some vegetation, located near the Cerro Gordo Natural Park.
It is about
55 metres long
and
12 metres wide
where very few people go, as it is very isolated and can only be reached on foot.
People who rent a kayak in La Herradura usually make a short stop in this cove.
It is a very quiet beach without any kind of service. It has no beach bars, no hammock rental. There are no showers or public toilets.
You Might Also Be Interested In
Page Updated: Jul 08, 2021
©
Copyright
• LoveGranada.com • Any use of the content, including copying of it in whole or in part is prohibited.