7 Best Restaurants of Salobreña – Practical Information, Specialities and Prices
In summer, during bank holidays and Holy Week, the town is quite busy, and the bars, terraces and chiringuitos (beach bars) are full. Whether in the centre of town or on the beach, you can eat very well in
Salobreña
, enjoying the atmosphere and style of your choice.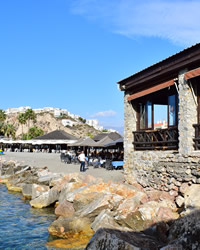 There are symbolic places like El Pesetas or El Peñón that reveal the history and character of this town.
Also, there are family-run chiringuitos on the
beach
, such as Casa Emilio or Bar Manolo, where it is usually difficult to find a free table to enjoy the typical cuisine and shelter from the heat.
If you prefer, you can try out some rather more innovative eateries like the Aráis Restaurant.
Emilio House in Salobreña
A very popular chiringuito (beach bar) where you can taste the best fish and seafood of the area. You can also try the paella and tropical salad among other typical dishes and at a reasonable price.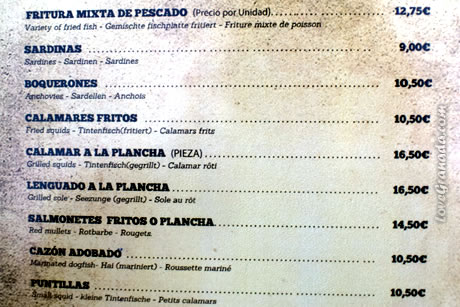 Casa Emilio is on the beach, at the height of El Molino residential area. They offer Mediterranean food and a very varied, inexpensive menu.
This beach bar is always full, as the views are very nice, and the tapas abundant and very good. It is advisable to reserve a table if you want to sit on the terrace to guarantee good sea views.
Emilio House Prices
Typical prices: sardines 9 euros, fried squids 10.50 euros, red mullets 14.50 euros, lumb chops 15 euros, steak 16 euros, fried fish in butter 13 euros, squid tips 10.50 euros. You should try the dry octopus, grilled fish or paella here.
Emilio House Opening Hours
Casa Emilio is open from Monday to Sunday from 11:00 to 22:00.
Location and Telephone
Address:
Paseo Maritime 5, Salobreña.
Telephone:
958 349 432.
Aráis Restaurant in Salobreña
A cosy restaurant decorated in good taste. Fabulous furnishings and decor. It has a calm atmosphere, a nice cellar in the central area of the dining room (made of glass), and there is also a terrace.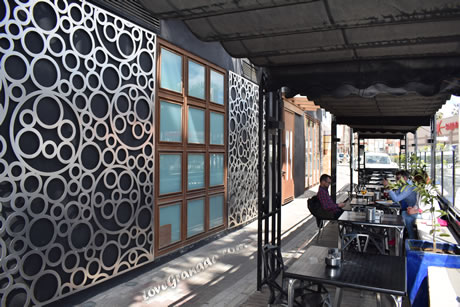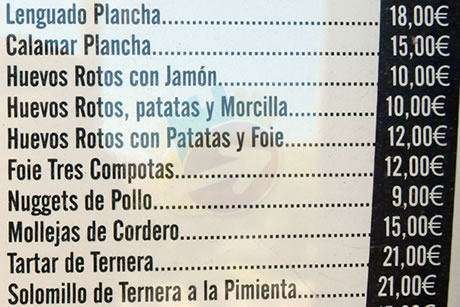 It offers an innovative and modern cuisine, with each dish a surprise. The menu has a little bit of everything and a good selection of wines.
Next to the restaurant there is also a bar where you can have some beer with tapas.
The terrace is next to a busy road, if you feel uncomfortable you can eat inside the restaurant.
Aráis Restaurant Prices
Mixed salad 8 euros, squid salobreña 13 euros, grilled vegetables 11 euros, grilled squid 15 euros, pork steak 15 euros, home-made croquettes 1.50 each, etc.
Specialties: veal tartare, octopus with mashed potatoes and tuna tataki.
Aráis Restaurant Opening Hours
Aráis Restaurant is open from 09:00 to 00:00. Closed on Mondays.
Location and Telephone
It is located in the town centre, and is therefore not near the beach.
Address:
C/ Granada 11.
Telephone:
958 611 738.
El Peñón Restaurant in Salobreña
This restaurant was founded in 1954 and has a symbolic presence on the Costa Tropical of Granada. Located on the
Rock of Salobreña
, at the edge of the sea, with magnificent views of the beach, the mountains and the Castle of Salobreña.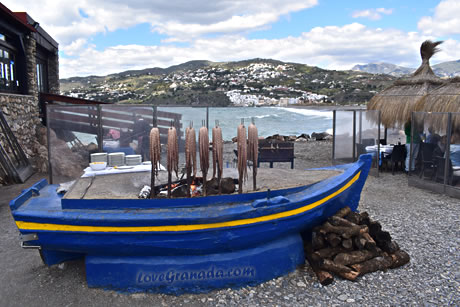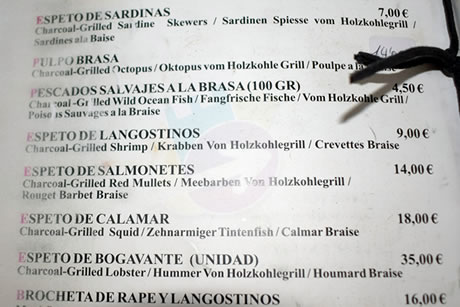 The restaurant offers Mediterranean cuisine, fish and local meats. On the beach there is a wooden ship filled with sand and embers on top where they roast the octopus and sardines in the coals, something very typical of the region.
Their specialties are seafood caserole and salt fish, spinach sardines in embers, mussels Al-Ándalus, monkfish à la marinera, mixed paella and baked cod.
El Peñón Restaurant Prices
Mixed paella 12 euros, black rice with cuttlefish 15 euros, lumb chops 16 euros, grilled filet steaks 22 euros, fried fish (platter with various types of fish) around 12 euros, grilled octopus 16 euros.
El Peñón Restaurant Opening Hours
El Peñón Restaurant is open every day from 12:00 to 00:00.
Location and Telephone
Address:
Paseo Maritime, 1.
Telephone:
958 610 538.
La Bahía Restaurant in Salobreña
This is another traditional chiringuito in Salobreña. It has a good family atmosphere and is very close to the Rock, right on the beach looking onto the Rock and the beaches of La Guardia and La Caleta.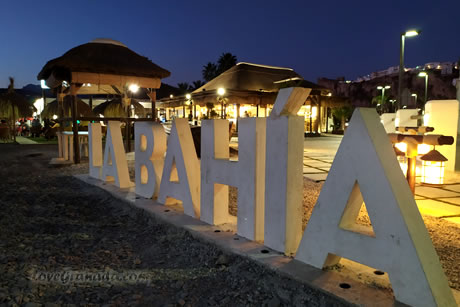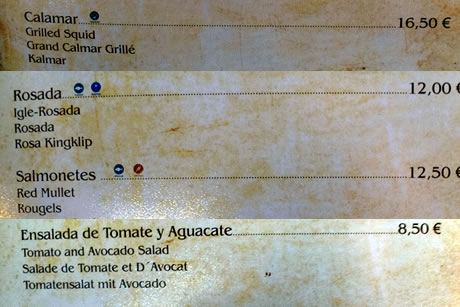 The ingrdients are from local farmers, the menu has good selection of fresh fish and a variety of salads.
Among its most popular dishes are paella, fried fish, grilled meat in embers and salads. Good value for money.
There is a car park just behind this chiringuito, which comes as a relief in this area.
La Bahía Restaurant Prices
Peppers and smoked cod salad 10 euros, avocado with prawns 10.50 euros, mango salad 11.50 euros, grilled squid 16.50 euros, sword fish 14 euros, red mullet 12.50 euros, etc.
La Bahía Restaurant Opening Hours
La Bahía Restaurant is open from 10:00 to 23:30.
Location and Telephone
Fantastic location, right on the beach.
Address:
Playa del Peñón.
Telephone:
958 828 395.
La Biznaga Restaurant in Salobreña
Located in the Paseo Maritimo near the Rock, this restaurant offers typical and carefully prepared dishes of Mediterranean cuisine. The owner and the staff are very friendly and welcoming.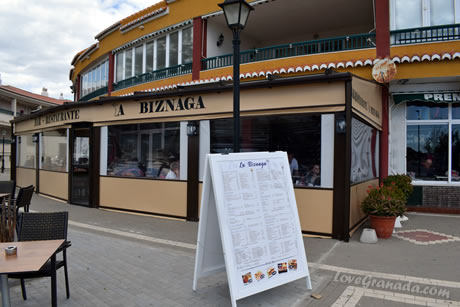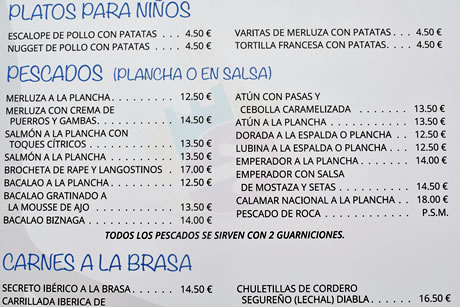 Offers an attractive and varied menu for all tastes at reasonable prices, with good portions.
The terrace is not right on the seafront but it is somewhat quieter than those of other restaurants meaning quick friendly service.
Prices
Some prices: chicken breast with honey 9.50 euros, lamb chops 16.50 euros, beef steak 17 euros, pork tenderloin 11.50, grilled hake 12.50 euros, grilled salmon 13.50 euros, etc.
Opening Hours
La Biznaga Restaurant is open from 11:00 to 17:00 and 19:30 to 24:00. Closed Mondays.
Location and Telephone
Address:
Mare Nostrum Residential Area, 23.
Telephone:
630 691 367.
Pesetas Restaurant in Salobreña
En pleno casco antiguo, el Pesetas sirve cocina tradicional de la zona y un vino mosto de elaboración propia.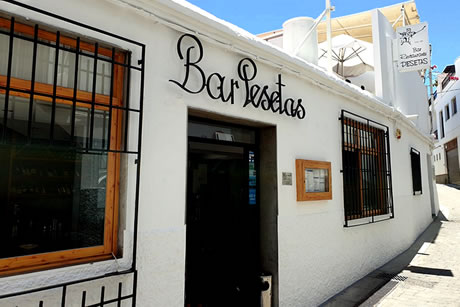 Located in the heart of the old part of Salobreña, the Pesetas serves traditional cuisine from the area and its own, self-produced wine.
This establishment boasts 50 years of
history
. It started as a coal shop and became the first bar in Salobreña, where wine was served for one peseta (the old Spanish currency), hence its name.
It has a nice terrace with excellent views, which adds even more charm to dining there. Its specialties are the fish and seafood of Motril.
Prices
House salad 7 euros, mussels seafood 9.50 euros, aubergines with honey 7 euros, clams 14 euros, mixed salad 7 euros, aubergines with honey 7 euros,etc.
Opening Hours
Pesetas Restaurant is open from 12:00 to 00:00.
Location and Telephone
Address:
C/ Bóveda 11, next to the Rosario Church.
Telephone:
958 610 182.
Manolo Bar in Salobreña
A modest, very popular family-run chiringuito. It has a terrace on the beach that offers very good, inexpensive food.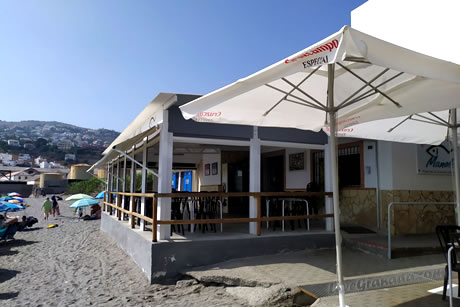 A modest place, very simple decor but offers tasty local food and good service. Mostly locals come here, good sign. Another bonus is the car park.
It serves tapas and other dishes, such as crumbs, fried fish and octopus ratatouille. It is located on the
beach of La Caleta
.
Manolo Bar Prices
Dogfish 10 euros, mixed paella 9 euros, anchovy 9 euros, seasoned tomato 5 euros, crumbs 5.50 euros, fried squid 9 euros, etc.
Manolo Bar Opening Hours
Manolo Bar is open from 09:00 to 17:00.
Location and Telephone
Address:
C/ Warehouse.
Telephone:
680 325 067.
Page Updated: April 14, 2020
©
Copyright
• LoveGranada.com • The reproduction of the whole content or parts of it is prohibited
Personal data
protection policy
.
Opinions about Salobreña Restaurants
No reviews yet.

Please send your suggestions and thoughts. Your opinion will be of great help to other visitors.