Corpus Christi in Granada 2022 - Celebrations, Processions and Major Attractions
What is Corpus Christi in Granada?
Corpus Christi is probably the most important
fiesta in Granada
. For a whole week there are all kind of celebrations and cultural events in the streets: free puppet shows, a bullfighting festival, traditional processions, theater, concerts, exhibitions, etc...
A
good way to get to know Granada
and its history is
by taking a tour
. There are several interesting
free and private
tours offered by Civitatis:
Free Tour of Granada
: What better way to get to know the hisotric centre of Granada than on a
free walking tour
with a local expert guide?!
Private Tour of Granada
: Discover the hidden treasures and secrets of Granada
exclusively just for you
and your partner, friends, or family.
There are also some free
flamenco
and regional music performances in the center and
the casetas
(huge tents) at the fairground), which it is located in the north of the city, near the
bus station
. Flamenco outfits and decorations spread all over the city. The atmosphere is amazing!
What Happens in Corpus Christi in Granada in 2021?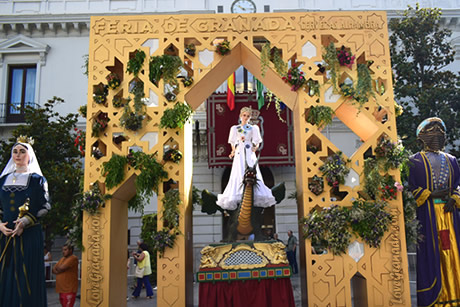 Corpus Christi Processions
Two major processions
usually take place in Granada during Corpus Christi.
The first
is the
Tarasca
(Tarasque), of pagan origin, which takes place on Wednesday morning and marks the beginning of a long school break. It's very popular with
children
.
In this procession, a figure of a woman on a dragon is accompanied by
gigantes y cabezudos
(giants and big-heads).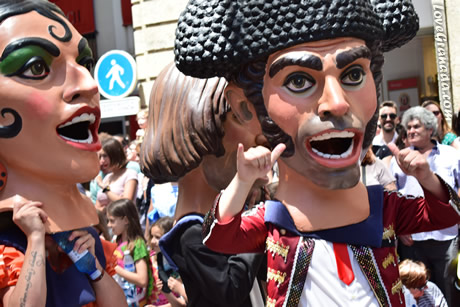 These caracthers are key participants of the celebrations, since they represent important people in the
history of Granada
, such as the
Catholic Monarchs
.
The
cabezudos'
main feature is their huge papier maché head. 
Unfortunately
this procession is canceled in 2021
. But you can see the Tarasca on display in the Plaza del Carmen, just next to the Town Hall on the
2 of June 2021
.
The other procession
, takes place on Thursday, the
Corpus Christi day
, and is a solemn and religious event.
This
procession also is canceled in 2021
but you can see la Custodia (the Blessed Sacrament) in the Granada Cathedral on
3 of June 2021
.
Carocas and Quintillas
A week before Granada Fair kicks off, the
carocas and quintillas
(a traditional satirical competition) are displayed in
Plaza Bib Rambla
, near the
Cathedral
.
This tradition dates back to the seventeenth century, and in the nineteenth century they started to use this location for their public exhibition.
These
Carocas
are cartoons with satirical verses which humorously highlight major local and national events that took place during the year.
The authors are usually local artists, most of them amateurs who compete among hundreds of participants to be selected.
Every year only 20 carocas are published and they get a small cash prize of 90 euros.
In 2021
from 260 carocas presented 20 were selected and will be displayed
in Plaza Bib Rambla on May 31st
.
Granada Fair
Almanjayar Fairground in Granada
Alhough Granada Fair is less famous than Seville's one, it offers a great deal of fun and entertainment and has got distinctive features.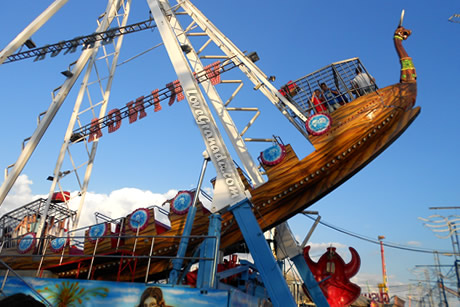 The Corpus Christi fair in Granada begins on a Saturday at midnight, when, in an official ceremony, the major of the city witnesses the lighthning of the fairground.
Each year a resident of Granada is picked at random for this ceremony.
The fairground area has three different parts:
the
casetas
area, the swings and attractions area, and the sorrounding area, where you will find many stalls selling food, drinks, sweets, etc.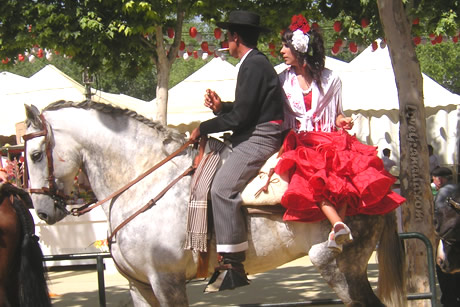 It's like a whole city that appears here only for a week. Every street at the fairground is decorated with thousands of typical lanterns, called
farolillos
, and it's a very busy and loud place.
The main entrance to the fairground area is outstanding. Thousands of bulbs are used to reproduce an emblematic
monument of Granada
, and the chosen monument is revealed just few weeks before the event.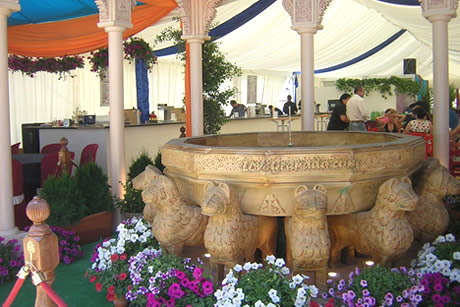 In Granada fair
Casetas
are usually open to the public, unlike in Seville. Some of them belong to groups of friends or associations, who pay a regular fee, but unless they are holding a private event they are happy to have some visitors.
There are also
casetas
belonging to political parties, public institutions, private companies and media. There is free entry in all of them and special events, such as children enterteinment, traditional food contests, etc...
What to do in the casetas?
The fiesta takes place in the
casetas
. There is a bar, where you can taste some
typical Spanish food
and wine, and there is a stage, where you could enjoy yourself watching a show or dancing
sevillanas
.
Usually, there are some bands playing traditional music at the institutional
casetas
.
When is Granada Fair Taking Place in 2021?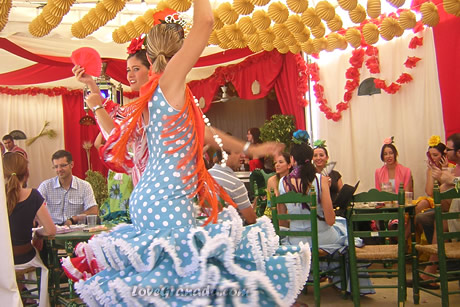 Corpus Christi in Granada is usually held in June, but the date depends on
Easter
. You can find out by counting 60 days from
Easter Monday
.
That Thursday of
Corpus Christi
is a bank holiday in Granada (not in the province) and shops are not open. Friday is also a school holiday.
Unfortunately, there are
no casetas (fair tents) in 2021
.
The celebrations last about one week. In
2021 Granada Fair is canceled
but there will be swings and slides for kids of all ages
from 1 to 13 of June 2021
in Almanjayar Fair Ground (near bus station).
1st and 2nd of June and from 7th to 10th of June: from 17:00 to 23:00.
From 3rd to 6th of June and from 11th to 13th of June: from 17:00 to 23:00.
A
good way to get to know the Alhambra
, its history, palaces and gardens is
by taking a tour
. There are several interesting
free and private
tours offered by Civitatis:
Alhambra Guided Tour
: Discover the incredible history and architecture of the impressive Alhambra, the Generalife and Nasrid Palaces with a passionate and experienced guide.
Alhambra Open Air Tour
: See the Alhambra from a new perspective, visiting the surroundings of the beautiful Alhambra, free areas and gardens, the Palace of Charles V...
How to Reach the Fairground
Bus route 33
connects the city with the fairground. The
underground
has a stop just by the fairground too.
There is public parking with security between Casería de Aguirre and Joaquina Eguaras streets.
It is not recommended to park outside the official parking sites.
Location of the Fairground in Granada
Granada's fairground is located at Almanjáyar, in the northern part of the city, near the
Granada Bus Station
.
You Might Also Be Interested In
Page Updated: May 31, 2021
©
Copyright
• LoveGranada.com • The reproduction of the whole content or parts of it is prohibited
Personal data
protection policy
.