The Best Budget Hostels, Mid-range and Luxury Hotels in Motril
Motril offers many different types of accommodation: campsites, apartments on the seafront, cheap hostels and luxury hotels.
Colonia Hostel in Motril (*)
Located in the centre of Motril, in a quiet area, it is a clean and modest hostel. It is close to tapas bars and open all year.
It has Wifi, heating and air conditioning in all rooms. The car park is a 5-minute walk away. It has 15 rooms.
It offers the most inexpensive accommodation in Motril. If you have a tight budget, then this is your place. A single room costs 12 euros in low season. A double room with toilet costs 30 euros.
The rooms are small and the decor is a little dated.
Address: Cerrajón, 4. Telephone: 958 600 784. Email: reservas@hostalcoloniamotril.com
Alborán Hostel in Motril (**)
A basic hostel located in the port, not far from the beach, near the Paseo del Puerto. Ideal for tight budgets. Pets allowed.
It has 21 rooms, with prices ranging between 18 and 32 euros for a single room, depending on the season (more expensive in summer of course).
The rooms have a bathroom, heating, air conditioning, Wifi and TV.
Address: Varadero, Carrera del Mar, 1. Telephone: 958 601 370
Hostel Tropical in Motril (**)
A two-star hostel run for more than a 25 years by the Tirado Martín brothers.
It is located at the entrance of Motril, has 21 rooms with all the amenities: air conditioning, heating, television, Wifi, etc., and good views of the sea.
The hostel is open 24 hours a day. It has a restaurant offering good food. The rooms are old but clean. Good value for money.
Single rooms cost 28 euros and double rooms 38 euros all year round.
Address: Avda. Rodríguez Acosta, 23. Telephone: 958 604 050. Email: correo@tropicalmotril.com
Hotel Costa Andaluza in Motril (**)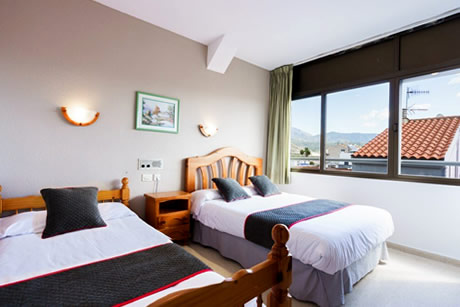 The Hotel Costa Andaluza is located in the northern part of Motril, in front of the Santa Ana hospital. The hostel has three floors, a restaurant, lift and a meeting room.
Each room has a bathroom, heating and air conditioning, television and free Wifi. If necessary, a cot or extra bed can be requested.
It is close to tourist sites such as the Church of Divina Pastora and not far from the beaches, which can be reached by taking the urban bus.
It has 35 rooms: single rooms cost 37 euros and double rooms 53 euros.
Address: Bahamas Islands, 59. Telephone: 958 609 412
Estrella del Mar Hotel (**)
This hotel has a terrace with sea views where guests can take breakfast. It also has an underground public car park just in front of the hotel.
The rooms have a bathroom with hydromassage column, free Wifi, air conditioning, safe deposit and piped music. Guests may use a computer with free Internet connection on the ground floor.
The hotel has 10 rooms at prices ranging between 85 and 90 euros. You can ask for a cot for 10 euros/day.
Address: Poniente Beach s/n. Telephone: 958 602 570
Gran Elba Hotel in Motril (****)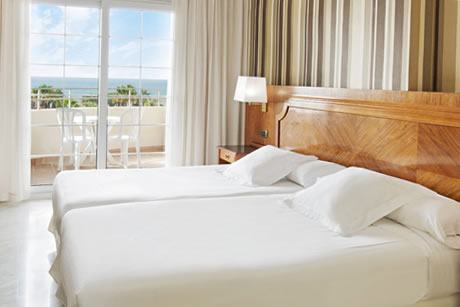 Opened in 1997 and one of the best hotels in Motril. Poniente beach is a minute's walk away, where you just have to cross the seafront.
It is a luxury hotel with all the refinements: 92 beautiful and comfortable rooms, swimming pools, jacuzzi, restaurant, bar, Wifi, air conditioning, and satellite TV.
The rooms are spacious, some of which have sea views and a large terrace, where others do not. If you want a room with a view, it is advisable to request one when booking.
Double rooms can cost between 160 and 190 euros in summer and between 80 and 100 euros during the rest of the year.
Address: Poniente Beach s/n. The Varadero. Telephone: 958 607 744. Email: ghemotril@hoteleselba.com
©
Copyright
• LoveGranada.com • The reproduction of the whole content or parts of it is prohibited
Personal data
protection policy
.