Granada Taxis - Information, Advice, Fares and How to Book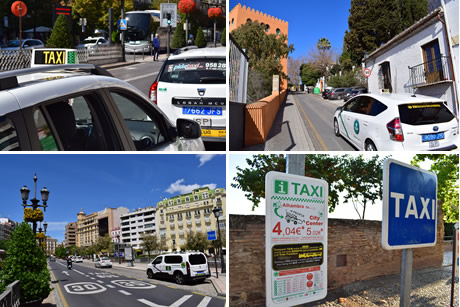 Taxis in Granada is a great option. It is a regulated taxi service that works 24 hours a day, 7 days a week. There are a wide range of vehicles, some of them wheelchair accessible.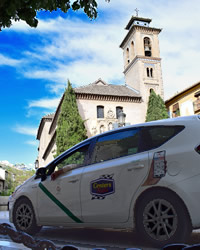 Taxis in Granada are white with a diagonal green band on both front doors and a taxi sign on the roof.
There are also
two types of taxis: urban and intercity
. Both look the same, but intercity taxis provide service only in the villages.
Fares are regulated and set by the City Council and the Taxi Federation. They are calculated by meter (the taximeter).
How to find or book a taxi in Granada?
There are
60 designated taxi ranks
in Granada. They all have a square blue sign with a T.
Taxis can also be hailed on the street. They have a green light on their roof when they are available.
You can book a taxi online using one of theses applications:
pidetaxi Granada
  application www.granadataxi.com/pidetaxi-app or
1Taxi!
application https://radiotaxigenil.com/taxi-online/.
There are
two taxi companies in Granada
: Tele Radio Taxi Granada on 958 28 00 00 and Radio Taxi Genil on 958 13 23 23. You can call them to book a taxi in advance or immediately, if they are available near you.
If you have special circumstances, please inform the company when booking a taxi by phone or online. Not all taxis are wheelchair accesible, for instance, and there are some taxis with more space for extra passangers or large luggage.
Granada Urban Taxi
Taxi drivers are expected to set the taxi meter at the start of the journey. Passengers will be expected to pay the full fare displayed on the meter at the end of the journey.
Taxi fares in Granada vary depending on when you travel.
Granada Urban Taxi Fares
There are
three dirrerent fares
in Granada urban taxis: Fare 1, Fare 2 and Nighttime special Fare.
There is a
minimum fare
of 4,04€ (Fare 1) / €5,02 (Fare 2) / €6,30 (Night Fare) at all times.
There is an
extra charge for luggage
: 0.51 € for each suitcase/bag that exceeds 60 cm. Also, if you departure from
Granada Train Station
or
Granada Bus Station
: 0,51€.
Fare 1 - Weekdays Daytime
This fare is applied during weekdays from 7:00 to 22:00 h Monday to Thursday and from 07:00 to 21:00 h on Fridays.
The number displayed next to the green light on the roof of the vehicle indicates the fare.
Fare 2 - Nighttime and Public Holidays
This fare is applied on Saturdays, Sundays and Public holidays all day (except from 01:00 to 06:00 when a special night fare is applied).
Also on weekdays at night from 22:00. to 7:00 Monday to Thursday, and from 21:00 to 07:00 on Fridays.
Fare 3 - Nighttime Special Fare
This is a special fare applied only on Saturdays and Public holidays from 01:00 to 06:00.
Some Typical Granada Taxi Fares
This table shows some typical Granada taxi fares for your reference:
Route
Fare (fare 1/fare 2)
Centre - Bus Station
8 €, 11 €
How to Book an Urban Taxi in Granada?
Pide Taxi Granada
• Telephone: 958 28 00 00.
• 24 hour service,
urban travel
and to
other cities
, the
airport
pick-up service, etc.
• Address: Calle de la Construcción, 15, 18015 Granada.
Radio Taxi Genil
• Telephone: 958 13 23 23.
• Address: Av. de América, 53, 18008 Granada.
• 24 hour service, trips to other cities, urban trips, etc.
Taxis from Granada to the Airport, Costa and Sierra Nevada
Taxis from Granada to Sierra Nevada
The price of the taxi to
Sierra Nevada
depends on whether it is snowing or not, if the taxi driver has to put the snow chains on the wheels of the car.
If it is not snowing the price is about 60 euros and if it is snowing the price is around 100 euros. It will take 30-45 minutes to get to Sierra Nevada.
Taxi to the Granada Airport
Taxi to the
Airport of Granada
does not have a fixed price, you pay what the taximeter reads.
It's about 25-30 euros from Monday to Friday and about 30-35 euros on weekends or nightly fare.
The distance between Granada and the airport is about 18 km. Approximate time: 30 minutes.
Taxi the the Malaga Airport
Fare 1 is approximately 145 euros and fare 2 is about 175 euros.
The distance between Granada and the Malaga Airport is 142 km. Approximate time: 1.5 hours.
Taxis from Granada to the Tropical Coast of Granada
More information in the
Tropical Coast
.
Taxis to Other Cities
If you travel to another city or town in a taxi, you can return in the same taxi almost for the same price, but you need to ask the taxi driver before you get into the taxi.
Fare 1, Taxis to Other Cities, Working Days
Initial Price: 3 euros. Weekdays from 6:00 am to 22:00 pm. Price per km, vehicle: 0,58 euros. 1 hour of waiting: 14,38 euros.
Fare 2, Taxis to Other Cities, Nighttime and Holidays
Working days from 22:00 pm to 06:00 a.m.; Saturdays, Sundays and holidays all day. Price per km: 0,69 euros. 1 hour of waiting: 17,27 euros.
How Much Does a Taxi to Another City Cost?
Approximate taxi fares from Granada to the towns in the province of Granada
Airport: 25-35 €
Almuñecar: 90-100 €
Armilla: 8-10 €
Barrio Monachil: 9-10 €
Baza: 110-130 €
Bubión: 80-100 €
Cajar: 10-15 €
La Herradura: 110-130 €
Huetor Vega: 6-7 €
Lanjaron: 55-65 €
Lecrin: 40-50 €
Loja: 60-70 €
Padul: 30-40 €
Salobreña: 80-90 €
Santa Fé: 15-18 €
Approximate taxi fares from Granada to cities outside of the province
Alicante: 380-450 €
Almería: 220-230 €
Barcelona: 900-1070 €
Cádiz: 330-400 €
Córdoba: 180-210 €
Huelva: 360-430 €
Jaén: 110-130 €
Madrid: 450-540 €
Málaga: 150-180 €
Murcia: 290-350 €
Sevilla: 270-320 €
Valencia: 570-680 €
Page Updated: April 11, 2020
©
Copyright
• LoveGranada.com • The reproduction of the whole content or parts of it is prohibited
Personal data
protection policy
.
Opinions about Granada Taxis
They hang up on you if you can't speak Spanish
Sept 2018: please note that the folks at Tele Radio Taxi will hang up on you if you can't speak Spanish. Don't bother phoning them. They are very rude.