Alhambra Tickets - How and Where to Buy, What's Included and Types of Tickets
Here we explain what the visits include,
how to buy official tickets for the Alhambra
, what
types of tickets are available
, prices and discounts, changes, refunds and many other tips.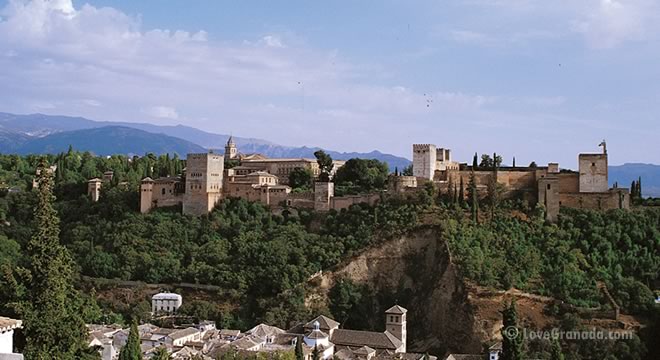 There are
6 types of Alhambra entrance tickets
. The ticket that includes everything (the Nasrid Palaces, Generalife gardens, Alcazaba, etc.) is the daytime
General Admission Ticket
(Alhambra General).
6 Types of the Official Alhambra Tickets
If Alhambra general entrance tickets are not available or if you prefer to see the Alhambra and the Generalife at night, you can buy another type of official ticket that does not include a day visit to the Nasrid palaces (night visit, generalife gardens, etc.).
General Alhambra Entrance: 14 euros.
It is the most popular entrance and the most complete, includes everything: the Nasrid Palaces, Generalife and Alcazaba.

---

Generalife and Alcazaba: 7 euros.
This entry includes access to the gardens and palaces of the Generalife, the Partal and its Palace, and the Alcazaba.

Does NOT include the Nasrid Palaces.

---

Night Visit to Nazard Palaces: 8 euros.
This visit includes only the Nasrid Palaces, does not include the Generalife or the Alcazaba.

---

Night Visit to Generalife: 5 euros.
Includes only the Gardens and Palaces of the Generalife. Does not include the Alcazaba or the Nasrid Palaces.

---

Alhambra Experience: 14 euros.
It is the day visit to Alcazaba, Gardens and Palaces of the Generalife and the night visit to the Nasrid Palaces in two consecutive days.

It does not include daytime entrance to the Nasrid Palaces.

---

Combined Visit Alhambra and Rodriguez-Acosta Foundation: 17 euros.
This visit includes the Nasrid Palaces, Generalife, Alcazaba and the Rodríguez-Acosta Foundation. It is a General Alhambra Entrance + Rodríguez-Acosta Foundation.
There are also three other ways to get the official Alhambra tickets:
Buy Dobla de Oro tour: The ticket cost 20,84 euros, 6 euros more than the Alhambra tickets but it also includes several othe monuments. You can find more information here.

---

Buy Granada Card: This is also the official card, issued by the town hall. It costs 40 euros but with this card you get the entrance to the Alhambra and also visit other 10 monuments. There are several types of this card, more information in Granada Card.
See detailed information about the prices of the Alhambra and discounts at:
Entrance Prices
What are the Nasrid Palaces, the Alcazaba and the Generalife of the Alhambra?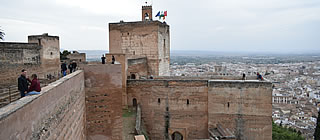 What is the Alcazaba?
The Alcazaba is the oldest part of the Alhambra, fortified military enclosure with towers and surveillance posts where the soldiers lived: the famous Torre (Tower) de la Vela with stunning views of Granada, Torre Quebrada, Torre del Homenaje, Torre de la Polvora, Torre del Cubo, etc.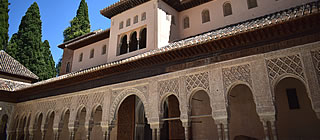 What are the Nasrid Palaces?
The Nasrid Palaces was the residence of sultans of Granada, a set of palaces and courtyards built at different times: Patio de los Leones, Salón del Trono, Patio y Cuarto Dorado, Palacio de Comares, Patio de los Arrayanes, The Mexuar, Court of the Myrtles, the Ambassadors' Room. etc.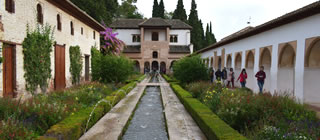 What is the Generalife?
The Generalife is country estate with beautiful gardens used by the Sultans of Granada as a place of rest and summer residence.
It includes the Jardines Bajos, Patio del Cipres de la Sultana, Escalera del Agua, Mirador Romántico, Patio de la Acequia, Viewpoint of Ismail, etc.
6 Ways How to Buy Tickets for the Alhambra?
The official Alhambra tickets can be purchased in
6 ways
.
Internet, through the official sales website.
By telephone.
At the ticket office on the same day if the tickets are not sold out.
Buy Granada Card.
Buy Bono Pernocta (overnight). To be able to buy this card you need to book authorized accommodation for minimum two nights.
In an authorized Travel Agency or buying a guided tour.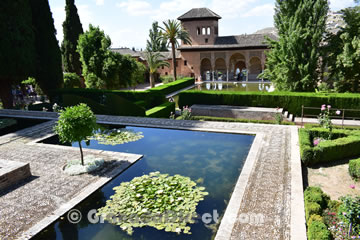 The ticket indicates a specific time to see the
Nasrid Palaces
in order to control the number of visitors in that part of the Alhambra.
Alhambra tickets sell out quickly. Is it better to buy tickets in advance online at least one month before your visit.
For all types of
group entries
to the Alhambra and Generalife, you need to contact Reservations. For more information on how to book and discounts, send an e-mail to Junta de Andalucia: reservas.pag@juntadeandalucia.es.
How to buy Alhambra Tickets on the Internet
▸ You can
buy tickets to the Alhambra
between
two hours and four months
in advance of the visit.
▸ You can
buy tickets to the Alhambra
on the website tickets.alhambra-patronato.es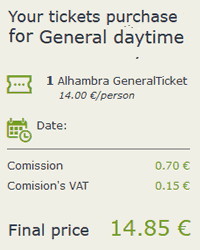 ▸ In the first step you indicate what type of ticket you wish to purchase (general, person over 65, children,students, etc.) and the number of entries (up to 10).
▸ Then you will be asked to choose the day you want to make the visit to the Alhambra, and the time when you want to visit.
▸ Remember that the entrance for children under 12 years of age is free but you must indicate that you are entering with a child when buying your ticket.
How to Buy Alhambra Tickets by Telephone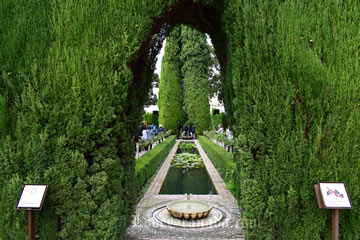 ▸ You can buy tickets to the Alhambra by calling (+34) 858 953 616, information 958 027 971.
▸ Tickets to the Alhambra can be purchased between two hours and four months in advance of the visit.
▸ You can choose the time of entry to the Nasrid Palaces.
▸ If you don't have your own printer, you can print the tickets at one of the vending machines located next to the Alhambra entrance by entering your reservation number.
▸ For detailed information about the prices see:
Alhambra Entrance Prices
.
How to Buy Tickets for the Alhambra on the Day
If the tickets are not sold out, they can be purchased at the ticket office on the same day.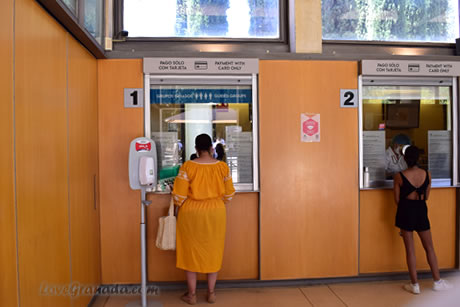 To find out if the tickets are avaialble, you can go to the official ticket sales website (tickets.alhambra-patronato.es) and check.
If the tickets are available online, you can buy them at the ticket office, but it is also likely that when you reach the ticket office, these tickets are already sold. The best thing if online tickets are available buy them online.
On the other hand there are sometimes returns. From 00:00 on the same day, these returned tickets appear on the sales page, you can to check if there are any new tickets areavaliable from this time.
How to Collect Alhambra Tickets?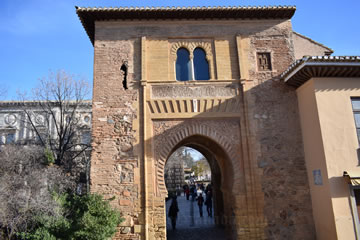 ▸ At the end of the purchase you have to print the ticket with the QR code or write down the reference number.
▸ If you do not have a printer at home or make the purchase by phone, you can print the tickets at the vending machines located to the left of the Access Pavilion by putting the reference number that appears at the end of the purchase.
▸ It is no longer necessary to collect the tickets of the Alhambra at the ticket office if it is not a reduced price entrance.
▸ But you have to collect the tickets with reduced prices at the ticket office.
▸ You have to show the printed reservation/ticket and the
National ID Card or Passport
at the entrance.
Alhambra Entrance Tickets - Changes and Refunds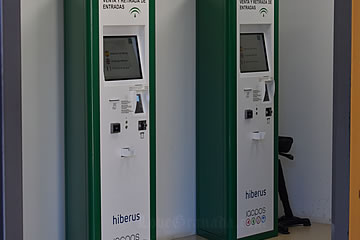 ▸ Can I change the date or time of my Alhambra tikects?
You
cannot
change the date or time of entry. You should return the tickets if they are not suitable anymore, and then buy new ones. However, make sure that there are tickets available before you cancel the previous ones.
▸ Can I return my Alhambra tickets?
Tickets can be returned
only if
: you bought them in advance and directly from the Patronato de la Alhambra y el Generalife, they have not been printed yet, and you apply for a refund minimum
5 days in advance
of your visit.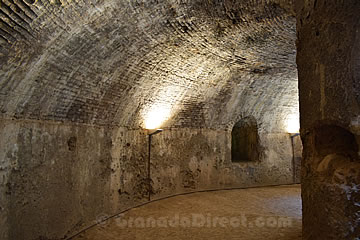 If tickets have already been printed at home and/or you are applying with less than 5 days notice, you shall not be entittled to a refund
unless:
the Patronato (officicial Board of the Alhambra) is responsible for the cancelation of your visit or in particularly serious and unforseen circumstances that prevented you from attending.
Please, note that you should be able to prove this. Commission fees are not refundable in any case.
▸ How can I apply for a refund?
To cancel your tickets and apply for a refund, please email: entradasalhambra@iacpos.com.
What to Do If Alhambra Tickets are Sold Out?
When the tickets to the Alhambra are sold out
, there are other options to get a ticket.
See all information in
What to do when tickets are sold out?
Page Updated: January 21, 2020
©
Copyright
• LoveGranada.com • The reproduction of the whole content or parts of it is prohibited
Personal data
protection policy
.
You Might Also Be Interested In
Opinions about Alhambra Tickets
Refused entry without passports having IDs
Our group of six had booked to visit but were refused entry because we all did not have passports with us.
We offered national identity cards and also driver's licences which have our photographs on them, but the official insisted on passports.
This is not the way to treat overseas visitors who have spent a lot on getting there, only to be turned away.
It wasted a whole morning in queues before this incident, and the tourism representative was also not interested in our problem.
I will not recommend that experience to anybody.
I had to give the purchase up
The information is useful, but my experience is not good.
Following the information I tried to buy the ticket at the website given. I saw the ticket available only on one day that is more than one month from now.
But after I chose it and was given the visit time I could not go on to the next step to fill out the contact details and to complete the purchase.
I tried several time with online chat but it does not function, noboday came to help. I had to give the purchase up.
None of Danish cards are working
Not only Australians are excluded from buying tickets online. I have been trying on three different browsers with 2 different VISA cards and one Mastercard - all Danish. None of them are working, all though my bank assures me that they are ok.
Just bought tickets for the Caminito del Rey also online, which worked smoothly, so yes my card is ok.
I contacted Ticketmaster to get them look into it. They say that they can't see any problem, but I could call the ticket office for international sale. So I did. The guy at the office was nice, but when he found out that my card was Danish, he said "Oh we don't accept Danish cards, but you can try to call the customer service". Guess who picked up, when I called the number her gave me? Tadaaah - Ticketmaster!
This solution runned by Ticketmaster is a joke, and the ticket office and Ticketmaster are pushing the problem from side to side. Why state that they accept VISA and Mastercard, when in fact they don't. Why not put in this information: we're sorry but we can't be bothered to pay for a decent solution for our international customers. If you have don't have a spanish issued credit card, you can't buy tickets online.
So here we have one of Spains top touristsattraction, which you're recommeded to book tickets for in advance. But as a foreigner you can't. How stupid is that? (Kirsten)
Purchase tickets using my AMEX card
I read the horror stories for buying Alhambra tickets thru Ticketmaster.es using Australian credit cards. No luck using my Citibank Visa debit card but on second attempt using my AMEX card was able to purchase what I wanted. I had to press the purchase button a few times as nothing seemed to be happening. Purchased 3 months in advance (Alan).
Purchase tickets to alhambra without success
I've tried multiple time buying 4 tickets (2 children-concessions) to purchase tickets to alhambra without success, I've message FB ticketmaster Espana/Australia and it Instagram account explaining why it seem (as above comments alluded to) it won't accept Australian issued banks debit master cards and travel card. Today on the 09/june/2017 (Nusuk).
Trying for a week to buy tickets
I have been trying for a week to buy tickets it seems to go through until compra then nothing happens (Michael).
Ticketmaster site for Alhambra tickets, shameful procedure
I have a very harsh opinion about ticketmaster site for Alhambra tickets. Slow, spend a lot of time with it and after lot of trying rejecting a valid Visa card without normal reason (asked my bank that the card was even not validated after entering the card data), several times in Spanish. Its nothing else, but fooling visitors.
Shameful procedure! Wasting only the time! (Dr Gyorgy)
Alhambra tickets with Australian credit card
Why is it that you cannot buy Alhambra and Generalife tickets online with an Australian credit card when I can book everything else for my trip including Spanish hotels, flights, buses and trains? You would have thought that this problem could have been sold after many years (William).
Email forbidden characters
Ticket master will not accept my email address stating it contains forbidden characters which it does not. Very worried that we'll miss out as it's a Saturday visit (Paul).
Incompatibility of Australian Credit Cards
The following comment, in italics, from our tourist agent appears to clarify the situation.
'We have raised the issue of incompatibility of Australian Credit Cards with the Alhambra & TicketMaster, but it appears that it is the Australian Banks responsible for Visa/MasterCard/Maestro blocking the transaction from TicketMaster as an anti-fraud action.
So both the Alhambra and TicketMaster say they have no control over this.
AMEX, however, do authorise the transaction.'
Considering the length of time that this problem had existed, It would appear that Alhambra & TicketMaster (Spain) should make sure their system meet the security standards required by the Australian banks or the Australian banks should suggest that they do so and then check that they have (Bill).
Alhambra Tickets Refund and Change
To make everyone who is interested in Alhambra dream come ture, refund and change is fexible way especially for people who travel my themselves abroad.
Error after processing payment
I ve been trying to buy tickets, twice an error after processing payment, no tickets so far - don't know what to do. Office that I wrote to for help is not answering. What a great attraction in Granada and no possibility to pay with Paypal. I am disappointed!! (Sabina).
Alhambra Concession Tickets And Queuing
Before you buy concession tickets from the TicketMaster web-site, here's some information about queuing which isn't mentioned on the official Alhambra web-site or the TicketMaster web-site (as far as I can see) which I discovered for myself yesterday (24/07/2012).
The concession tickets in my case were two child tickets but I assume other concessions will be similar. Normally when you pick up your pre-paid tickets from one of the many TicketMaster machines in the room next to the gift shop at the entrance, you avoid the long queue of punters buying their tickets on the day and will walk straight in to the Palace grounds.
However, and here's the thing, concession tickets are printed without a bar-code on them and the official manning the entrance gate won't let you in without the bar code. So you have to join the back of the queue of punters buying tickets on the day to get the ticket "authorised".
In my case I only had to wait 25 minutes in 32 degrees of heat (it was 18:00) but I imagine the wait time would be much longer at peak times and hotter. I tried jumping to the front of the queue but the armed security guard at the head of the queue was having none of it, after all the queue was probably made up of many others just like me simply waiting to get their tickets "authorised".
And another thing, you will need to have a passport or similar to show the cashier before she will convert your concession ticket to one with a bar-code. So my top tip for avoiding a long wait in the scorching sun is to avoid concession tickets altogether.
Alhambra Tickets Refund and Change
To make everyone who is interested in Alhambra dream come ture, refund and change is fexible way especially for people who travel my themselves abroad.
Alhambra Nasrid Palaces by night
Just don't go in the evening, as we just did today (10 pm entry). Nothing is properly lit, there are no descriptions (unless you pay 10 euro each for an audio guide on top of the ticket), and tonight the three most interesting place swere all roped off for restoration - Court of Lions, Hallk of the Abencerrages and the Hall of Ambassadors.
Extrenmely disappointing after reading Washington Irving for two months and fantasizing about a wander thru the palace(s). In fact you see about ten small rooms and the fine Court of Comares with its water feature.
Nothing above ground level is open anyway, it seems. Even lingering to try (no flash) photos of the detailed ceilings it was hard to spend more than half an hour on this five minute walk. best go in daytime – all is indoors and you might see something. And maybe pay the 10 euros, or have your Irving with you – some of the rooms are named, some not.
We travelled all the way from Australia and it is a big disappointment that it is so badly organised. Also had to walk back 10 minutes from Parador in the heat to get my ticket from the office (Norman).
Poor Communication
As a party we visited Alhambra last week. After queuing for ove an hour, one irate man cam away from the ticket ` office and told everyone that ha had queued for 90 minutes, to be told that tickets had sold out.
Communication there is exceptionally poor. Why cannot a board be put outside in several languages so that we don't queue unnecessarily? (Graham)
Can't Buy Tickets
I tried to buy tickets online. Every day during one week and gave up. The only answer I had was the info is incorrect. I asked my friends to buy it for me. They got the same answer. Very frastrating. (Kate)
Australian Credit Card a Security Risk!
What a disorganised mess! I'm in Australia right now trying to pre-book using my credit card and after days of stuffing around find out they don't accept Aussie cards! It's OK for accommodation, flights, trains etc, but not for 34 Euros worth of tickets for Alhambra. Maybe they just don't want us to see it. Perhaps it also explains why the country is in an equally disorganised financial mess! (Mark)
Buy Alhambra Tickets with Credit Card
I am also trying to buy tickets with my credit card and even though I can see there are places, it will not be accepted. Funny though because I did this all back in 2006 and there were no problems booking online before I left Australia. So we have booked a tour to get around this issue.
Alhambra Booking Process
I have tried all day today to book tickets for the 10th April on ticketmaster.es. It allows me to select the day, the number of tickets, the session for the Nasrid Palace, enter my personal details and my bank card details and then tells me it has failed.
I called the phone number on the website for bookings and they said the site was down but should be working this afternoon - it was not.
The other problem with the booking process is that it insists on a first surname - I don't have one, like all British clients, so had to force a space into this field (Sue).
The issue is that I am Australian
I have been trying for 2 weeks to purchase tickets to Alhambra and continue to get an error message telling me to try again later. I can now see the issue is that I am Australian! Never before have I struck such prejudice. How does one get tickets without paying for the guided tour? After reading the comments I will try my Amex and see if that works.