5 Best Economic Hostels in Granada - Affordable Accommodation in the City Centre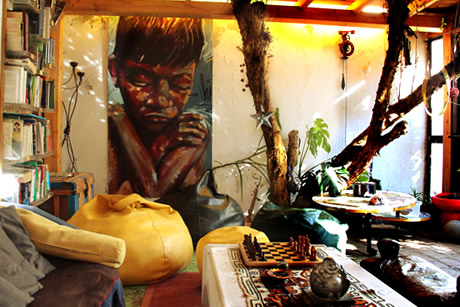 You will find a
great variety of hostels in Granada
. They are usually smaller and more economical than hotels. Some of them are family businesses with only four rooms, while the larger establishments occupy an entire house.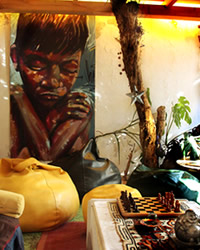 ☞
If you want to
enjoy a special visit
these guided tours offer unique opportunity to discover Granada.
☆
Alhambra + Albaicín + Sacromonte Tour
: a
combination of the complete tour
of the Alhambra (Palaces, Alcazaba, Generalife) + the Albaicín + the Sacromonte.
☆
Albaicin and Sacromonte Guided Tour
: discover this
old arab quarter
of Granada with this
guided tour
.
There are
hostels in the historic city centre
of Granada and in the emblematic neighbourhood such as the
Albaicin
with views of the
Alhambra
. Although they are usually inexpensive, it all depends on the type of hostel you are looking for.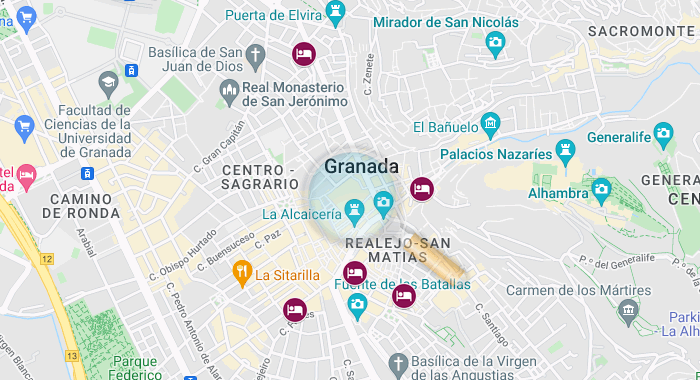 If hostels offer all the comforts and services you would expect from hotels, their prices will be similar to hotel prices. If what you are looking for is
within a low budget
, you can find modest hostels with private or shared bathroom facilities for a reasonable price.
Hostal
Price
Area
Parking
Breakfast
from 15 €
Gran Via
15 € / day
3 €
from 25 €
Plaza Nueva
20 € / day
no
from 28 €
Mariana Pineda
18 € / day
no
from 25 €
Town Hall
16 € / day
6 €
from 30 €
Recogidas
15 €, own
no
Also, there are kid-friendly hostels with family rooms that can hold up to four people.
Here are the
5 best hostels in Granada
based on traveler reviews, location, quality, cleanliness, friendliness of the staff and good value for money.
A
good way to get to know Granada
and its history is
by taking a tour
.
Alhambra Guided Tour
: Discover the incredible history and architecture of the impressive Alhambra with a passionate and experienced guide.
Alhambra Open Air Tour
: See the Alhambra from a new perspective, visiting the surroundings, free areas and gardens.
Eco Hostel - Modern and Ecological in the Heart of Granada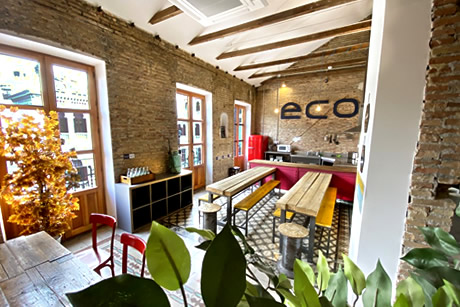 Eco Hostel
with
modern and trendy design
is perfect for solo travellers, couples and groups of friends. Cozy decoration, clean and comfortable facilities.
It's a place where you can enjoy privacy as well as good atmosphere.
It is located right in the city center of Granada, walking distance from all main attractions. Parking facilities nearby.
Rooms and Capacity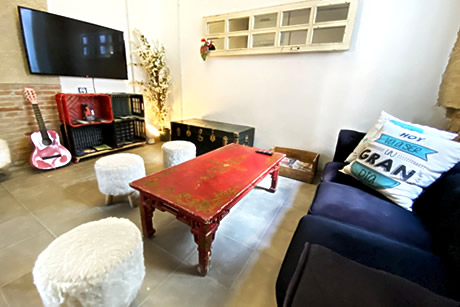 It has both
shared rooms and private rooms
with capacity for 2-4-6 people, all with private bathroom, some with balcony and views.
The rooms are clean, mattresses and pillows are comfortable, there is an individual charger next to each bed.
Coffee Shop and Breakfasts
On the ground floor there is a 'green' space to have a breakfast or have a snack at any time of the day.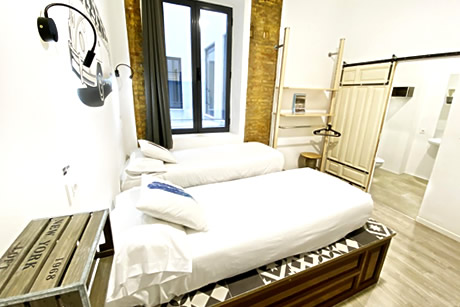 Great variety of milk and different types of bread. There you can learn how to prepare an authentic paella.
Activities
The hostel organizes many activities: a free daily walk through the Albaicin and Sacromonte, excursions to the Sierra Nevada, cooking workshops, adventure activities, flamenco, Arab baths...
Amenities and Services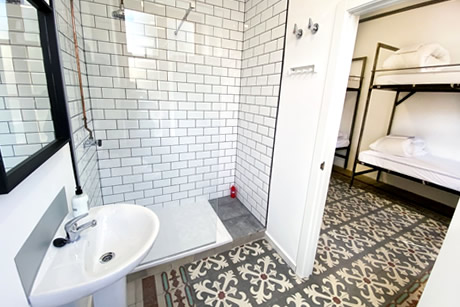 It has air conditioning, heating and free Wi-Fi connection throughout the hostel, cinema room and coffee shop.
There are common areas on the ground floor where you can meet other travelers in the living room, have a good Italian coffee in the vintage coffee shop or watch a movie in the cinema.
There is also a small locker to store valuables.
Parking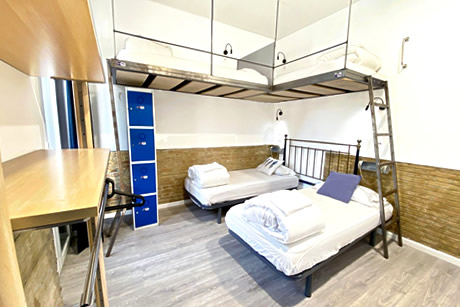 It does not have private parking but there is the possibility of finding free parking near the hostel.
The hostel's staff will recomend you some private car parks in the area of ​​Triunfo and Fuente Nueva.
The cheapest and closest private parking you can find is near Granada train station about 15 minutes walk from the hostel. It costs about 12-15 euros per day.
Eco Hostel Rates
From 15 euros/night for a shared room and from 45 euros for a private room.
Venecia Gomérez Guesthouse - in One of the Most Emblematic Places in Granada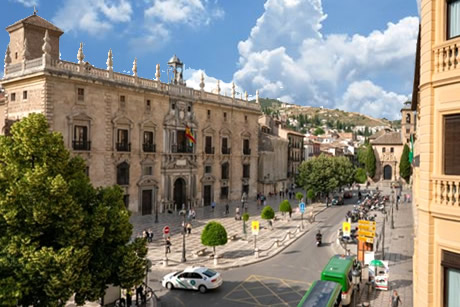 Pension Venecia Gomerez
is located right in the middle of the city but on a side road, on a narrow street leading up to the Alhambra and close to all major monuments, restaurants and squares.
Just a
few minutes from
some of the most iconic places of the city such as the Cathedral, the Arab Baths and the Albaycin área.
Pensión Venecia Gomérez is a part of a building catalogued as an
historical site
.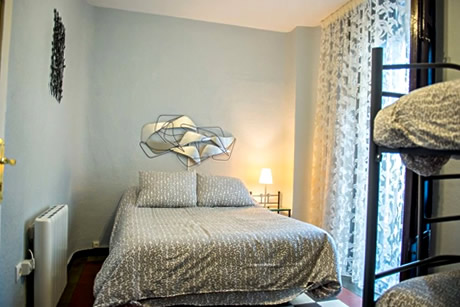 Rooms
The cozy rooms, clean and tastefully decorated with classic and modern touches.
Each room has been completely renovated and redesigned in a minimalist style, comfortable beds.
All rooms have a
private balcony
from where you can see views of Plaza Nueva and its daily activity. Some rooms have a private bathroom.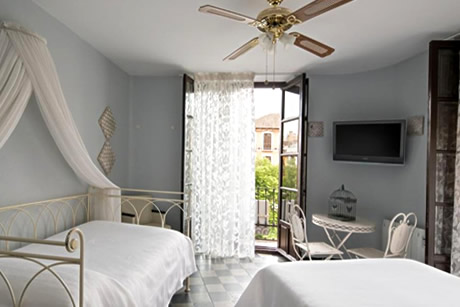 Amenities and Services
Venecia Gomérez has a wide variety of services and amenities, such as free Wi-Fi, parking, safe in reception, buffet breakfast and luggage storage. No lift.
They
also offer
private transfers and ticket reservations (Alhambra, arab baths, flamenco shows, etc).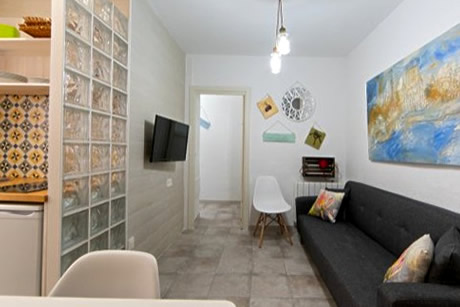 Proximity
Plaza Nueva, Alhambra, Albayzin, Arab Baths, Cathedral, Teahouses, Santa Ana Church, Paseo de los Tristes, Carrera del Darro.
Several bus stops nearby, can go anywhere in the city.
If you like tapas, the famous calle Elvira is only two minutes away.
Pension Venecia Gomérez Rates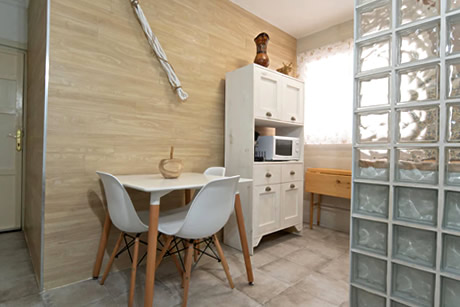 Rates
from 25 euros to 125 euros
, depending on the type of room (single, double, triple, quadruple or apartment), whether the bathroom is shared or private and the time of year (Sunday to Thursday, Friday and Saturday, holidays and long weekends).
Parking
They have private parking on request (limited places). The
price is 20 euros
per night. It is necessary to reserve in advance.
☞
If you want to enjoy a
special day in the Alhambra
, you can
reserve a guided tour
:
☆
Alhambra Guided Tour
: discover the wonders of the Alhambra with this tour that
includes everything
: the Nasrid Palaces, the Generalife, the Alcazaba, etc.
☆
Albaicin and Sacromonte Guided Tour
: discover this
old arab quarter
of Granada with this
guided tour
.
Hostal Costa Azul - With a Beautiful Granada Patio in an Area of ​​Tapas Bars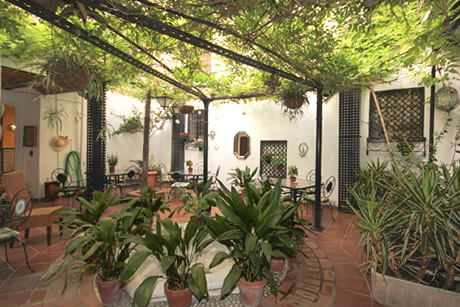 Hostal Costa Azul is
located near the Mariana Pineda Square
, on Navas street, a very popular tapas (snacks) area in Granada.
The building dates
from the 19th century
and has a pretty patio with flower pots.
It is a family run business that has been serving tourists for 52 years.
It
also has some tourist apartments
across the road and the Taberna El Retiro, in the same area.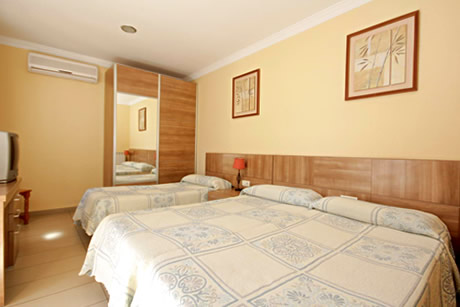 Rooms
The rooms are basic but clean with all the basic necessities, comfortable beds.
The rooms are spacious and fairly quiet with a complete private bathroom, television, heating and air conditioning.
Some rooms have a private terrace and sofa.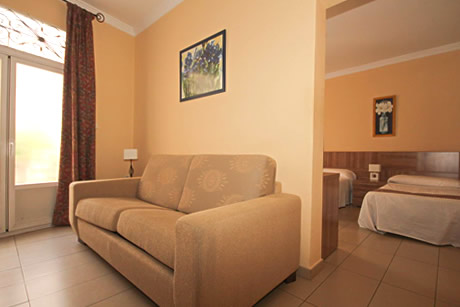 In the apartments there is a kitchen with a refrigerator, coffee maker, microwave and washing machine.
Use of computer at reception and free Wi-Fi.
Amenities and Services
- Luggage Storage available for your suitcases and bags.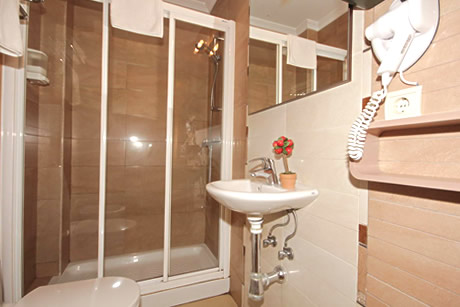 - Private parking at the price of 18 per day.
- Coffee, juice and toast is offered at the price of 3 euros per person in a bar next door.
Offers reservations for the monuments and main sites, including the Alhambra, restaurants, shows, hiking, tours, etc.
Proximity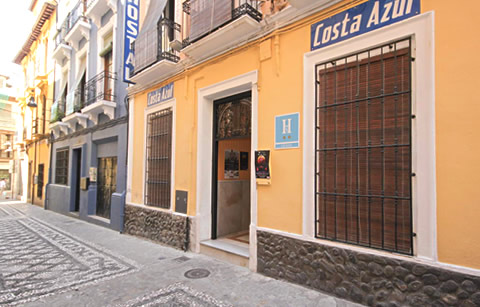 All accommodations are located in the city center, close to monuments, bars and restaurants, taxi and bus stops, banks, supermarkets, etc.
Costa Azul Hostel Rates
Affordable prices for all budgets.
From 20 euros to 35 euros
per person and night for a room in the hostel.
And from
28 euros to 40 euros
per person per night for the apartments.
Nest Style Granada - Modern Design Hostel in Plaza del Ayuntamiento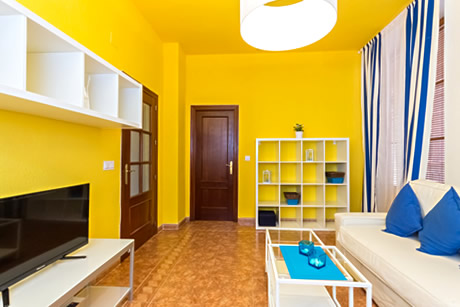 Nest Style Granada is located
in the heart of the city
, 3 minutes from the Cathedral, 10 minutes from the Albaycín and 20 minutes from the Alhambra on foot.
There is a nice roof terrace with a nice view of Granada.
Friendly staff who speak a
number of different languages
and offer tourist information service.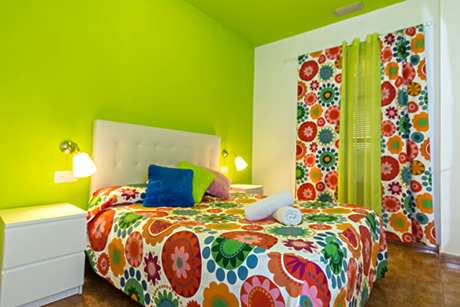 Rooms
The rooms have
cheerful color tones
with a lot of light and have been recently renovated.
It has interior rooms, usually quieter, and exterior rooms overlooking the streets and the main square, Plaza del Carmen.
All rooms have a
private bathroom with shower
, heating and air conditioning. Spacious and clean.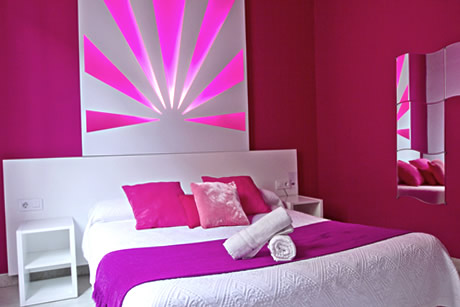 Parking
It has private parking spaces located in the Ganivet car park 200 m away.
The price is
14 euros during the week and 16 euros on weekends. Requires prior reservation.
Breakfast and Kitchen
Buffet breakfast with tea and coffee available all day and costs 6 euros per person per day.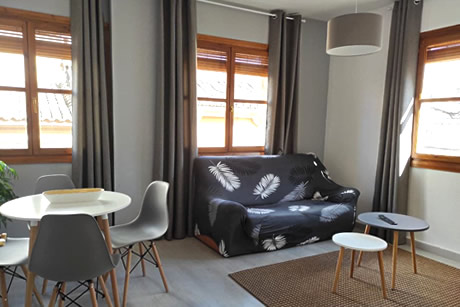 It is served from 8 to 12 in the morning, although it can be served before this time on request.
The communal kitchen is also available for use by clients on the 4th floor. If you want to make your own meal, it is open from 8:00 until 00:00.
Free coffee and tea all day
, you can also buy cold drinks.
Amenities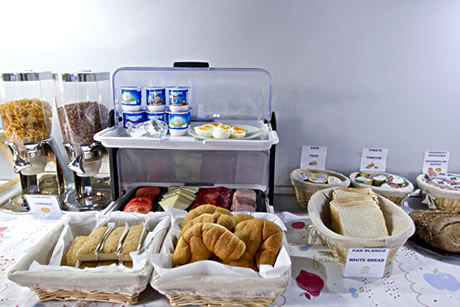 - Computer and safe in the reception / 24 hours.
- Free wifi available, luggage storage, elevator.
- Terrace with smoking area.
Nest Style Granada Rates
Double room
- between 35 euros and 50 euros (low season).
Single room
- between 25 euros and 40 euros (low season).
Family room
- 3, 4 or 5 people - to consult.
☞
If you want to enjoy a
special day in the Alhambra
, you can
reserve a guided tour
:
☆
Alhambra Guided Tour
: discover the wonders of the Alhambra with this tour that
includes everything
: the Nasrid Palaces, the Generalife, the Alcazaba, etc.
☆
Albaicin and Sacromonte Guided Tour
: discover this
old arab quarter
of Granada with this
guided tour
.
Hostal Verona - a Modern Hostel with a Family Tradition in Recogidas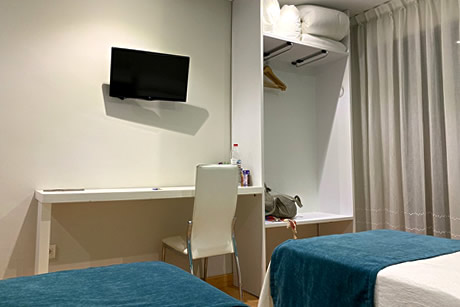 Hostal Verona is located in the heart of Granada,
in the historic quarter
, surrounded by shops and close to the bar and restaurant area.
Comfortable hotel with modern decoration, spotlessly clean and spacious.
It offers one of the
best quality-price ratios
in Granada.
Rooms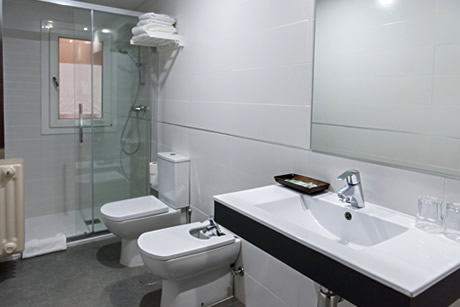 The very well equipped rooms with private bathroom, great shower and other bathroom facilities.
The rooms have everything you need: comfortable beds, hair dryer, enough storage space, etc.
Quiet and bright, very tidy with small tv and free wifi.
It also has double rooms with an extra bed.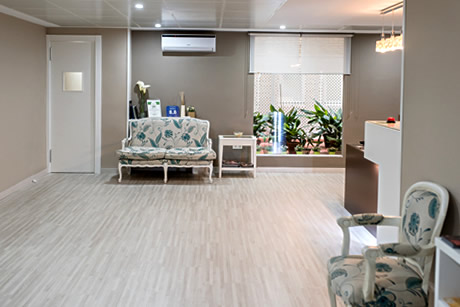 Parking
It has its
own parking
in the same building where the hostel is located, for 15 euros/day.
You have to be careful driving, to get to the hotel you need to enter the restricted traffic zone.
Only the circulation of buses and taxis is allowed. Ask the hotel for directions to the car park.
Breakfast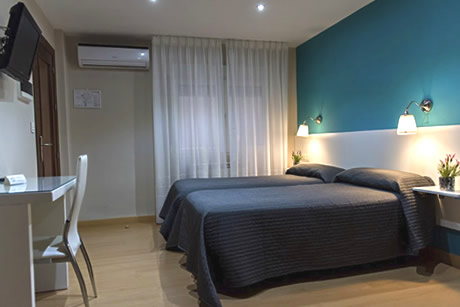 They do not offer breakfast, but you can have a coffee or tea in a small office at the entrance.
Free coffee and cookies all day.
Anyway, being in the center you would have no problem finding a good coffee shop nearby.
Verona Hostel Rates
All rooms have: TV, air conditioning and heating.
Single room
from 30 euros
, double room from 36 euros, triple room (with extra bed) from 45 euros.
You Might Also Be Interested In
Page Updated: May 14, 2022
©
Copyright
• LoveGranada.com • Any use of the content, including copying of it in whole or in part is prohibited.