Granada Airport - Services, Destinations, How to Arrive and Parking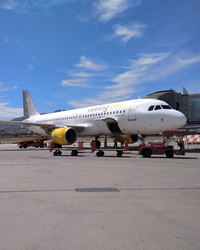 Granada airport
is located
18 kilometers from Granada
city and 105 km from Jaen. It has 1 passenger terminal and a 2,901 meters runway.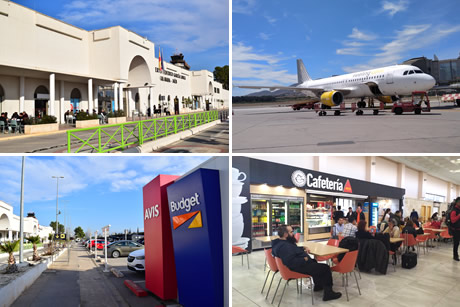 The airport offers domestic flights, a wide variety of facilities, tourist information, cafe shop, car rentals,
bus service to Granada
, parking and
taxis
.
Passenger Service
Information Points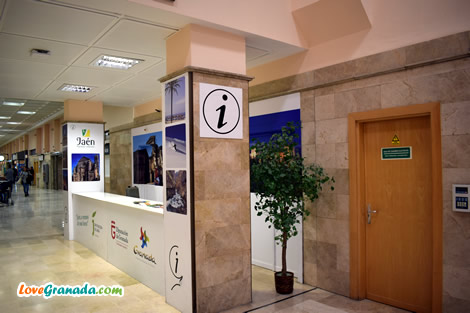 Granada Airport offers two types of
information services
: tourist information and airport information.
The
two information points
are on the ground floor.
- The Tourist Office is located in the arrivals hall, telephone 958 245 269.
- The airport information offered by Aena is in the departure hall, telephone 902 404 704.
Granada Airport Opening Hours
The Granada Airport is open
from 05:30 until 00:00
. You can not stay in the Airport at night.
Cafeteria and Restaurant at the Airport of Granada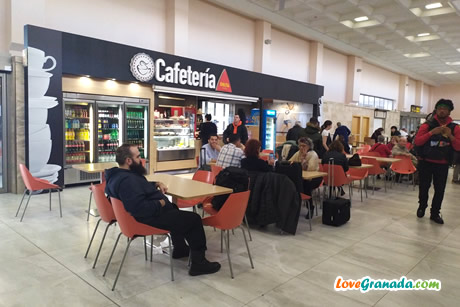 Cafeteria Restaurant Los Abades.
Open: from 7:00 to 23:00. Telephone: 661 384 369.
The cafeteria-restaurant is on the east side of Granada Airport, next to the boarding area.
It has cafeteria-restaurant where you can buy snacks, light food, salads, drinks, sandwiches, ice cream, etc.
WIFI zone
The company Aena offers free wireless internet access at Granada airport. The Internet access point is called AIRPORT FREE WIFI AENA.
Telephone: 900 928 053. Email: serviciowifi@aena.es.
Lost Objects
Lost property office is located in the arrivals hall.
To find out how to recover a lost object at Granada airport you can call 958 245 249 or send an email to GranadaObjetosPerdidos@aena.es.
You can also contact your company: Air Europa 902 190 271, Iberia 958 245 238 or Vueling 902 486 648.
Assistance for Passengers With Disabilities or Reduced Mobility
The Federico García Lorca Airport offers an assistance service for disabled people or people with reduced mobility free of charge.
You can request the assistance service by calling 902 404 704, 48 hours in advance.
ATM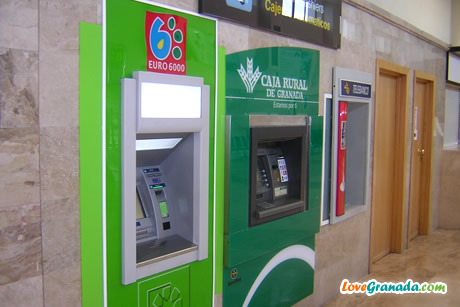 In the Granada airport there are two ATMs on the ground floor: Caja Rural (Servired) and Caja Granada (Euro 6000).
Guardia Civil and Police
The Guardia Civil (Civil Guard) is located on the ground floor, in the departure hall. You can call them at: 958 245 282.
The police office is located in the arrivals hall, the phone number is 958 245 210.
Medical Assistance
The airport has a first aid medical service, open 24 hours a day. It is located in the departure hall and its telephone number is 958 245 217
Shops at Granada Airport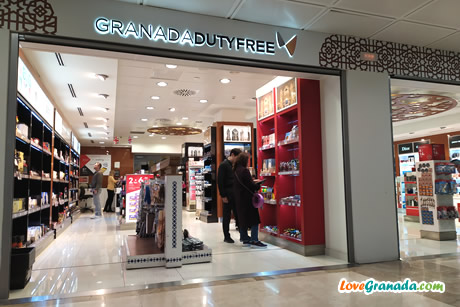 Granada Airport has a duty free shop called Granada Duty Free that is Located in the boarding area.
This shop sells food, wine, souvenirs, cosmetics, beauty products, tobacco, local crafts and other products.
It is open from 7:00 a.m. and closes when the last plane has departed. If you have any questions you can call them on 689 281 023.
Airlines Operating at Granada Airport
The
airlines operating at Granada Airport
are Iberia, Vueling, Air Europa and Air Nostrum.
There are
direct flights
to several national destinations: Barcelona, Madrid, Bilbao, Ibiza, Menorca, Mallorca, Tenerife y Gran Canaria.
The are no direct international destinations at the moment.
Vueling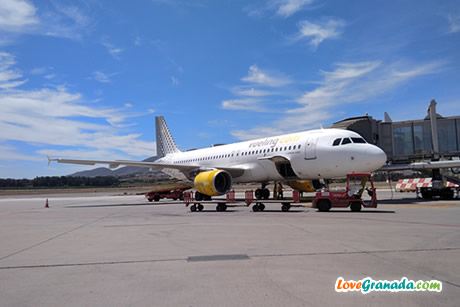 Vueling
is a Spanish low cost short distance flight operator.
Direct flights from Granada to Barcelona (1 hr 20 min), Bilbao, Gran Canaria, Tenerife, Palma de Mallorca, Menorca and Ibiza.
If we compare the prices between train and plane normally it is cheaper and much faster to fly to Barcelona or Bilbao than to go by train.
Telephone for enquiries: 902 808 005. Telephone for reservations: 902 808 022.
It is better to buy the tickets on the
official Vueling website
, the tickets cost about 10 euros less than booking by phone and you also have to add the cost of the call.
Iberia
Direct flights
: from Granada to Madrid (Air Nostrum) and from Granada to Melilla (Air Nostrum).
With a stopover in Madrid
: A Coruña, Alicante, Asturias-Oviedo, Bilbao, Fuerteventura, Las Palmas, Ibiza, Lanzarote, Logroño, Menorca, Murcia, Palma de Mallorca, Pamplona, San Sebastián, La Palma, Santander, Santiago de Compostela (Iberia Express), Tenerife, Valencia y Vigo.
Phone:
901 111 500.
Air Europa
Direct flights
from Granada to Palma de Mallorca.
With a stopover in
Mallorca: Barcelona, Ibiza, Menorca and Valencia. It takes 6 hours to get to Valencia with a stopover in Mallorca.
Phone:
902 401 501.
Email:
clientes@air-europa.com.
Air Nostrum
Air Nostrum is the regional company in Spain. It has a franchise agreement with Iberia and operates under the Iberia Regional Air Nostrum brand. Offers direct flights from Granada to Madrid.
Phone:
901 111 500.
Email:
scliente@airnostrum.es
How to get to Granada Airport and Car Rental
Granada Airport Buses
- The company that offers this service is Alsa. There are between 10 and 14 trips daily.
- The price of the ticket is 3 euros.
- The telephone number of Alsa is 902 422 242.
More information in
Buses to Granada Airport
.
How to Get from Granada Airport to Malaga?
There is no direct bus from Granada Airport to Malaga. You have to take a bus from the Granada Airport to Granada (30-45 mins), get off at the Granada Bus Station and there take a bus to Malaga. It will take about 1.45 hours.
How to Reach Granada Airport by Car
From Granada: the A-92 motorway direction Seville.
From Jaen: the N-44 to Granada and then the A-92 motorway towards Seville.
Car Hire at Granada Airport
Three car rental companies are represented at the airport. More information in
Car Rental
.
Taxi Granada - Airport, Rates
The
taxi stand
is located just in front of the airport.
The distance from Granada to Federico García Lorca Airport is approx. 18 km.
Here you can see approximate rates for taxis to Granada Airport from various places of Granada:
Rate 1
(from 06:00 to 22:00, monday-friday)
Rate 2
(from 22:00 to 06:00, saturday, sunday and holidays).
From Airport to
Rate 1
Rate 2
Bus Station
24 euros
26 euros
Alhambra
28 euros
30 euros
Albaycin
29 euros
33 euros
Cathedral
27 euros
29 euros
North of Granada
24 euros
26 euros
Sacromonte
30 euros
34 euros
Ctra. de Sierra
30 euros
34 euros
Realejo
27 euros
30 euros
Granada Airport Parking
The Granada airport car park has 450 covered parking palces, 4 parking places for motorhomes, 99 parking palces for the cars for hire and is guarded.
It is located just in front of the terminal, about 10 meters from the main entrance to the airport.
There is no need to make a reservation in advance, there are many parking places.
Granada Airport Parking Rates
- Per Minute: 0,035 euros.
- 1 Hour: 2,10 euros.
- Maximum daily charge: 12,50 euros (up to four days).
- Maximum daily charge: 9,35 euros (from the fifth day).
Parking Contact Details
Phone: 902 404 704. Email: aenaaparcamientos@aena.es.
Location of the Granada Airport
Page Updated: March 07, 2020
©
Copyright
• LoveGranada.com • The reproduction of the whole content or parts of it is prohibited
Personal data
protection policy
.
Opinions about Granada Airport
Granada airport is great, but not enought flights
This Granada airport is great: small, quiet, tidy. Unfortunately it has very few international flights. Some trips I have had to make via Malaga and it shouldn't be like this. For the rest, I repeat, great.