Plaza de Isabel la Catolica in Granada - Impressive Fountain and a Statue of Queen Isabel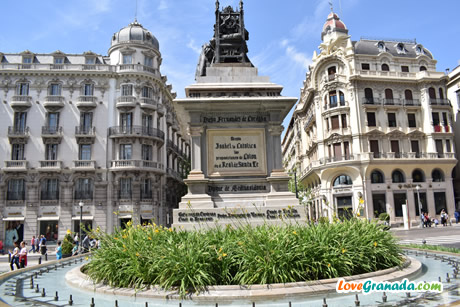 Plaza de Isabel la Católica is situated where the Gran Via de Colón and Reyes Catolicos Street meet.
The square contains a monument dedicated to Queen Isabel and Columbus, who are featured at the time of signing the Capitulation of Santa Fé.
The church at the back of the square belongs to a convent of nuns.
How to Get to the Plaza de Isabel la Catolica
You can reach Isabel la Catolica square by bus routes 4, 8, 11, 21, 33 (bus stop Gran Via), C31, C32, C34, C30, C35 (bus stop Plaza de Isabel la Catolica).
For more information, see
Granada Buses
.
You Might Also Be Interested In
Page Updated: Aug 17, 2020
©
Copyright
• LoveGranada.com • Any use of the content, including copying of it in whole or in part is prohibited.