Realejo of Granada – a Typical Place for Enjoying Good Tapas
The Realejo of Granada was the old Jewish neighbourhood of Muslim Granada. According to many historians, the name of the city of
Granada
comes from Realejo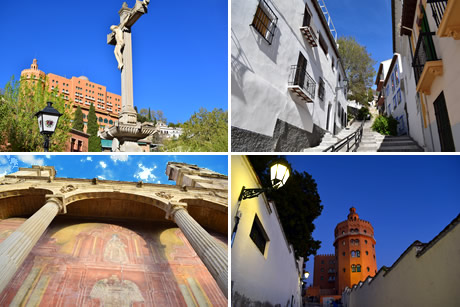 Realejo is now a heavily populated neighbourhood, and its streets are vibrant with a distinctive character.
You can reach the Realejo of Granada from the
Alhambra
, walking through winding streets, between the Carmenes and whitewashed houses, and the Puerta del Sol, a former laundry that still stands as a witness of the past.
The Campo del Principe is the meeting place next to the Church of
San Cecilio
built on an ancient mosque.
This is the place visitors usually go for. On one side of the square there are many bars and taverns (see the picture) with Granada's typical tapas, and it is a pleasant place to sit in the summer in the cool shady terraces.
Walking down the streets of Realejo, you will see the Palace of La Casa de los Tiros from the sixteenth century with its stone façade, the Palace of los Condes de Gabia, and the
Church of Santo Domingo
, founded by the
Catholic Monarchs
in 1492.
Descending towards San Matias Street, you can admire interesting buildings such as Antigua Capitania, the Convent of the Mercedarias, The House of Gran Capitan, and the Imperial Church of St. Matthias, which gives its name to the street, and the Plaza Mariana.
How to Get to the Realejo
You can reach the district of Realejo by bus numbers C30 or C32 for more information please visit
Alhambra Buses
.
©
Copyright
• LoveGranada.com • The reproduction of the whole content or parts of it is prohibited
Personal data
protection policy
.
You Might Also Be Interested In