Granada Coast - A Practical Guide to the Costa Tropical of Granada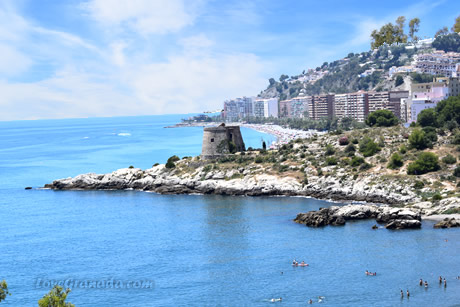 The coast of Granada is characterized by its beaches, almost entirely black and with thick sand or pebbles. The coast of Granada in Spain is called
Costa Tropical
, due to its special location, protected by the high
Sierra Nevada mountains
from the north wind.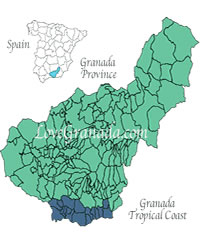 Motril, Almuñécar y Salobreña are the
three most important
towns on the coast of Granada. These are all villages with an ancient history dating back to the time of the Carthaginians and even as far back as the Iberians.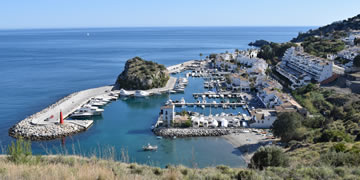 The beaches, the castle, the charm of its beautiful white streets, its marina and the lively nightlife make Almuñécar a perfect place to spend your holidays.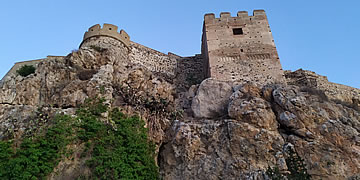 Probably the most beautiful town of the Costa Tropical, perched on a rocky hill and crowned with an Arab castle from the thirteenth century.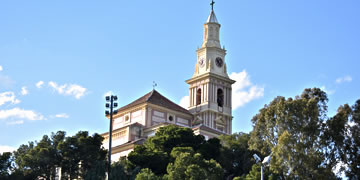 A modern town located at the foot of the Sierra de Lújar and surrounded by fertile green fields, famous for its exotic landscape, its churches and tapas bars.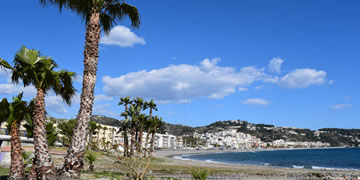 A fishing village in the shape of a horseshoe, with white and steep streets, has some of the best beaches and scuba diving places on the Costa Tropical.
Beaches in Granada coast are not as developed as those of Malaga, and there are still some nice places and small coves to be discovered.
There are
26 beaches
along this exotic stretch of the Mediterranean coast. Granada´s Costa Tropical is
19 km long
.
Location of the Costa Tropical of Granada
Weather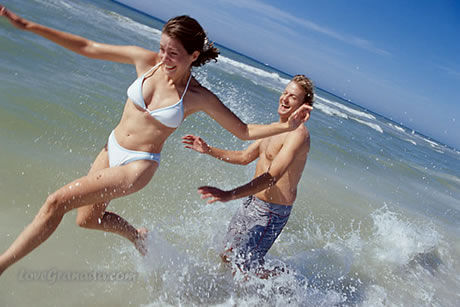 Weather on the coast of Granada is considered
subtropical
and is the only region of Europe where there are some crops, such as the famous chirimoyas in Motril, but also avocados and mangos.
The annual a verage temperature is
20ºC
, with a minimum of 14ºC in the winter and a maximum of 33ºC in the summer.
Villages Along the Way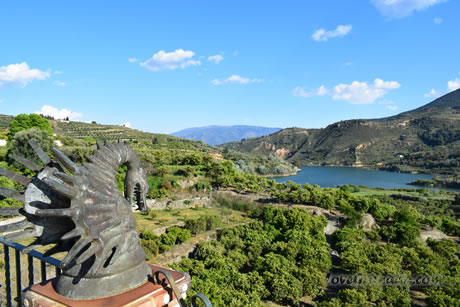 Some small roads along the route lead to a number of interesting villages.
A local road that goes to the right of national road, on the way from Granada to the coast, just after Vélez de Benaudalla, leads to Los Guájares, the
three white villages
of Guájar Faragüit, Guájar Fondon and Guájar Alto, located in a mountainous area covered with lush ravines and subtropical crops.
Vélez de Benaudalla
is a place that preserves the ruins of an Arab castle and a church of the sixteenth century.
Typical Cuisine of the Costa Tropical
The cuisine of the Costa Tropical is based on ancient traditions, as there are many civilizations that have arrived to its shores: the Phoenicians, Greeks, Romans, Arabs, etc.
Granada's Tropical Coast is
famous for its fish
: marinated blue fish and squid.
Sardines are cooked in a very special way, that requires a lot of technique. It´s the "espeto", a traditional way of cooking sardines that looks like a barbacue made in a boat filled with ashes. You will find it in the "chiringuitos" or restaurants on the beach.
Paella, gazpacho and salads. All washed down with Costa wine, elaborated in the surrounding mountain villages. Enjoy also a cane rum made in Motril, the only European rum!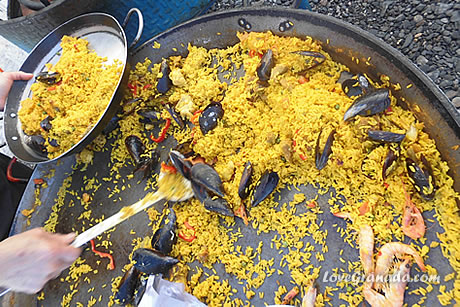 But what stands out the most in the Costa Tropical are the fruits: chirimoyas, mangoes, avocados, etc.
Also, you should try Moorish-inspired desserts such as the Torta Real, with almonds and sugar, and some roscos fritos or pestiños from Vélez.
We also want to mention the amazing home-made ice creams you can buy in the local ice cream shops or "heladerías".
You should try the famous "leche merengada" made at Perandrés since 1900. They are in Salobreña, Torrenueva and Motril.
Also see
The Alpujarras Food
y
Food of Granada
.
How to Reach the Costa Tropical of Granada
How to Get to the Costa Tropical by Car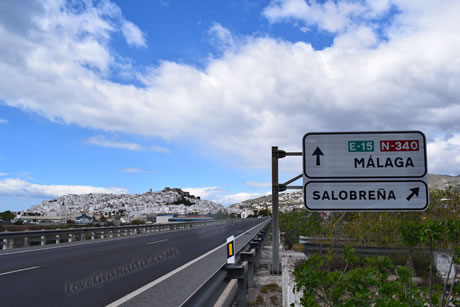 From Granada take the highway A-44, known as Autovía de Sierra Nevada, going to Motril.
Then it joins the highway A-7, Autovía del Mediterráneo, where you can choose to go west, in the direction of Malaga, or east, in the direction of Almería.
Taxi to the Costa Tropical of Granada
Approximate taxi fares from Granada to the Granada coast villages: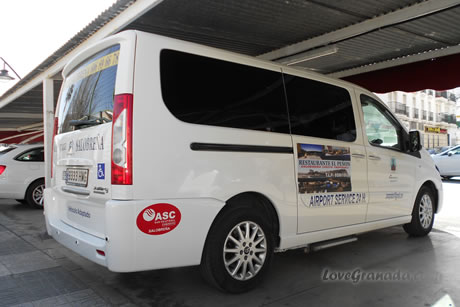 Granada - Salobreña:
80 (fare 1), 95 € (fare 2).
Granada - Motril:
85 (fare 1), 100 € (fare 2).
Granada - Almuñécar:
100 (fare 1), 120 € (fare 2).
Granada - La Herradura:
110 (fare 1), 120 € (fare 2).
Fare 1:
Monday-Thursday from 7:00 to 22:00 h, Friday from 07:00 to 21:00 h.
Fare 2:
Monday-Thursday from 22:00 to 07:00 h, Friday from 21:00 to 07:00 h. Saturdays, Sundays and Bank Holidays.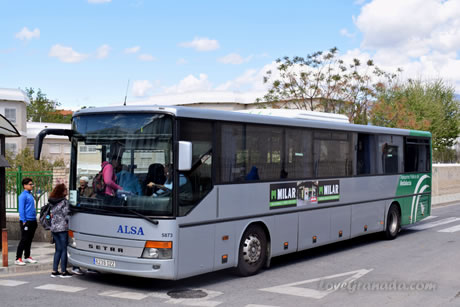 More information, phone numbers and addresses in
Granada taxis
.
Buses to the Costa Tropical of Granada
The buses between Granada and the Costa Tropical are run by Alsa.
It costs between
7 and 10 euros
to go to the villages of Salobreña, Motril, Alnuñecar or Herradura.
More information in
Granada buses
.
You Might Also Be Interested In
Page Updated: Mar 13, 2022
©
Copyright
• LoveGranada.com • Any use of the content, including copying of it in whole or in part is prohibited.
Opinions about Tropical Coast of Granada
Recommended villages
My favorite place on Granada's tropical coast is Salobreña. It is crowded in summer but is an excellent place to visit in spring and autumn. You should see the city centre and its castle.
If you are looking for a quite beach, you should visit Castell del Ferro, it is a quiet little unknown village with very few tourists.
Best villages on the Costa Tropical
La Herradura (meaning horseshoe because of its shape) has one of the prettiest bays on the tropical coast of Granada. Salobreña has very nice historic centre, Arabic castle, narrow streets and white houses. Almuñecar is an emblematic place, worth a visit as well.