What to See and Do in Almuñécar, Essential Places and Sites
There are
emblematic places in Almuñécar
where you can discover historical roots and culture of this millenary town.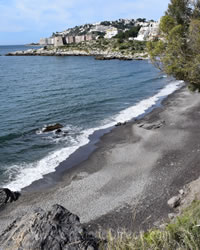 A good way to get to know Granada and its history is by taking a tour. There are several interesting free and private tours offered by Civitatis: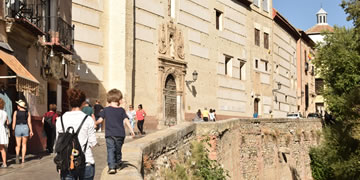 What better way to get to know the hisotric centre of Granada than on a
free walking tour
with a local expert guide?!
Discover the hidden treasures and secrets of Granada
exclusively just for you
and your partner, friends, or family.
Here we selected the most beautiful and interesting places you must see on your
in Almuñécar
.
Castle of San Miguel
The
Castle of San Miguel
is an ancient Roman fortress, which also had a great importance in the Nasrid era in the thirteenth century. It was rebuilt by
Ferdinand the Catholic
and in the time of
Charles V
, when the four circular towers where added.
Bombed by the English in the
War of Independence
against the French, the castle remained in ruins and was converted into a cemetery in the nineteenth century.
Free guided tours from Tuesdays to Saturdays at 11:00 and 19:00 give you the opportunity to get to know this fascinating story hiding within its walls.
Opening Times
The Castle can be visited Tuesdays to Saturdays from 10:00 to 13:30. and from 18:30 to 21:00. On Sundays it opens only in the morning from 10:00 to 13:00. Closed Mondays.
Castle of San Miguel Prices
Admission costs 2.35 euros (adults) and 1.60 euros (children and pensioners) and includes the visit to the Archaeological Museum.
Contact Details
Address:
Cerro de San Miguel.
Telephone:
650 027 584/607 865 466.
Archaeological Museum Cueva de los Siete Palacios
The
Archaeological Museum
is located in the crypt of an ancient Roman temple built in honour of Minerva around the
first century BC
, and consists of seven vaulted sections, hence its name (Cave of the Seven Palaces).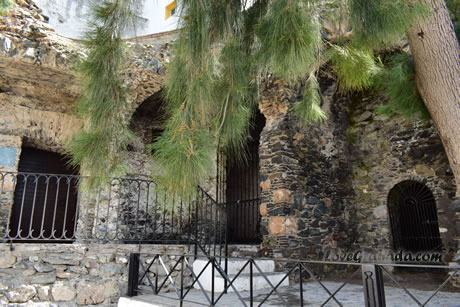 This museum contains numerous archaeological remains found in the
Majuelo Park
, as well as others found in the Phoenician-Punic Necropolis of Laurita and Puente de Noy, near the
beach of San Cristóbal
.
However, there is one piece of exceptional importance which stands out above all the rest: the
Egyptian Amphora
that belonged to Pharaoh Apophis I (sixteenth century BC).
One of the theories that are mooted says that this object was brought by the Phoenicians a thousand years after its manufacture.
Other objects of interest are a fragment of a statue of the
Goddess Minerva
and remains of grave finds.
Opening Times
Tuesdays to Saturdays from 10:00 to 13:30 and from 18:30 to 21:00. Sundays from 10:00 to 13:00. Closed Mo/ndays.
Prices
Admission costs 2.35 euros (adults) and 1.60 euros (children and pensioners). Includes visit to the Castle of San Miguel.
Contact Details
Address:
C/ San Joaquín, San Miguel. Tel: 607 865 466/650 027 584.
Iglesia de la Encarnación (Church of the Incarnation)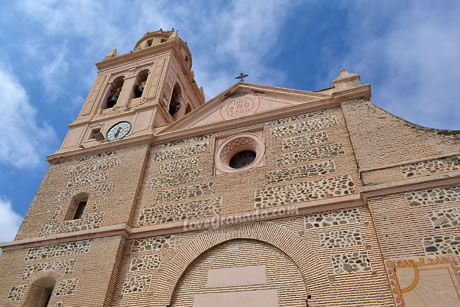 The church was designed by
Juan de Herrera
, although its tower was built by the Granada artist
Diego de Siloé
.
It was completed at the beginning of the seventeenth century, thus being the first Baroque temple in the province.
On the main altar there is a Visigothic sculpture representing the
Virgin of Antiquity
, patron saint of
Almuñécar
.
Opening Hours
The church may be visited during hours of worship and there is no entrance fee.
Contact Details
Address:
Cuesta de la Iglesia.
Telephone:
958 630 646.
Columbarium of La Torre del Monje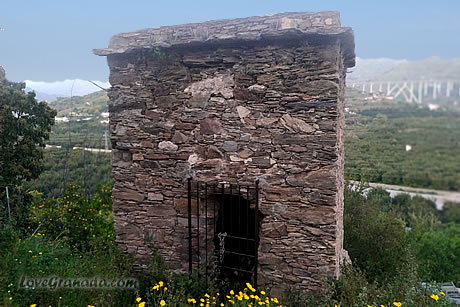 A columbarium in the form of a small tower that probably
belonged to a Roman family
residing in this area.
It is covered by a barrel vault and in its interior are rows of niches formed by small stones.
Located
2 km from the city
, on the road that runs through the
Rio Verde Valley
, it also dates back to the period of maximum urban development in the Roman era of Almuñécar, between the first and second centuries AD.
Address:
C/ Jete-Otívar, at 2 km.
Peñon del Santo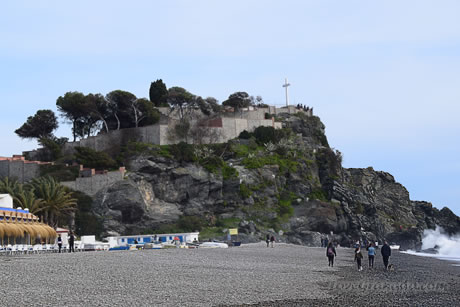 This symbolic place in Almuñécar, known as the
Peñón del Santo
, is a rocky outcrop by the sea crowned by a cross from which you can gain a unique panoramic view of two beaches.
It is believed that this rock was once connected to the castle, as evidenced by the remains of the walls.
At the foot you can see the monument to Abderramán l, an important Umayyad prince who landed on the shores of Almuñécar in 755 to proceed to Córdoba and founded an independent emirate there.
Roman Aqueduct and Hot Springs
It was probably built in the
first century AD
, with a length of 7 km, of which five sections are preserved.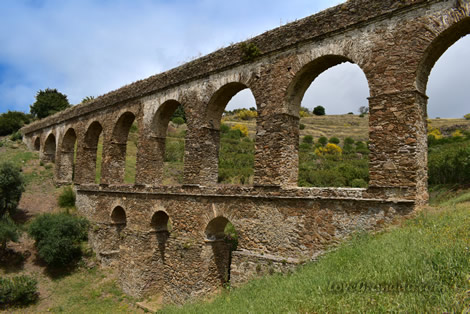 The last section was discovered at the end of the 1990s, during some works in the
Plaza Mayor
, and it is believed that underneath it passed a Roman road that went from Linares to Málaga.
Here, too, hot springs from the same period were found. The aqueduct has been declared an
Asset of Cultural Interest
and some of its sections are still used today in traditional irrigation.
It is located towards the
C/ Suspiro del Moro
and there is free entry.
Contact Details
Address:
Carretera de la Concepción, s/n.
Telephone:
958 838 623.
Peña Escrita Botanical Park and Zoo
Unfortunately it is CLOSED at the moment and it seems that it will not be opening soon. This is a shame, as it is a place of natural beauty.
The
Botanical Park and Zoo of Peña Escrita
comprises about 400 ha and is located about 14 km north of the centre of Almuñécar.
Here there is a great variety of animals: kangaroos, ostriches, hippos, bears, wolves, lions and tigers, lemurs, bison and others; many of which live in semi-wild conditions.
Located in a favourable environment, surrounded by Nature and with spectacular views, it is ideal in offering activities such as hiking, mountain biking, horse riding, etc.
Information:
615 321 462 and at the Tourist Office: Avda. de Europa, Mansión La Najarra.
Monument to the Phoenicians
Located on the
Paseo del Altillo
, it is a tribute to the first settlers of Almuñécar, the Phoenicians. It is made of bronze and is the work of the
Granada
sculptor and goldsmith
Miguel Moreno
.
You Might Also Be Interested In
Page Updated: April 15, 2020
©
Copyright
• LoveGranada.com • The reproduction of the whole content or parts of it is prohibited
Personal data
protection policy
.