Museum of Arts and Traditions in Granada - Casa de los Tiros
In the XVI century this palace called
Casa de los Tiros
was an ancient fortress surrounded by Christian houses. It was part of a city wall that surrounded the potters' quarter.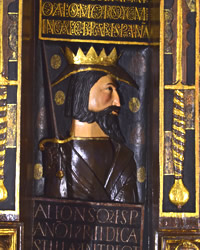 A
good way to get to know Granada
and its history is
by taking a tour
. There are several interesting
free and private
tours offered by Civitatis:
Free Tour of Granada
: What better way to get to know the hisotric centre of Granada than on a
free walking tour
with a local expert guide?!
Private Tour of Granada
: Discover the hidden treasures and secrets of Granada
exclusively just for you
and your partner, friends, or family.
In 1921 it became State property and it currently holds a Library and Archives about Granada´s arts and traditions. The facade opens into a beautiful tower topped with battlements, among which are muskets, which gave its name to the house.
This is a part of the orignal building. Another interesting part of the original building is a room called Cuadra Dorada.
Casa de los Tiros Entrance Fee
Admission to this Museum is free for EU citizens. Other countries 1,50 euros.
Opening times of Museum Casa de los Tiros
16 Septenber - 31 May
Tuesday to Saturday from 10:00 to 20:30 h.
Sunday and Public Holidays from 10:00 to 17:00 h.
1 June - 15 September
Tueday to Saturday from 9:00 to 15:30 h.
Sunday and Public Holidays from 10:00 to 17:00 h.
Closed on Mondays, also closed 1 January, 1 May and 25 December.
Contact Details and How to Get to Casa de los Tiros
You can
get to the Casa de los Tiros
on bus C31, C32 or C34. More Information in
Granada Buses
.
Address
: Casa de los Tiros, Calle Pavaneras 19, Granada.
Telephone
: 958 221 072.
You Might Also Be Interested In
Page Updated: Aug 18, 2020
©
Copyright
• LoveGranada.com • The reproduction of the whole content or parts of it is prohibited
Personal data
protection policy
.
Opinions about Casa de los Tiros in Granada
Interesting museum but no description in English
Casa de los Tiros is a historic building built in 1530, great example of Renaissance but not quite a palace, from outside has a fortress-like appearance.
Many important artefacts and paintings showing the history of Granada and various exhibits showing recent history of the city. For me the best objects are the portraits of the Catholic Kings along the stairs.
It takes about a half hour to see the museum. Unfortunately all information is in Spanish. Some objects are without description.
The entrance is 1.50 euros, free for EU citizens.
Good collections of paintings and sculptures
A 16th century old Moorish building, inside its stone walls are paintings of ancient warriors in the plaster and amazing ceiling. Only one tower survived from the original building.
Offers collections of sculptures, paintings, portraits of Spanish monarchs and pottery. But the most interesting part is a hall called Cuadra Dorada. Other parts of the museum are less interesting.
Interesting also the ceremonial sword of Boabdil, the last Nasrid king of Granada.
The best area is Cuadra Dorada
It is a little local history museum, used to be a noble's house, one of the first houses of this type built after the conquest of Granada by Catholic Monarchs.
Have portraits of the Catholic monarchs and Andalusian crafts. Probably the highpoint is Cuadra Dorada (Hall of Gold), a room with gold carved wooden ceiling with the stars and decorated stone walls.
Located in the Realejo district near the city centre of Granada. No information posters are in English.