High-Speed Trains Connecting Granada with Other Cities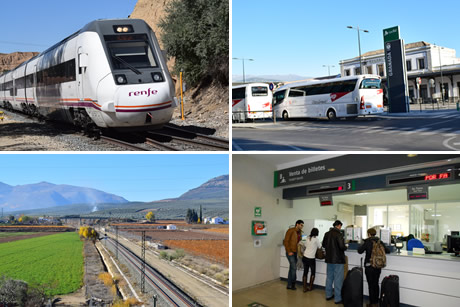 Six daily trains
, three in each direction, connect
Granada with Madrid
. They offer about 2000 seats a day.
Granada is connected with
Barcelona
with
two daily trains
, one in each direction.
These high-speed trains called AVE can reach a maximum speed of 330 km per hour (over 205 miles per hour).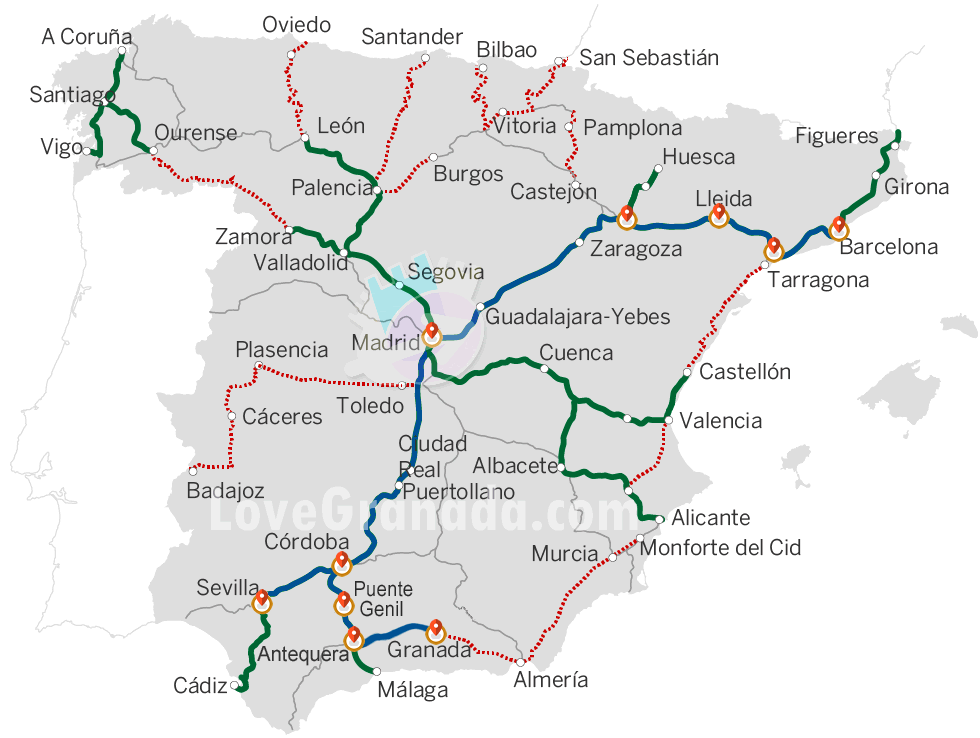 There are two different models: one with 310 seats, and the other one with 359 seats.
On both routes there are stops at Antequera (Málaga) and Córdoba city, offering four daily trains per direction for these destinations.
AVE Granada-Madrid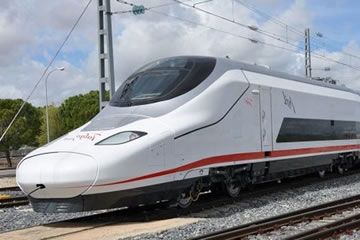 There are 568 km (352, 93 miles) of tracks between Granada and Madrid.
The AVE train have
three departures from Granada
: at 7:10, 15:00 and 19:18; and
three departures from Madrid
: at 7:20 (7:35 on Saturdays and Sundays), 14:35 and 19:35.
It takes
about 3h 05min - 3h 19min
to get to Madrid from Granada. There is one stop in Antequera, which is 47 minutes away from Granada; and another stop in Córdoba, 1h 21 min away.
The price for a ticket in economy class with flexible rate is
between 30 and 80 euros
one way.
AVE Granada-Barcelona
The AVE takes
about 6h and 25 min
from Granada to Barcelona. There is a
daily train
departing from Granada at 15:35, and from Barcelona at 6:50.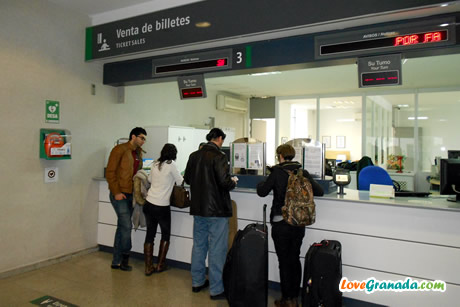 During the journey the
train stops at
:
Antequera (50 min away from Granada)
Puente Genil (1h 11 min away)
Córdoba (1h 38 min away)
Zaragoza ( 4h 29 min away)
Lleida (5 h 16 min away)
Camp Tarragona (5h 48 min away)
The trip to Barcelona costs
between 60 and 120 euros
one way ticket with Flexible fare.
Trains to Córdoba, Zaragoza, Lleida and Tarragona
These trains are the same ones that go to Madrid and Barcelona. They stop in these cities before reaching their final destination.
Buses replacing Trains
Granada has not had a rail connection with any Spanish city since March 2015, when conventional train services were interrupted to start working on the high speed network for AVE trains.
The trains have been replaced by a bus service that connects Granada with Santa Ana train station in Antequera.
High speed trains started operating in Granada from 26 June 2019 but this bus service will continue to operate for Seville and Algeciras, since these destinations will continue to be without a rail connection with Granada.
Eight daily buses take passengers from Granada to that station, so they can get on high speed trains coming from Málaga.
You can check the schedule for those buses on RENFE web page. Simply type your destination on the search box and a list of AVE-BUS or WITH SCALE will appear on the screen with the bus schedules for the trains that will connect you with your desired destination from Antequera.
All buses depart from Granada Train Station and arrive to Santa Ana train station.
Where to Buy Train Tickets in Granada?
There are three ways to buy your train tickets:
1. On the Internet, on RENFE website www.renfe.es.
2. At Granada train station, where you can pay by card or cash.
Here you can also get more information about ticket changes, refunds and bookings.
3. By telephone, calling RENFE on 902 320 320 (this is not a free call number and it could be very expensive from mobile phones).
Granada Train Station
You can find more information about car rental, locker, cafeteria and other services in
Granada Train Station
.
Updated: 25/01/2020
©
Copyright
• LoveGranada.com • The reproduction of the whole content or parts of it is prohibited
Personal data
protection policy
.
You Might Also Be Interested In