Trains Granada - Where to Buy Tickets, Schedules, Prices and Connections
There are various types of train services in Granada: mid-distance rail services, the Avant (normally trains designed for short trips) and the AVE high-speed trains. The city of Granada does not have a high-speed line.
The connection to the nearest Ave line is in Antequera, one and a half hour from Granada.
Granada trains are usually on time, but be prepared for the occasional lengthy delay. Intercity trains are usually punctual.
Where to Buy Granada Train Tickets
There are three ways you can buy train tickets: the Internet, via the website www.renfe.es and at the ticket office in the station.
Also you can also buy train tickets through travel agents, but they charge a small commission.
Granada Tain Station - Services, Car Rental and How to Get There
You can see all the information about the services, car rental, café shop, luggage services, etc. in
Granada Train Station
or you can call Renfe +34 902 240202, +34 902 432 343
Ticket Prices, Offers and Discounts
There is an offer that allows to buy train tickets up to 60% cheaper when purchased online, minimum 15 days in advance for a limited number of seats.
It is an offer for tourist class seats, and Long Distance and High Speed trains. You can not make changes after purchasing the tickets & cancellation would cost 50% of the ticket price.
Granada Direct Connections and Types of Train
Granada has direct connections with big cities like Algeciras, Almeria, Barcelona, Cadiz, Ciudad Real, Cordoba, Girona, Guadix, Jerez de la Frontera, Lleida, Madrid, Ronda, Segovia, Seville, Tarragona, Toledo, Valencia, Valladolid and Zaragoza.
There are no direct trains from Granada to the coast of Granada or Malaga. You can go to Malaga through Antequera but it not worth it, it would take twice longer than on the bus.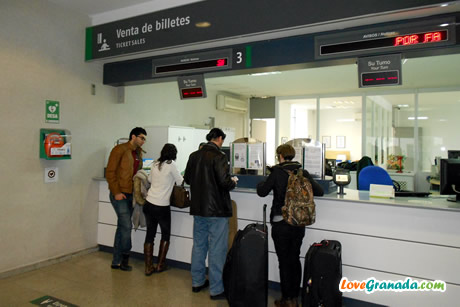 There are two ways to get by train from Granada to Barcelona, Madrid and Zaragoza: in Avant middle distance trains or on Ave high speed trains.
The nearest high speed line is in Antequera. You would need to take a slow train to get to Antequera, it takes between 1h and 18 minutes and 1 hour and 50 minutes to get there.
It is worthy if your destination is Madrid or Barcelona, it would be faster than taking direct Avant train to these cities.
Trains Granada - Madrid
There are 4 daily trains from Granada to Madrid, two are in the Avant trains and other two are Ave (via Antequera).
The total journey time from Madrid to Granada using Ave is between 3.55 and 4.13 hours, and in Avant train between 4.25 and 4.39 hours.
The ticket price is 77 euros for Ave. It is 30 minutes slower but much cheaper to go by bus.
Trains Granada - Barcelona
There is a direct train from Granada to Barcelona, but it is a slow train, it takes over 11 hours to arrive to Barcelona. The train leaves in the afternoon and arrives to Barcelona the next morning.
There are three other Ave trains via Antequera. These trains are faster, it takes from 2 to 2,5 hours less to get to Barcelona than in Avant trains, but the tickets are more expensive.
Ave train can cost 30-50 euros more than Avant train.
Trains Granada - Zaragoza
Trains to Zaragoza are the same Ave trains that go to Barcelona. The journey takes between 4.45 horus and 6.40 hours. Tickets cost from 60 euros.
Direct Connections with Other Cities
Other direct connections are: Albacete-Los Llanos, Alcázar De San Juan, Almansa, Almargen-Cañete La Real, Almoraima, Arriate, Benalúa de Guádix, Benaojan-Montejaque, Bobadilla, Calatayud, Campillos, Castellón De La Plana, Cortes De La Frontera, Dos Hermanas, Fiñana, Figueres Vilafant, Gádor, Gaucín, Gergal, Iznalloz, Jimena De La Frontera, Jimera De Libar, Lebrija, Linares-Baeza, Loja-San Francisco, Los Barrios, Marchena, Osuna, Pedrera, Puente Genil, Puerto De Santa María, Puertollano, Salou, San Fernando, San Pablo, San Roque-La Linea, Setenil, Sevilla-San Bernardo, Sevilla-Santa Justa y Utrera.
Granada Tourist Train - Prices, Stops and Route Maps
You can find all the information about the the tourist train that offers a tour to the most important areas of Granada in
Granada Tourist Train
.
©
Copyright
•
LoveGranada.com • The reproduction of the whole content or parts of it is prohibited
Personal data
protection policy
.
You Might Also Be Interested In