Granada Train Station – Train Tickets, Car Rental and Other Services
Granada has a small railway station that is located in the city center, in Avenida de Andaluces.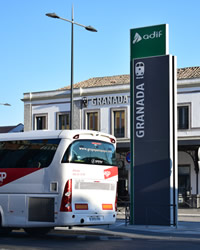 The station has a café shop, toilet for disabled people, baggage trolleys and car rentals.
Granada Train Station Opening Hours
The station is open from 6:00 until 22:15. You can
buy tickets
for the same day from 06:15 until 21:25 and tickets in advance from 08:00 to 21:00, 7 days a week.
Where to Buy the Tickets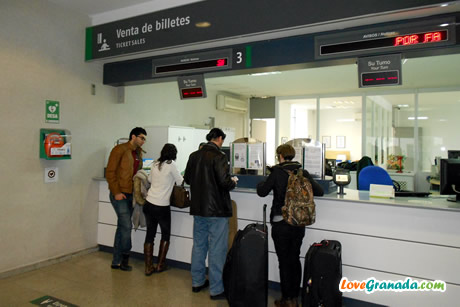 There are three ways to purchase tickets: directly at the train station, by calling Renfe +34 902 320 320 or visiting www.renfe.com.
There you can also get information about returns, changes and ticket reservations.
Renfe is the state-owned company which run passenger trains in Spain.
Rates, Schedules and Connections
You can see information on fares, schedules, connections to other cities, etc. in
Granada trains
.
Car Hire
There are two companies offering rental service at Granada train station: Avis and Europcar.
Avis is open Monday to Friday from 09:00 to 13:00 and 16:00 to 19:15, Saturdays from 9:00 to 12:45, Sundays and holidays closed.
Phone: +34 958 446 455
Europcar is open Monday to Friday from 08:00 to 14:00 and 17:00 to 20:00. Saturdays, Sundays and holidays from 08:00 to 14:30. Phone (Europcar at Granada Airport): +34 958 245 275.
Detailed information in
Car Hire in Granada
.
Taxis in Granada Train Station
There is a taxi stop right outside the station and there are always a couple of taxis waiting, there is no need to book in advance.
For queries you can call:
Radio Taxi: +34 958 280 654 or
RadioTaxi Genil: +34 958 132 323.
Coffe Shop
Granada train station has a small coffee shop where you can buy dishes, hot and cold sandwiches, drinks, cakes, etc.
Some of the prices are: meat balls and chips - 9.50 euros, squid and garnish - 9 euros, ham sandwich - 3.90 euros, loin of pork sandwich - 4.60 euros. The cafe shop has a TV and information screen where you can see the arrival times of the trains.
Parking at the Train Station
There is small parking area in front of the train station for about 50 cars, two hours maximum stay.
Parking rates: 30 min - 0.55 euros, 1 hour - 0.90 euros, 2 hours - 1.80 euros.
If you need to park for longer you need to go to a public parking, there is
parking Caleta
nearby.
How to Get to Granada Train Station
Several
city bus lines
(N1, N3, N9, SN1 y U3) pass near Granada Train Station, 1 min walk to the station, bus stop Avda de Consititucion III.
Internet
In theory, the station has Internet access, but you need to have your own laptop, visit renfe website, register there or buy a ticket online. It is complicated, expensive and nobody uses it.
Location of the Granada Train Station
©
Copyright
•
LoveGranada.com • The reproduction of the whole content or parts of it is prohibited
Personal data
protection policy
.
You Might Also Be Interested In