Celebrations, Traditions and History of the Día de la Cruz in Granada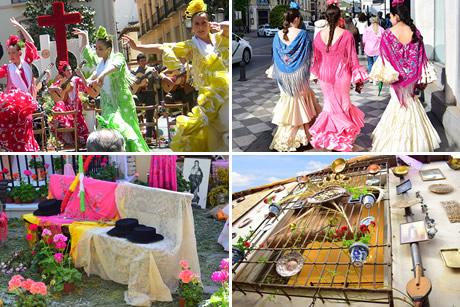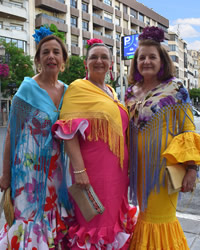 The
Día de la Cruz
(Day of the Cross) or Cruces de Mayo (festival of the May crosses) is celebrated in Granada
on May 3rd
and is one of the most
popular festivals
in Andalusia.
Every year, thousands of visitors come from all over Spain to experience this fiesta in Granada.
The origins of this tradition
The festival was first celebrated in Granada
in the XVII century
, when an alabaster cross was erected in 1625 in the district of
San Lázaro
, and all the locals celebrated by singing and dancing around it.
The tradition continued in the most popular districts of Granada, like
Albaicin
and
Realejo
. Children began to build small altars with a cross and decorate them with pottery and copper objects.
Many of these traditions live on to this day. nOne of them is the placing somewhere in the decorations of the Cross of an apple with a pair of scissors inserted into it.
This is done so as to try to avoid any criticism that might be made of the decoration of the Cross.
Festival official competition
On this joyous day it is common to find all over Granada women and children wearing the typical andalusian dress. Also beautiful andalusian horses will parade in the streets.
Every year the
City Council
runs a competition to promote this tradition, in which there are four categories: patios (courtyards), streets and squares, shop windows and schools.
Thousands of carnations will decorate the
dozens of crosses
that compete for the prize every year.
The aroma of so many flowers perfumes Granada and invites people to enjoy such a special day.
The atmosphere is unmatched. The Granadines, adults and children alike walk around the city visiting various crosses, dancing and celebrating this way such an important day in Granada.
You should visit the Albaicín, where crosses every year get the best prizes: Plaza Larga,
Casa de los Pisas
o calle Zafra.
The cross at the
Corrala de Santiago
, in Realejo is also a winner for the "patios" section of the competition.
Enjoy the atmosphere at the historic centre: plaza del Carmen or
plaza Bib-Rambla
and sorroundings, where different stages are erected near the cross for the
flamenco performances
that take place during the afternoon and evening on the
3rd of May
, día de la Cruz in Granada.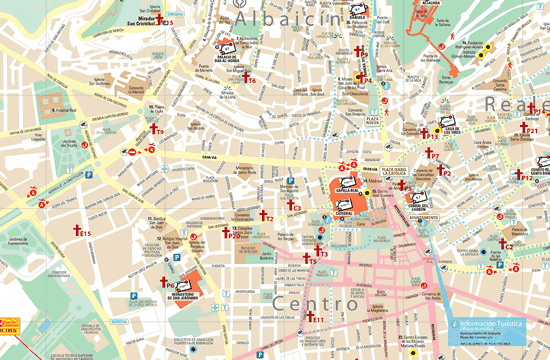 Page Updated: June 20, 2020
©
Copyright
• LoveGranada.com • The reproduction of the whole content or parts of it is prohibited
Personal data
protection policy
.
Opinions about Dia de la Cruz in Granada
A lovely atmosphere throughout Granada
We thouroghly enjoyed watching the flamenco danced by all different age groups. We were made welcome and a Spanish lady tried to explain how the dancers moved their hands so elegantly. It was my birthday and it all made it a very special one to remember (Addy).