Almuñécar - Ideal Place for Enjoying your Holidays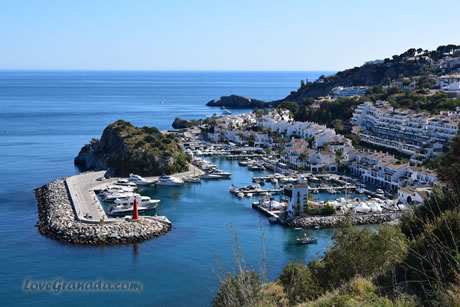 About 80 km from Granada
, between the mountains and a fertile valley, where tropical crops have developed throughout history, is the
beautiful town of Almuñécar
, one of the most popular tourist destinations on the
Costa Tropical of Granada
.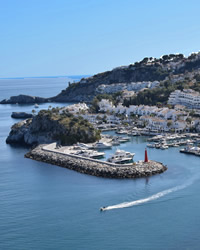 Concerts, children's activities and the Festival of the Virgen (with spectacular fireworks) liven up village life for a week and attract even more tourists and visitors.
Almuñécar offers a
wide range of accommodation
: hotels, hostels, apartments and campsites. Keep in mind that prices vary greatly depending on the time of year.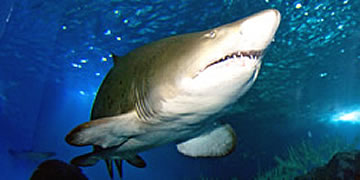 The best places to see in Almuñécar, monuments and museums, Castillo de San Miguel, Peñon del Santo, Roman Aqueduct and Hot Springs.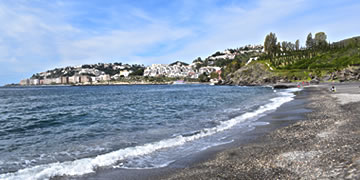 Long beaches and small coves with calm waters in Almuñécar, services, sand type, nearby restaurants and rental of sunbeds and umbrellas.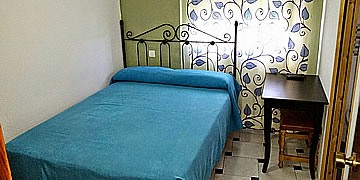 The best hostels in Almuñécar, quiet, small family-run establishments in the centre of Almuñécar or on the beach, description, services and prices.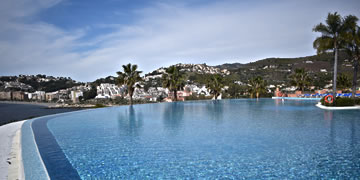 The hotels of Almuñcar with particular charm, hotels with sea views and large terraces. Description, services offered, price comparison and facilities.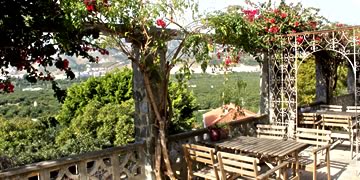 Location of the campsites of Almuñécar, services and type of bungalows, campsite facilities, where to eat, swimming pools and equipment.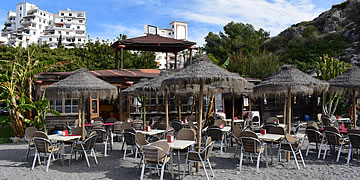 Pleasant tapas bars, old wineries, traditional and modern restaurants, quiet summer terraces and other lively nights. Prices and schedules.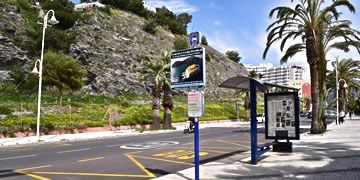 How to get to Almuñécar by bus from Granada, city buses, bus stops, prices and timetables, route maps and information about the Bus Station.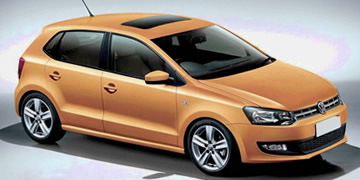 Where to rent a car in Almuñécar in the town centre or at the Bus Station, prices, car models, equipment, millage and office opening hours.
Almuñécar has a wide range selection of tourist accommodation of all kinds: from luxurious
hotels
and apartments to
pensions
and
campsites
.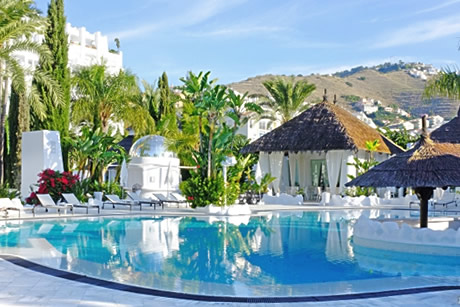 Bear in mind that the prices can vary a lot according to the time of the year.
In August, especially during the Patron Saint Festivals (fiestas patronales), it's very difficult to find accommodation if it has not been booked well in advance.
Its beaches, the charm of its streets in the Old Quarter, the
Castle of San Miguel
, the lively nightlife in its bars and pubs, the summer concerts in the
Parque del Majuelo
and its elegant marina, all make Almuñécar an ideal place to spend a vacation by the sea.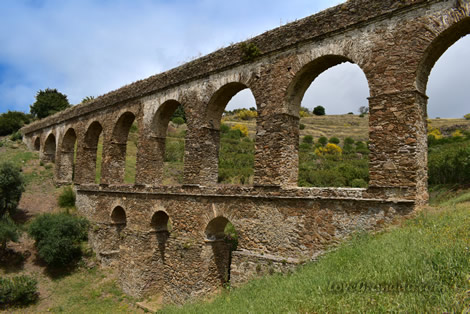 History of Almuñécar
Almuñécar's
Phoenician name 'Sks'
was translated by the Romans as Sexi Firmun Julium, and that is why the inhabitants of Almuñécar are
known as Sexitanos
.
This gives us an idea of the antiquity of this
millennial town
that has seen the integration of many cultures, sheltered by the mountains of Granada and bathed by the Mediterranean Sea.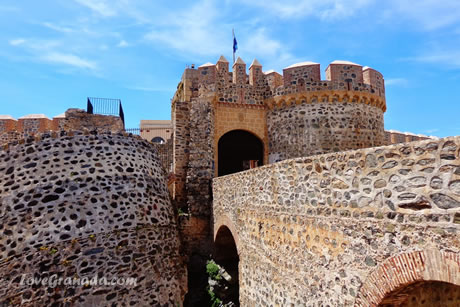 The city of Almuñécar was
founded by the Phoenicians
in the eighth century BC, and during the Roman rule in the first and second centuries it reached its great zenith.
However,
the name
by which we know it today
has an Arabic origin
, since these people were its inhabitants for almost 800 years.
'Al-Munekab' or 'Hisn al-Monácar' refers to a fortress on the hill surrounded by mountains. This land can boast Phoenician, Roman and Arab remains in its monumental heritage.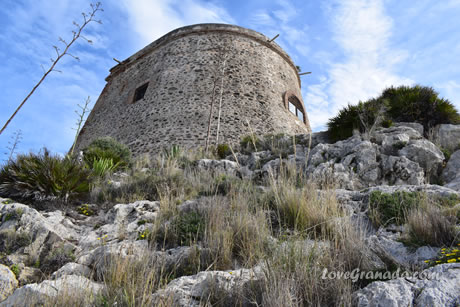 In Almuñécar you can visit two important
Phoenician-Punic necropolises
, a Roman aqueduct over 7 km long, two Columbarios or family pantheons, and an important fish-salting factory from the same period.
The town's
Arab roots
can be seen in the watchtowers that are found on some of its beaches, the reservoirs, and the layout of its streets.
All this has defined Almuñécar's own identity, making it quite unique and very special.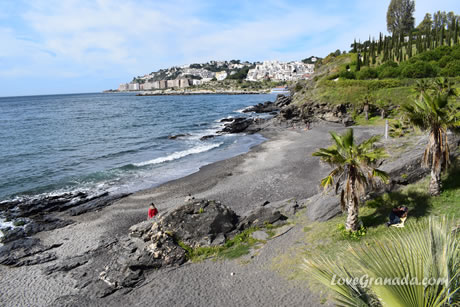 Nature and Climate of Almuñécar
Almuñécar, blessed with a
mild and subtropical climate
throughout the year, also has an immense natural wealth in its inland areas.
In the
Natural Park
of the Sierras de Tejeda, Almijara and Alhama you can find stunning waterfalls, the busy rivers and hiking trails through mountains.
Especially famous is the
Rio Verde
(Green River), where canoeing is practised among other sports.
On the other hand, the cliffs of
Maro-Cerro Gordo
invite diving lovers to discover hidden treasures submerged in its waters, along the beaches of
La Herradura
and
Punta de la Mona
.
Tourist Offices in Almuñécar
There are
two tourist offices in Almuñécar
, both open Wednesdays to Mondays, from 10:00 to 14:00 and from 16:30 to 19:00. They are closed Tuesdays.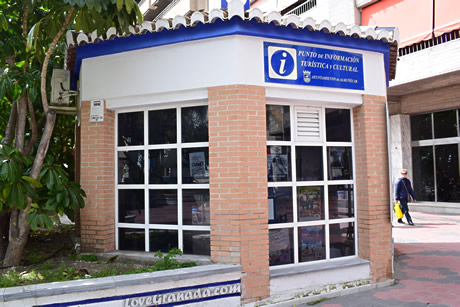 One tourist office is located in the Aquarium and the other in the Paseo del Altillo.
In these offices you will find information about cultural activities, tours, active tourism and other tourist information.
1.
Information Point at the Aquarium
in Avda. de Europa s/n, Pza. Kuwait, Almuñécar. Telephone: 958 631 125. Email: turismo@almunecar.es
2.
Tourist Point of the Altillo
is located in Paseo del Altillo s/n. Telephone: 958 616 070.
Useful Telephone Numbers of Almuñécar
Post Office
Address:
C/ Puerto de la Cruz. Telephone: 958 630 459, 902 197 197.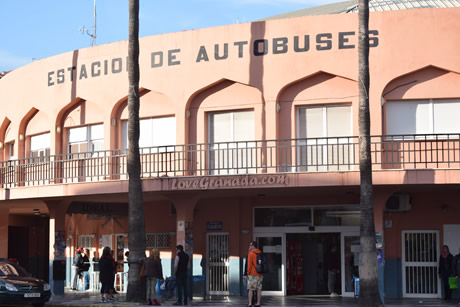 Local Police
Address:
Avda. Fenicia. Pza. del Agua. Telephone: 958 639 430.
City Council of Almuñécar
Address:
Pza. de la Constitución 1. Telephone: 958 838 600.
Urban Buses
Address:
Estación de Autobuses, Avda. Juan Carlos I. Telephone: 902 106 286.
Health Centre
Telephone:
902 505 061, 902 505 060.
You Might Also Be Interested In
Page Updated: May 15, 2022
©
Copyright
• LoveGranada.com • Any use of the content, including copying of it in whole or in part is prohibited.
Opinions about Almuñecar Guide
Popular town on the Costa Tropical
Almunecar is on of the oldest towns of Spain's. There are several beaches and many nice restaurants in the area, mostly Spanish but also international food. There is also a Friday Market. I summer the town is very quiet, in summer very busy, very difficult to find parking. Many grocery shops.