Where to Eat in Almuñécar - Selection of the Best Restaurants and Tapas Bars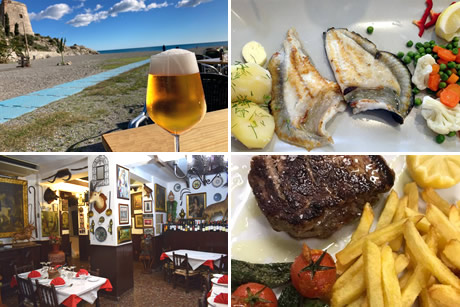 Almuñécar is a large town with plenty of restaurants, tapas bars, coffee shops and ice cream parlours. With so many places to eat in the town,
which one to choose?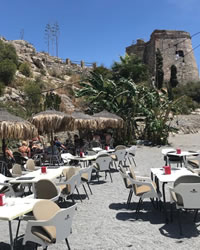 Most visitors stay near the beach, where there are many chiringuitos (beach bar) and some typical restaurants in which fresh fish and seafood are served.
If you stroll through the town you can find nice tapas bars, quiet summer terraces, old wineries and other more lively and more modern and international restaurants. There are many places to choose from, catering for every taste.
Due to the influx of tourism from all over Europe, there are many establishments dedicated to English, German, French and Italian cuisine. Those which stand out are Danny's Bar & Grill and On the Strand, English restaurants located on
Velilla beach
.
Here's our selection of the
best restaurants and tapas bars in Almuñécar
. The restaurants are chosen
on the basis of merit
, these restaurants probably didn't even know that they appear on our website.
Here are the 7 Best Restaurants in Almuñécar of the Year 2022
Chiringuito Uha - located on Playa del Tesorillo, 50 meters from the sea. It has a pool area, table football, etc.
Restaurant Casa Paco - is on the Velilla beach promenade. It has a terrace with sea views.
Sabina Restaurant - on Puerta del Mar beach, near the promenade, with a terrace on a pedestrian street.
Los Geraneos Restaurant - situated on a nice square with outdoor tables, offers traditional cuisine.
Bar Restaurant Antonia Andalusí
Higuitos Bar in Almuñécar
Dante Restaurant - next to San Cristóbal Beach, Italian cuisine, fresh, seasonal ingredients.
Uha Restaurant in Almuñécar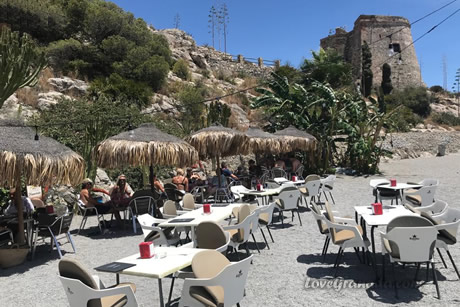 A nice chiringuito (beach bar) with very exotic décor in a small cove,
50 m from the sea
.
Its ambiance is varied, so you can also come here for tapas or just for a drink.
It has a
wooden terrace
, an area with a billiard table and an area with two table football games, sun loungers on the side, and two wooden swings outside.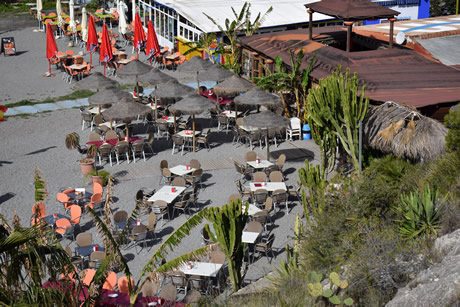 Home-made and generous portions, it offers three types of very rich paella, good fish, and the cocktails are fantastic.
Just next door there is another chiringuito, where they prepare sardines in espetos and parrilla-style meats: this is bar
El Tesorillo
.
Uha Prices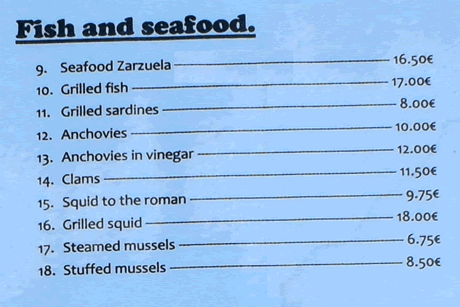 Some prices: mixed salad 6.50 euros, grilled sardines 8 euros, swordfish 13.50, paella 12 euros, garlic chicken 9.50 euros, chicken breast 10 euros, etc.
Uha Opening Hours
Chiringuito Uha is open from 10:00 to 4:00.
Location and Telephone
It is
located
about 800 m from the
centre of Almuñécar
, on Playa el Tesorillo.
Telephone:
958 880 276.
Casa Paco Restaurant in Almuñécar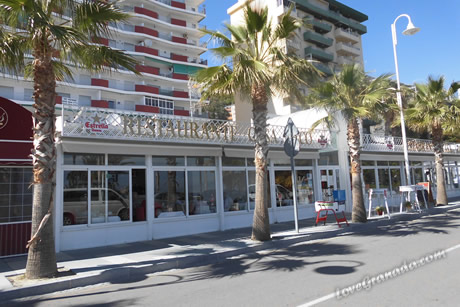 One of the most popular restaurants on
Velilla beach
, recently renovated and
near the shore
. It is a stylish family run restaurant with full length opening windows.
There is a daily menu and they also serve good tapas. It has several dining rooms for couples or groups.
Andalusian and Mediterranean
home-made food, good local fish, sangría (red wine punch) and a variety of desserts.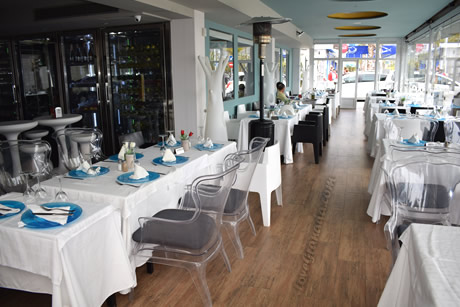 Generous portions and friendly waiters. In summer you are advised to reserve a table.
Casa Paco Prices
Some prices: caesar salad 10 euros, gazpacho 5 euros, fried aubergines with honey 9 euros.
Fish: galician style octopus 15 euros, grilled small prawns 17 euros, garlic shrimps 14 euros, etc.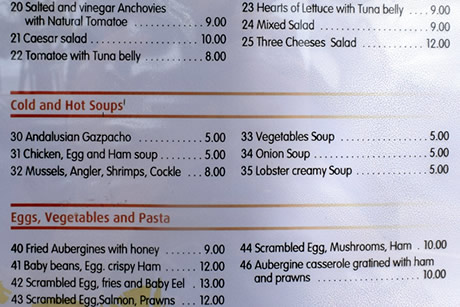 Casa Paco Opening Hours
Restaurante Casa Paco is open from 09:30 to 24:00.
Location and Telephone
Address:
Playa de Velilla 9, Almuñécar.
Telephone:
958 631 051.
Sabina Restaurant in Almuñécar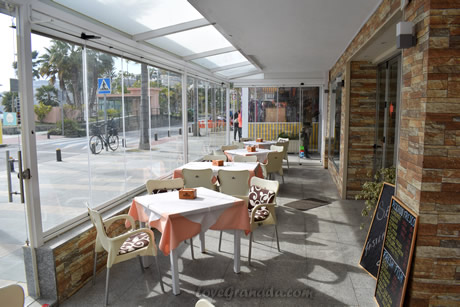 A pleasant restaurant near the
seafront promenade
on the
Puerta del Mar beach
, very central, and good value for money.
The restaurant has fantastic views, a very relaxed atmosphere and multi-lingual friendly staff.
Here you will find fresh fish of the day and many other dishes cooked and served with care and affection.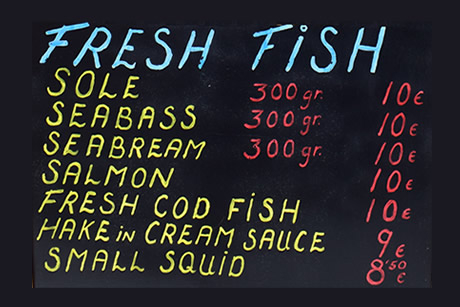 Some
recommended dishes
: salmon, sea bass, turbot and sole. Delicious homemade deserts.
It has a small terrace in a quiet pedestrian street with the sea in the background.
Sabina Prices
Some prices: sole 10 euros, seabass 10 euros, small squid 8.50 euros, fried anchovies 8.50 euros, daily menu 11 euros, tiramisu 3.80 euros, etc.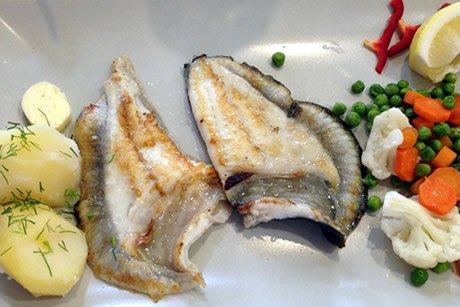 Sabina Opening Hours
Restaurante Sabina is open from 12:00 to 16:30, and from 19:00 to 22:30.
Location and Telephone
Address:
Paseo Puerta del Mar, C/ Marquita, 3.
Telephone:
958 630 245, 629 882 696.
Los Geraneos Restaurant in Almuñécar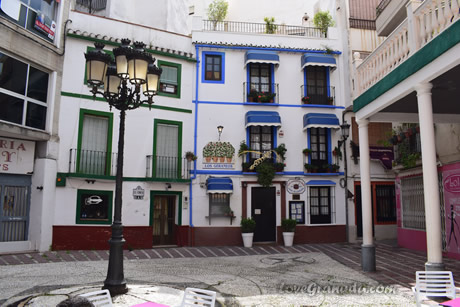 Very popular restaurant located in a hidden picturesque square of Andalusian character.
It is a traditional restaurant with a patio, a quiet and friendly place, located just one street up from the beach.
It has recently been extended into two further rooms to provide another eating area, fabulous decor.
It offers
traditional cuisine
and some international cuisine.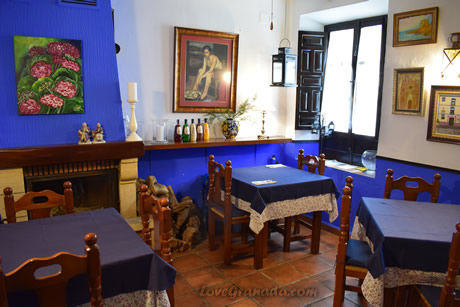 Delicious authentic
home-made food
. Good value for money.
It has tables in the very desirable square. It is advisable to book a table.
Los Geraneos Prices
Good quality/price ratio, about 20-25 euros per person.
The menu with 2 dishes, drink, dessert and bread is 15 euros.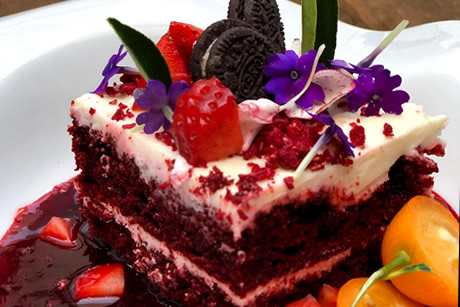 Los Geraneos Opening Hours
Restaurante Los Geraneos is open from 11:30 to 16:00 and from 19:30 to 23:00.
Location and Telephone
Address:
Pza. de la Rosa, 4.
Telephone:
958 634 020.
Restaurant Antonia Andalusí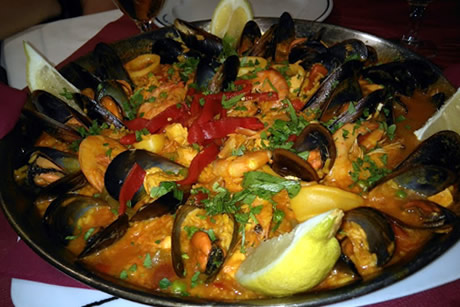 Bar with
terrace near the shore
. It serves excellent and generous tapas and raciones (smaller portions than a full-sized dish), with a good menu of fish, meat and salads.
It is located at the end of
San Cristóbal beach
, on the beach of La China, near Cotobro.
Nice spanish atmosphere. It's always full, you might have to wait a bit, but it's worth it.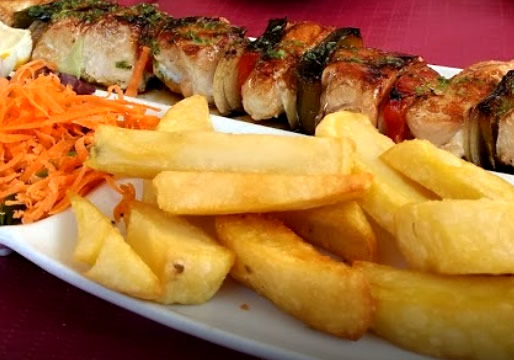 Bar Andalusi Prices
Food: you should try the
paella 10 euros
per person, grilled fish 10 euros or the fied chicken with potatoes, secreto iberico 12:50 euros, salmon salsa tartara 12 euros.
Nicely chilled drinks, good sized glass of beer, 2 euros. Very good sangria, worth trying.
Amazing large tapas, best in town.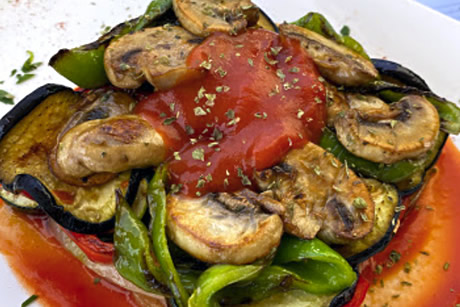 Restaurant Andalusi Opening Hours
Bar Andalusi Restaurant is open
from 12:00 to 00:00
. Monday: closed.
Contact Details
Telephone:
958 632 453.
Address:
Paseo China Gorda, 9, 18690 Almuñécar, Granada.
Higuitos Bar in Almuñécar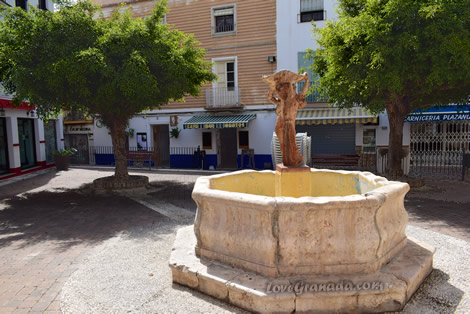 Located in the Old Town, near the Town Hall, among shade-providing trees. Great place to stop for a beer and tapas.
Set in a gorgeous
small pedestrian square
with a fountain. It has a
nice terrace
with special charm.
A good place to enjoy a cold beer and a tapa. The tapas are tasty and filling. You can also order a ración or a paella.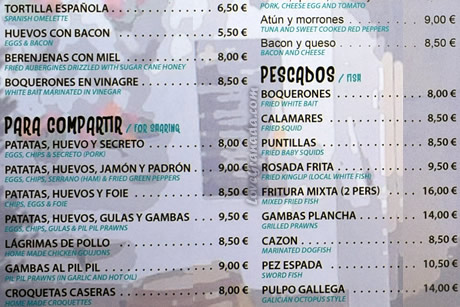 It's also great for dinner in the summer. There is a
safe space for your child
to play in the square.
The restaurant is frequented by many locals on a regular basis.
Bar Higuitos Prices
The food is not expensive. Rations (smaller portions than a full-sized dish) for less than 10 euros, roscas (ring-shaped bread roll filled with jam, etc.) 8-9 euros, 2 euros the beer with cover.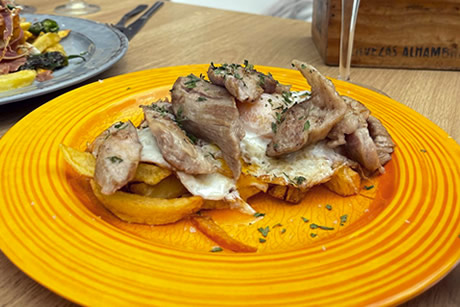 Bar Higuitos Opening Hours
Bar Higuitos is open
from 08:00 to 00:00
. Sunday: closed.
Contact Details
Telephone:
958 632 752 / 627 504 171.
Address:
Plaza Higuitos, 5, 18690 Almuñécar, Granada.
Dante Restaurant in Almuñécar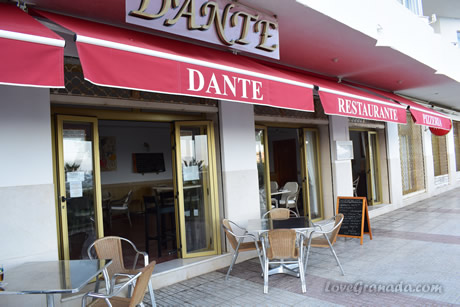 Magnificent
Italian food
with fresh local products: pizzas and home-made pasta, meat and fish, delicious desserts.
Its chef, who is also the owner, is Italian, originally from Napoles, speaks good English.
Dante restaurant is situated on outskirts of the town on the beach front. Outside there is a
small garden
. Very clean.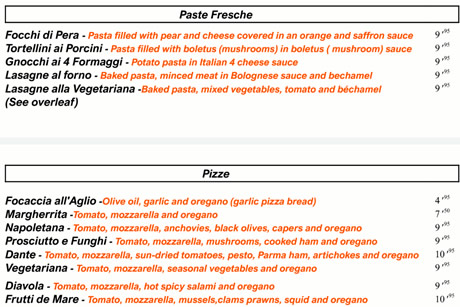 Some
recommended dishes
: bruschetta and carbonara, and very-thin-dough pizzas. The food is freshly prepared.
Dante Prices
Some pricess: mixed grilled vegetables 7 euros, penne al salmon 9 euros.
Pizza margarita 7 euros, napoletana 9 euros, tortellini 9 euros, frutti de mare 10 euros, etc.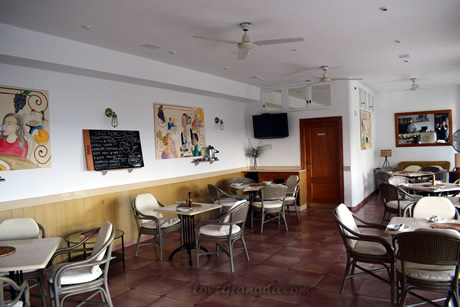 Dante Opening Hours
Dante Restaurant is open from tuesday to saturday from 12:00 to 23:00, sunday from 12:00 to 16:30. Monday closed.
Location and Telephone
Telephone:
697 864 385.
It is
located
on the beach of Cotobro, facing the sea, in Edificio Los Ramos, 7.
You Might Also Be Interested In
Page Updated: Jul 02, 2022
©
Copyright
• LoveGranada.com • Any use of the content, including copying of it in whole or in part is prohibited.