Map of the Alhambra Palaces, Gardens, Areas and Monuments Nearby
Here you can find
4 types of maps of the Alhambra
which show different view of the monumental complex.
3D Map of the Alhambra Buildings
This map shows the Alhambra buildings, the nearby districts and streets, and the recommended routes at the camera's viewing angle set to 45 degrees.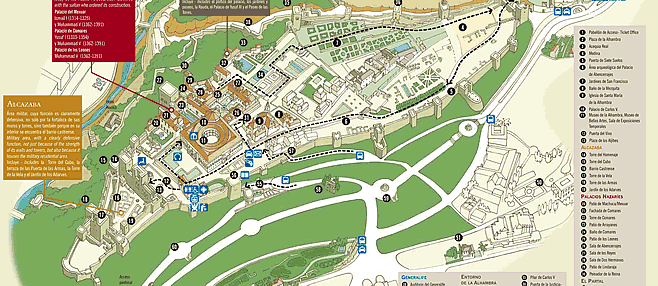 ☞
If you want to enjoy a
special day in the Alhambra
, you can
reserve a guided tour
:
☆
Alhambra Guided Tour
: discover the wonders of the Alhambra with this tour that
includes everything
: the Nasrid Palaces, the Generalife, the Alcazaba, etc.
☆
Albaicin and Sacromonte Guided Tour
: discover this
old arab quarter
of Granada with this
guided tour
.
The Alhambra and Surroundings Map
A larger two-dimensional map which shows the Alhambra palaces, Generalife the surroundings of the monument, including the historic neighborhoods of Albaycín and Realejo.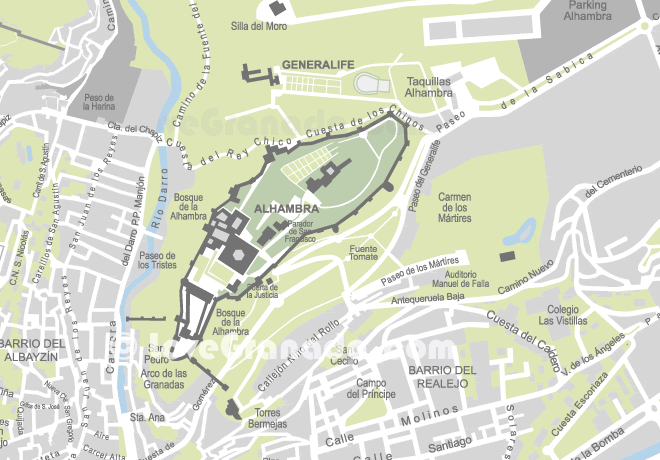 Here you can find how the Alhambra is connected to the rest of the city. It will help you to organize your visit to the Alhambra and other tourist attractions.
Map of the Main Areas of the Alhambra
A simple and easy to use map which shows the main areas and the services available in the Alhambra and also the recommended itinerary for people with reduced mobility.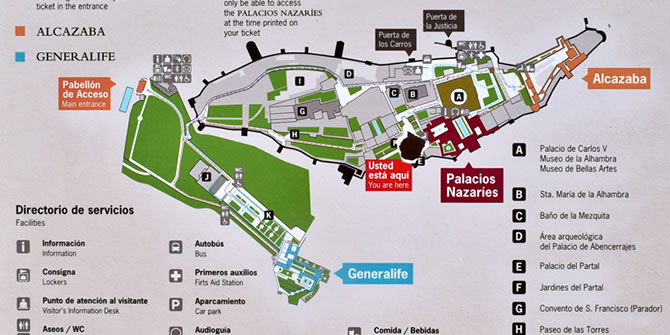 Where the Alhambra is Located in Granada
Google map shows 2D map, satellite view, hybrid and terrain map of of the Alhambra.
You Might Also Be Interested In
Page Updated: Jan 05, 2022
©
Copyright
• LoveGranada.com • Any use of the content, including copying of it in whole or in part is prohibited.