Plaza de Bib Rambla in Granada - Great Place Eat and People Watch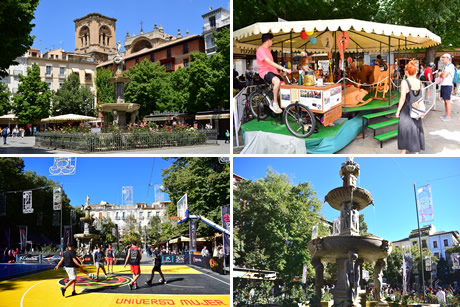 Plaza Bib Rambla is also called Plaza de las Flores (Square of Flowers).
In the centre of the square is the Gigantones Fountain from the seventeenth century.
The Plaza (Square) Bib Rambla is named after Bab ar Ramia, meaning a 'wall gate'. It was used in Moorish times for bull running.
The square today has a relaxing atmosphere, especially in the celebrations of the Day of the Cross and Corpus Christi.
Located in the heart of commercial Granada with the numerous shops and markets nearby. Nice place to sit, eat and people watch.
©
Copyright
• LoveGranada.com • The reproduction of the whole content or parts of it is prohibited
Personal data
protection policy
.
You Might Also Be Interested In
Opinions about Plaza Bib Rambla in Granada
Its lovely place but not for eating
Its a lovely square and I highly recommend to visit. However never plan to eat anything from the restaurant within or near the Square, all those restaurants are tourist traps (Ali).