Paseo de los Tristes in Granada - a Beautiful Walkway in the Shadow of the Alhambra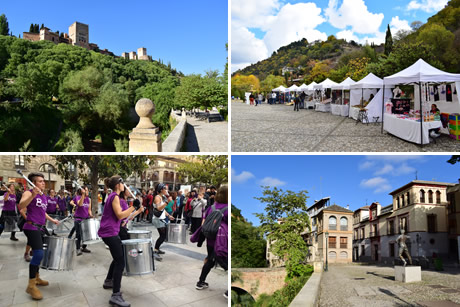 Paseo de los Tristes
offers stunning views of the
Alhambra
and begins at the point where it crosses the Bridge of the Chirimias; the Chirimias are a kind of flute that was once played from a balcony or veranda built there for such use.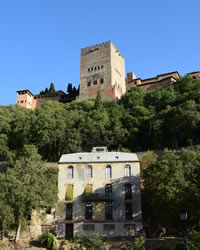 ☞
If you want to
enjoy a special visit
these guided tours offer unique opportunity to discover Granada.
☆
Alhambra + Albaicín + Sacromonte Tour
: a
combination of the complete tour
of the Alhambra (Palaces, Alcazaba, Generalife) + the Albaicín + the Sacromonte.
☆
Albaicin and Sacromonte Guided Tour
: discover this
old arab quarter
of Granada with this
guided tour
.
Although the Paseo de los Tristes is officially
called Andres Manjon
, it is known by this name because funeral processions on the way to the cemetery once passed through it.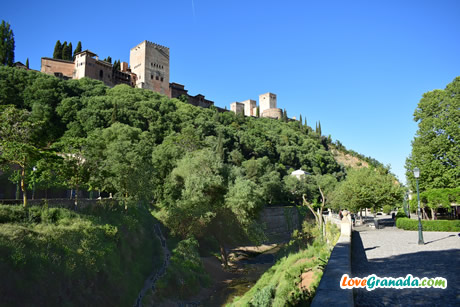 Paseo de los Tristes was, until the nineteenth century,
one of the busiest areas
in Granada where
festivals and feasts
took place.
Paseo de los Tristes was laid out in 1609 on land provided by the Lords of Castril.
There still exists the small building with a tall square-shaped tower and façade decorated with the shields of Granada, near the high bridge of Chirimias.
The fountain in the middle of the Paseo de los Tristes
dates from 1609
.
To the left
of the Paseo de los Tristes, facing the Alhambra, extended the Districo of the Axares. The Moors called it the Hospital of Africa for its beauty and cool climate.
How to Get to the Paseo de los Tristes
Take the bus route C31, C32 or C34, bus stop 'Paseo de los Tristes'.
You can also go to the Cathedral or
Plaza Nueva
(500 meters away from Paseo de los Tristes) taking buses number 4, 8, 11, 21, 33, bus stop Gran Via 1 and walk for 5 minutes.
For more information, see
Alhambra buses
and
urban buses
.
You Might Also Be Interested In
Page Updated: Aug 12, 2020
©
Copyright
• LoveGranada.com • Any use of the content, including copying of it in whole or in part is prohibited.
Opinions about Paseo de los Tristes in Granada
Right beneath the Alhambra
A very crowded area at the foot of the Alhambra. Here you will walk by the river Darro (it´s more of a stream than a river) and enjoy amazing views, specially at night.
There are very interesting places here, such as the Arab baths (Bañuelo) and the Archaeological Museum. The place is full of restaurants and bars with terraces. Too touristy for my liking.