Eating Out in Granada - Cuisine and Best Places to Eat and Drink in Granada
The gastronomy of Granada represents the tradition of Arabo-Andalusian cuisine. On one hand the Arab heritage is evident in the use of spices and, secondly, the wide variety of raw materials, determined by the great differences of geography and climate in different regions of Granada.
One of the regional dishes of Granada are beans with ham, a pot of San Anton, the Sacromonte omelette, Andalusian gazpacho with garlic and the grilled sardines on the beaches of the Tropical Cost.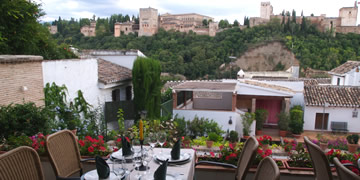 Restaurants in Granada that offer traditional flavors and exquisite dishes. Restaurants with flamenco shows and spectacular views.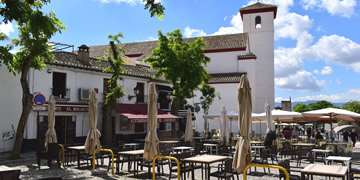 Bars in Granada that suit everybody's taste: tapas bars, trendy hotspots, traditional tabernas, nightclubs, some with live jazz and flamenco shows.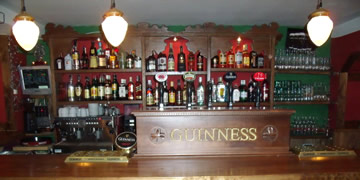 Granada's modern night clubs and lively pubs, interesting Irish bars in Granada, wine bars offering fantastic selection of Spanish wines and beers.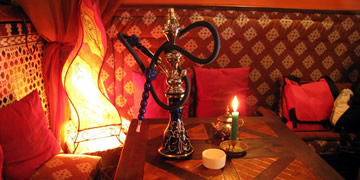 Tea houses of Granada with an exotic atmosphere where you can relax and have a cup of coffee or tea, eat a lovely Arabic cake or a savory crepe.
Some of the typical regional dishes of Granada are famous Trevelez ham, cured in the mountains, the Habas con Jamon (fava beans with serrano ham), olla de San Anton (the pot of San Anton), Andalusian gazpacho, choto al ajillo (a kind of sausage with wrapped intestines) and tortilla of sacromonte (sacromonte omlette).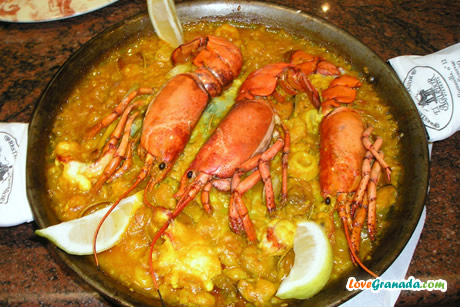 One of the most delicious dishes of Granada is sacromonte omlette. For it to be authentic it should contain cooked sliced veal brains and bull's testicles, all diced and finally mixed with beaten eggs. Do not worry, it is usually not made this way.
Typical dishes from the Alpujarras are patatas a lo pobre - slowly fried potatoes with olive oil with peppers and eggs, the plato alpujarreno (fried potatoes with onion and peppers, ham, fried egg and sausage), Alpujarras crumbs and puchero a la gitanilla (Gypsy stew).
In the Vega the typical food is ajoblanco (cold soup that contains olive oil, almonds and garlic), in Guadix is stew or marinated in sauce partridge, rabbit and lamb with sherry.
The cuisine of Granada also offers the sweet dessert made by nuns: soplillos, cakes of glory, the cake of Motril.
The wine is traditionally produced in the Contraviesa, most is produced in small family wineries with traditional techniques and some have been officially recognized, these vines bear the designation of origin Costa mark. Also the vineries are beginning to emerge in other areas of Granada: Baza, Guadix, Huesca, Albolote, Motril, Lecrín, etc...
Cafeterias in Granada - Chocolate and Churros
As for coffee, Cafe Central, in Elvira Street N 3, is a point of get-together of many Granadians; Grand Cafe in the Plaza Mayor; Irish Tavern Hannigan and Sons with a wide selection of domestic and international beers; Plaza Mayor in Recogidas street; Gran Cafe y Cafe Centro.
The chocolate and churros are very popular in the city. In almost all bars in the Plaza de Bib Rambla serve it for breakfast or snack. Another area where you can try good chocolate and churros is the Alhambra Cafe, Mesones street 27.
You Might Also Be Interested In
©
Copyright
• LoveGranada.com • Any use of the content, including copying of it in whole or in part is prohibited.