Buses that Link Alhambra, Sacromonte and Albaycin and the City Centre
Alhambra Bus provides services which, owing to the city's special geographical features, cannot be developed by the ordinary (long) Urban Transport Service.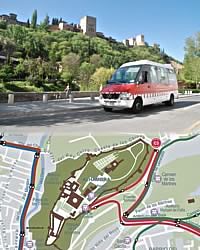 Alhambra Bus (and Transportes Rober) manages the four urban transport routes known as touristic routes, since they link the city with the
Alhambra
,
Sacromonte
and
Albayzin
.
These are the routes
C30
(
Alhambra
- Centre),
C31
(
Albaycin
- Centre),
C32
(Alhambra - Albaycin),
C34
(
Sacromonte
- Centre).
The Alhambra, Albaycin and Sacromonte Bus Fares, Year 2021
The
Alhambra Bus fares
are the same as those of other urban buses. You can use the same travel card on Alhambra and other (bigger) urban buses.
Travel Card 5 € (5 trips)
0,87 €
Travel Card 10 € (11 trips)
0,85 €
Travel Card 20 € (24 trips)
0,83 €
Monthly Card (30 days)
41 €
Regular Ticket at Night
1,50 €
Routes of the Alhambra, Albaycin and Sacromonte Buses
Click images to see the Alhambra, Albaycin and Sacromonte bus routes.
Frequencies and Timetables of Alhambra and Albaycin Buses
The average bus frequency: C30 and C31 routes is about 12 minutes, route C32 is 10 minutes and route C34 is 20 minutes.
More information about Granada city buses in the
general map
and
bus timetables
.
How to get to the Alhambra from the Bus and Train Station?
There is no direct bus from Granada Bus and Train Stations to the Alhambra.

How to Get from Granada Train Station to the Alhambra
From
Granada Train Station
take any bus on Avda de Constitucion (1 min from the train station) direction Cathedral and get off at Gran Via 1 (Cathedral); than in Pavaneras street (1 min from the Cathedral, near Isabel la Catolica Square) take bus C30 to the Alhambra. Total travel time is about 25 minutes.
How to Get from Granada Bus Station to the Alhambra
From
Granada Bus Station
take route 33 and get off at the Cathedral, than in Pavaneras Street (Plaza Isabel Catolica) take bus C30 to the Alhambra. Total travel time is about 35 minutes.
Page Updated: February 27, 2020
©
Copyright
• LoveGranada.com • The reproduction of the whole content or parts of it is prohibited
Personal data
protection policy
.
Opinions about Alhambra Buses
Smiling Drivers
Taking thèse buses has béen one of thé many good surprises during our stay in Granada. Very helpful and smiling drivers (Lavigne).
Good Bus Drivers
Thank you to your bus driver, Ruben, on route 30, bus 142 on Monday, Feb 3. He saved us from a vacation disaster by finding and retu
ing our car keys which we dropped on his bus. He also refused a reward. A truly valuable employee and an excellent representative of your city. Please thank him once more for us!! (Kathleen).
Helpful and patient
Very pleased with the helpful and patient bus drivers, thank you from a tourist that doesn't speak Spanish and appreciated their patience.
C30 and C32 have been terrific
The C30 and C32 buses have been terrific. We are tourists and have been very pleased.
I felt safe riding buses
As a lone, older, female traveler I felt safe riding your buses. They were fairly handy for me in my travel around the area, especially since my hotel is only handy to Alhambra on foot. (I'm staying at the Alixares).
Tonight I had a problem with bus#144. I let the driver know I needed off at Alhambra. He did not stop! And I was not getting off at the next stop that was too far for me to walk from and it was dark!
I just stayed on the bus until it was at Plaza Isabela. Then I got off and took a taxi to my hotel.
I don't read Spanish and most of the drivers don't speak much English so I paid full fare each and every time I rode the bus -no benefit of a travel like in Madrid.
Anyway, though you should know. It kind of spoiled my last night here... otherwise I probably would have rated the service 5 star.
(LG: if you take urban buses several times, it is better to buy a travel card, each trip would be 40% cheaper than buing a single ticket).