Royal Chapel of Granada - Burial Place of the Catholic Monarchs
The Royal Chapel is located between
Granada Cathedral
, the old Fish Market and the Church of Sagrario. The construction of the Royal Chapel of Granada wss ordered by the Catholic Monarchs in 1504 as a place of burial for their bodies.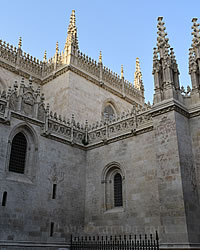 The monarchs died before the chapel was finished, and their bodies rested in the convent of San Francisco de
la Alhambra
(today the Parador Nacional de Turismo) until the Royal Chapel was completed.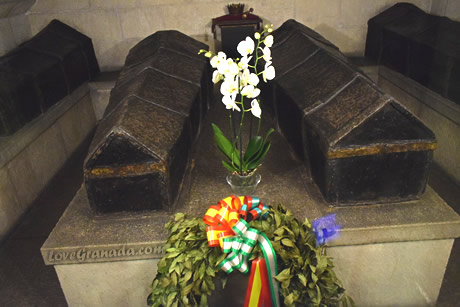 Charles V was subsequently commissioned in 1521 to move the bodies of his grandparents to the newly completed chapel.
Carlos V buried almost all the dead of the family in the Royal Chapel, including Ferdinand and Isabella, Philip the Handsome and Joanna the Mad, his wife Elizabeth, their children and Princess Maria of Portugal, wife of Prince Philip.
It was Philip II who moved everyone buried in the chapel to his newly built Escorial. He left only the Catholic Monarchs and their children Philip and Juana, who currently lie with their parents.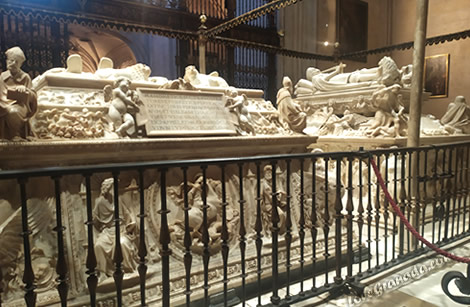 The burial monument of the Kings is the work of the Italian Domenico Fancelli, who built it in Genoa with Carrara marble, while that of Joanna the Mad and Philip the Handsome is the work of Bartholomew Ordenez.
La Capilla Real de los Santos Juanes is embedded in the Cathedral and set in a magnificent setting of the historic city centre.
It is one of those monuments that any city in the world would be proud of.
The original main entrance to the Royal Chapel of Granada is inside the Cathedral. The current entrance to the Royal Chapel is through la Lonja, from where you start your visit.
Royal Chapel Entrance Prices and Opening Hours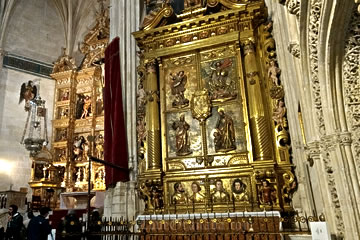 Opening Hours:
From Monday to Saturday: 10:15 - 18:30 hours; Sunday: from 11:00 to 18:30 hours.
Admission Prices
General admission:
for individuals and groups: 5 euros (free audioguide included).
Children
under 12: free entry.
Students
and
people with disabilities:
3,5 euros.
•
Free entry:
every Wednesday form 14:30 to 18:30 (booking required).
Royal Chapel Location and How to Get There
The Royal Chapel is part of the Cathedral complex, next to the Cathedral itself.
It is located in a privileged area of the city, near the Alcaiceria, the Bib-Rambla square, the Madraza and
Plaza Isabel la Catolica
.
You can get to Royal Chapel of Granada using
Granada city buses
, routes 4, 8, 11, 21, 33 (the bus stop is 'Gran Via 1' or Cathedral), routes C31, C32, C34 (the bus stop is 'Plaza Isabel Catolica').
Address:
Royal Chapel, Gran Via de Colon 5, 18001 Granada.
Telephone
: 958 227 848.
©
Copyright
• LoveGranada.com • The reproduction of the whole content or parts of it is prohibited
Personal data
protection policy
.
You Might Also Be Interested In