Basilica of Angustias - One of the Most Beautiful Baroque Churches in Spain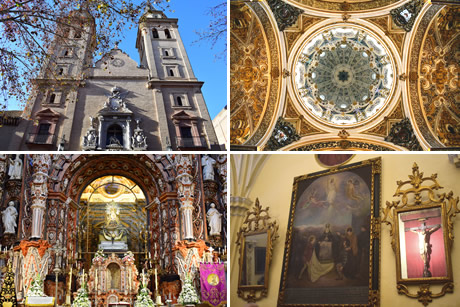 The
construction
of the Basilica of Angustias
began in 1617
under the supervision of Juan Luis Ortega.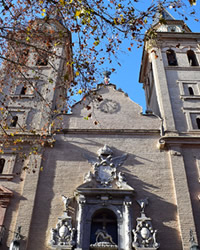 ☞
If you want to
enjoy a special visit
these guided tours offer unique opportunity to discover Granada.
☆
Alhambra + Albaicín + Sacromonte Tour
: a
combination of the complete tour
of the Alhambra (Palaces, Alcazaba, Generalife) + the Albaicín + the Sacromonte.
☆
Albaicin and Sacromonte Guided Tour
: discover this
old arab quarter
of Granada with this
guided tour
.
It has a nave, transept, and chancel with eight sides. Its facade is flanked by two tall towers with pinnacles covered with tiles, and on the front there is an alcove that houses a "Pieta" by
Bernardo and Jose de Mora
.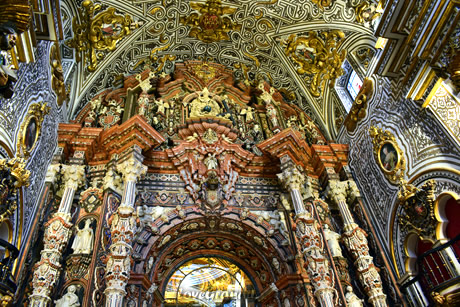 Inside the Basilica of Angustias
, there are shelves on which stand statues of the Apostles, the work of Pedro Duque Cornejo, as well as paintings by artists of the Baroque school of Granada, such as Juan Leandro de la Fuente, Ambrosio Martinez and Miguel Jeronimo de Cieza, and other retablos.
In the centre of altarpiece
is the image of Our Lady of Sorrows. Originally this was a Soledad carving with arms close to the body and hands folded, without a blue tunic or mantle.
Opening Hours of the Basilica de las Angustias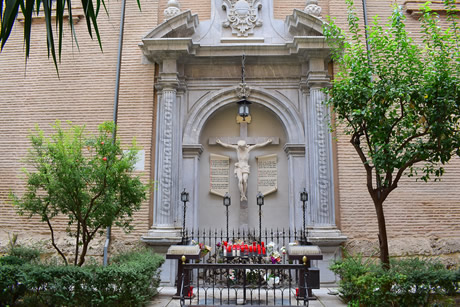 The Basílica is open on working days
mainly for prayers
, however visits are allowed in the morning from 11:30 to 13:00 and in the afternoon from 18:00 to 19:30. Please, be respectful.
At the moment you cannot visit the church except for the mass.
Mass schedule (working days)
08:00, 11:00 y 20:00 hours.
Holidays and Sundays
08:00, 11:00, 12:30, 13:30, 18:00 hours.
Contact Details
Address
: Basilica Nuestra Senora de Las Angustias, Carrera del Genil s/n, Granada. It is close to Puerta Real.
Telephone
: 958 226 393.
You Might Also Be Interested In
Page Updated: Sep 17, 2020
©
Copyright
• LoveGranada.com • Any use of the content, including copying of it in whole or in part is prohibited.
Opinions about Basilica of Angustias in Granada
Extraordinary church
Plain exterior but inside is a extraordinary church full of details. Amazing architecture and beautiful chapels. The main altar is incredible. Well worth the visit.
Very popular with the local people devoted to the Virgin Mary, patron saint of Granada. Visit when there is a Mass.