San Jerónimo Monastery - One of the Best Works of Gil de Siloe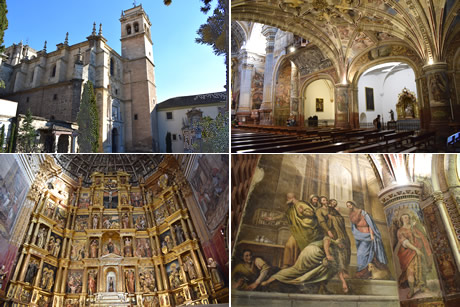 San Jerónimo Monastery in Granada is the first monastery to be built after the conquest of the city by the Christians. Here was buried the Great Captain.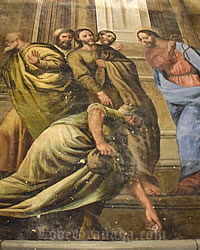 The construction of the monastery of San Jerónimo began in 1496, at a place called the Almoravid, now occupied by the hospital of
San Juan de Dios
.
All the stones used for its construction were taken by the Kings from the Arab gate of Elvira.
The first courtyard of the Monastery of San Jerónimo has thirty-six semicircular arches with shields with the initials of kings, the first Archbishop of Granada and the monk Jeronimo Hernando de Talavera.
The second has short arches in the Gothic style.
The main attraction of the Monastery of San Jerónimo is the sacristy, one of the best examples of Spanish Baroque.
The viewer is dazzled by the sight of the effect the light has on the ornamentation created by Luis Cabello, who produced more than a thousand carvings.
The Monastery of San Jerónimo also has one of the best works of Gil de Siloe, his beautiful altar.
Entrance Tickets and Opening Hours of the Monastery
Opening Hours of the San Jerónimo Monastery
Mornings from Monday to Sunday: 10:00 - 13:30.
Evenings: 15:30 - 18:30 in winter and 16:00 - 19:30 in summer time.
Mass is on Sundays at 10:00, daily at 9:00.
Entrance Tickets to the San Jerónimo Monastery
The entrance fee is
4 euros
. Children under 10 years:
free
.
Guided tours on Sundays at 11:00. Price:
7 euros
(including the entrance to the monument).
Location and How to Get to the Monastery
Address
Calle Rector Lopez Argueta 9, Granada.
Telephone
958 279 337.
How to get there
You can reach Monasterio de San Jeronimo in
City Bus
route 25, bus stop 'Cran Capitan'. You can also take buses U2 and U3 which stop nearby.
©
Copyright
• LoveGranada.com • The reproduction of the whole content or parts of it is prohibited
Personal data
protection policy
.
You Might Also Be Interested In