The Bañuelo in Granada - Well Preserved 11th Century Arabic Baths
Walking along the street you can easily miss the door of these impressive and well-preserved
Arab baths
, the Bañuelo, also known as Aammim Alyawza (Baños del Nogal).
The Bañuelo baths are located at the bottom of a private house in the
Carrera del Darro
, at the foot of
the Alhambra
, and show how skilled the Spanish Arabs were a thousand years ago.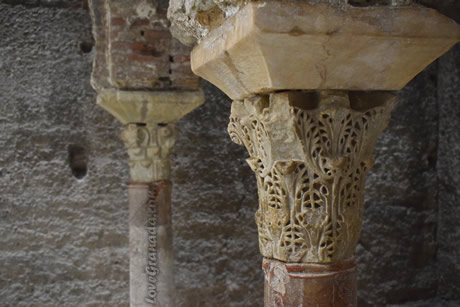 The Bañuelo of Granada is one of the few such establishments that were saved from destruction by the
Catholic Monarchs
, as among the Christians they had a reputation comparable to that of brothels.
These Arab baths have survived because of the building on top of it of a private home, commenced almost from the day of the Spanish occupation of the city.
In 1918, The Bañuelo was declared a National Monument and was restored by the architect Balbas.
Surprises to be found in The Bañuelo are their large size and good level of conservation. Beautiful porticos are based on the Arab style.
Construction of The Bañuelo seems to date from the Eleventh Century. The baths are undoubtedly the oldest and best-preserved Arab baths in Spain, and the oldest work of Muslim Granada.
You can access The Bañuelo through a small house, renovated in the
Christian era
. Its rooms are rectangular and it has various chambers with brick arches, with a star-like window in the roof for allowing in light.
Opening Hours and Ticket Price of the Bañuelo
The Bañuelo is open from Monday to Sunday.
15 September - 30 April
10:00 to 17:00.
1 May - 14 September
9:30 to 14:30 and 17:00 to 20:30.
Closed on 25 December and 1 January.
The ticket called
Monumentos Andalusíes
, which you can buy on the Alhambra webpage, will allow you to visit the
Bañuelo
and 3 more monuments: the
Dar al-Horra Palace
, the
Horno de Oro House
and the
Corral del Carbón.
.
This joint ticket costs only
5 euros
.
The entry to these monuments is free on Sundays.
Location and How to Reach the Bañuelo
You can reach the Bañuelo by
Granada city bus
routes C31 and C32, the bus stop is 'Banuelo', or walking. Bañuelo is close to
Plaza Nueva
.
Address: Carrera del Darro 31, Granada. Phone: 958 575 131.
Page Updated: March 23, 2020
©
Copyright
• LoveGranada.com • The reproduction of the whole content or parts of it is prohibited
Personal data
protection policy
.
Opinions about Arab Bath Bañuelo in Granada
Insight into Moorish life
Very well preserved moorish baths, worth a visit. Interesting bit of history. They give you insight into Moorish life and the costumes of people in Granada. Catholic kings removed all arab bath in Granada and elsewhere so it is amazing that they survived almost intact.
Each room was build for different purpose: for soaking, for hanging clothes and for steam. If you buy the Doble d'oro ticket to the Alhambra, the Bañuelo is included in this ticket.