Chapiz House in Granada - Casa del Chapiz History and Information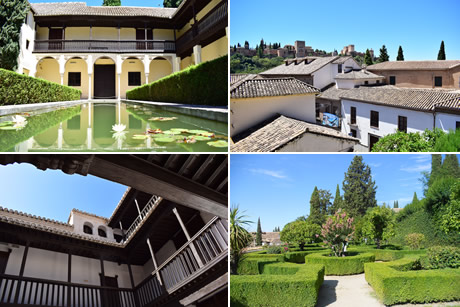 Turn left at the end of
Paseo de los Tristes
, and a little further along, at the crossing where the
Camino del Sacromonte
begins, two mansions are situated which are known as
Chapiz House
.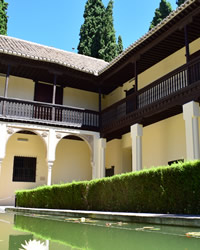 ☞
If you want to
enjoy a special visit
these guided tours offer unique opportunity to discover Granada.
☆
Alhambra + Albaicín + Sacromonte Tour
: a
combination of the complete tour
of the Alhambra (Palaces, Alcazaba, Generalife) + the Albaicín + the Sacromonte.
☆
Albaicin and Sacromonte Guided Tour
: discover this
old arab quarter
of Granada with this
guided tour
.
Chapiz House belonged
to two Arab families who became
new Christians
when the city was conquered. They were called Lorenzo el Chapiz y Hernan Lopez el Feri.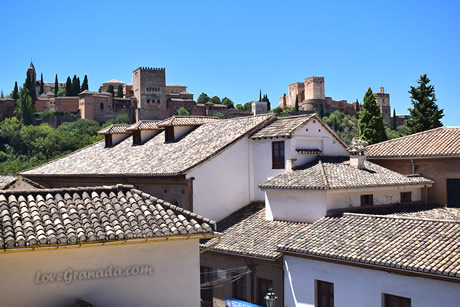 The
top part of the house
cantains offices which cannot be visited, but worth a look is the garden with a beautiful view of the
Alhambra
and
Albaycin
and two lovely patios.
You can also have a look at the library if you are fond of Islamic culture.
To the right
of the Cuesta del Chapiz up the Camino del Sacromonte are the
flamenco shows
at night in the Caves of Sacromonte.
Just before Casa del Chapiz is the
Palacio de los Cordova
which is also an interesting place to visit.
Entrance Fee and Opening Hours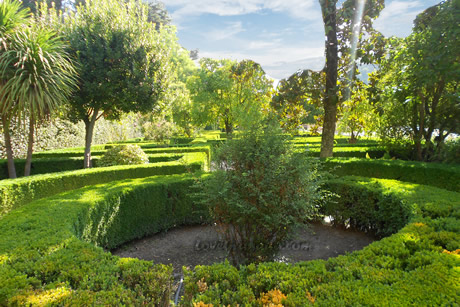 Entrance Fee
The entrance fee is
2 euros
. If you bought the combined ticket called
Dobla de Oro
, this visit is free.
Opening Hours
Monday to Sunday from 10:00 to 17:00 hours.
Contact Details and How to Get There
Address
Cuesta del Chapiz 22, Granada 18009 (200 meters after the Paseo de los Tristes).
Telephone
958 222 290
How to get there
You can reach the House of Chapiz in
Alhambra Bus
: Route C31 o C32 bus stop 'Peso de la Harina' after
Paseo de los Tristes
.
You Might Also Be Interested In
Page Updated: Aug 09, 2020
©
Copyright
• LoveGranada.com • Any use of the content, including copying of it in whole or in part is prohibited.
Opinions about Chapiz House in Granada
Two moorish houses with views of the Alhambra
Two restored Moorish houses from the 16th century connected to each other by an arch with beautiful gardens, a typical patio in the center, a lovely long lily pool and beautiful views of the Alhambra. It is a small, not a well known place, but it is worth a quick visit. Only two euros.