San Gil and Santa Ana Church in Granada - History and Information
This is a little Mudejar church right where the
Carrera del Darro
begins.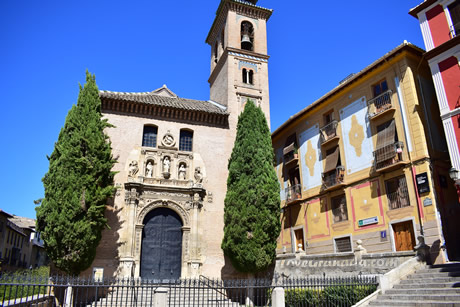 The Church of Santa Ana in Granada was built in 1501 in place of the mosque of Almanzra. In this church Mariana de Pineda, a nineteenth-century heroine executed for embroidering a liberal flag, was married.
The Entrance Price
The entrance to Santa Ana Church is
free
.
Opening Hours
This church is open for prayers. Visits are allowed when there are not Eucharistic liturgy and other worship services.
Summer time Mass
(June - September):
Working days: 19:00 (except Mondays).
Sunday and Holidays: 12:30 and 19:00.
Winter time Mass
(Octuber - May):
Working days: 18:00 (except Mondays), Sundays and Holidays 12:30 and 18:00.
Contact Details and How to Get There
Address
Plaza de Santa Ana 1, Granada 18009.
Telephone
958 225 054.
How to get there
The Church of Santa Ana is next to the Plaza Nueva.
You can get to the church by routes 4, 8, 11, 21, 33 (the bus stop is 'Gran Via 1' or Cathedral), C31, C32, C34, (the bus stop is Plaza Isabel Catolica).
urban bus
.
©
Copyright
• LoveGranada.com • The reproduction of the whole content or parts of it is prohibited
Personal data
protection policy
.
You Might Also Be Interested In