The Madrasah or Madraza - the First 13th-Century University in Granada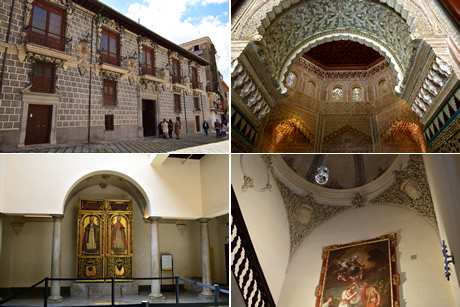 The Madraza was the first university in Granada, founded by Yusuf I in 1349, who gave the building all the Nasrid splendorous style.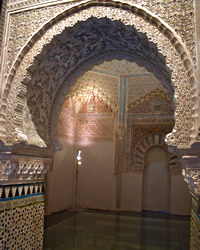 There were relevant poets, philosophers, politicians, doctors, etc... among its students and teachers. For instance, Ibn al-Khatib or Ibn Zamrak, whose poems decorate the walls and fountains of
the Alhambra
.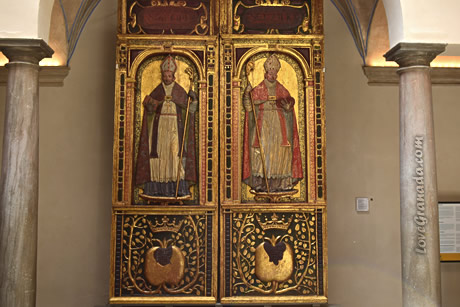 Located in the
heart of Granada
, in Oficios Street, is
the only Nasrid building
that remains in this area, a very important area at that time since here was the main Mosque of Granada and the main bazaar:
the Alcaicería
.
The name Madrasah (Madraza in Spanish) comes from the Arabic word "medersa", meaning Koranic school or college.
The
Catholic Monarch
, Ferdinand II, gave the building to the Cabildo´s house (town hall)
in 1500
, after the content of its library was burnt by Cisneros in Plaza Bib-Rambla. It was, sadly, one of the biggest public bonfires across Europe.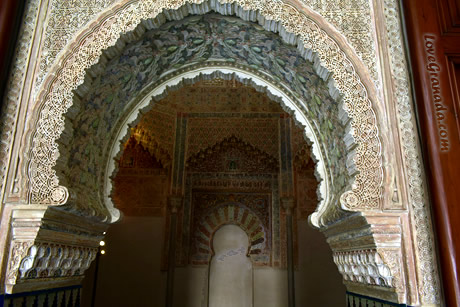 And since then it has been completely transformed to reach its
current baroque appearance in 1722
, demolishing the remains of the former Arab construction.
Until 1841 the Town Hall was located here - also known as the Old Town Hall - and finally, the state recovered it in 1943.
Nowdays is part of the University of Granada and became the headquarters of the
Real Academia de Bellas Artes
Nuestra Señora de las Angustias (Royal Academy of Fine Arts).
From its Nasrid splendorous past we can see only the Oratory and its beautiful mihrab. Admire its amazing octagonal dome. However, it underwent extensive restoration work. The rests of its white marble facade are at the
Archaeological Museum of Granada
.
Madraza Entrance Price and Opening Hours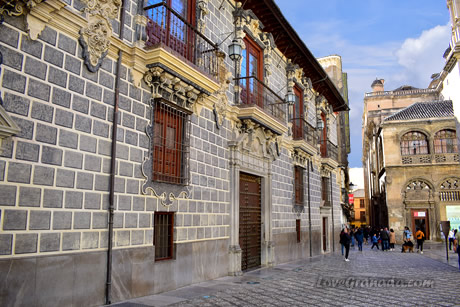 Openning Hours
Monday to Sunday from
10:00 to 20:00
(summer time) and from
10:00 to 19:00
(winter time).
Guided tours everyday at
10:30
(in Spanish)
Entrance fee
Entry to the Madraza is
2 euros
.
Contact Information and How to Get to the Madraza
Address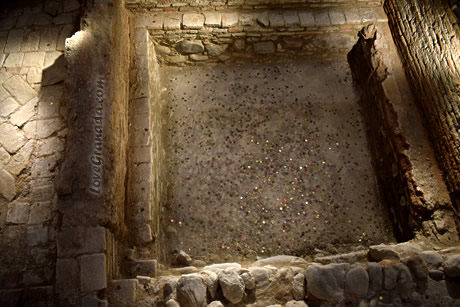 The Madraza is located at the heart of Granada in Calle Oficios, near the
Cathedral
, in front of the
Royal Chapel
(Capilla Real).
Telephone
958 99 63 50.
How to get to Madraza
You can reach the Madraza by the
city bus
, routes 4, 8, 11, 21, 33 (the bus stop is 'Gran Via 1' or Cathedral), routes C31, C32, C34 (the bus stop is 'Plaza Isabel Catolica').
Page Updated: February 18, 2020
©
Copyright
• LoveGranada.com • The reproduction of the whole content or parts of it is prohibited
Personal data
protection policy
.
Opinions about Madraza of Granada
A hidden Moorish treasure that was covered over for years
Because it was covered over by the Christians it wonderfully preserved and well worth a visit.
I have left my heart in Granada
Of all of the cities in the world I have visited, I have left my heart in Granada. It has a warm feel, and feels like home for me (Paul).