Church of Santo Domingo in Granada - Baroque, Gothic and Renaissance Styles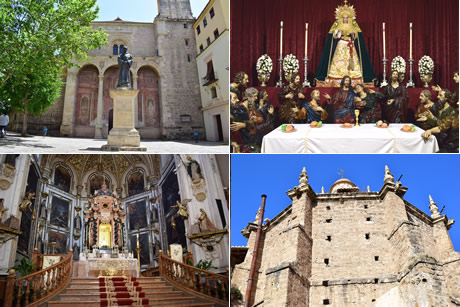 Santo Domingo Church
has
several styles
: Baroque, Gothic and late Renaissance.
It was part of
the Monastery of Santa Cruz, begun in 1512 in the Gothic style, to which relate its bows and wineries, while the rest of its decorations are Roman.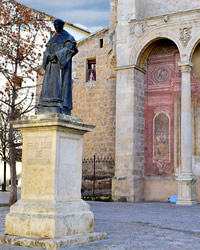 ☞
If you want to
enjoy a special visit
these guided tours offer unique opportunity to discover Granada.
☆
Alhambra + Albaicín + Sacromonte Tour
: a
combination of the complete tour
of the Alhambra (Palaces, Alcazaba, Generalife) + the Albaicín + the Sacromonte.
☆
Albaicin and Sacromonte Guided Tour
: discover this
old arab quarter
of Granada with this
guided tour
.
The building of the church was interrupted on completion of its shell and resumed years later
in 1532
. It is not known who was the architect or the director of construction.
In front of the church
entrance there is a stone portico with three arches on its Doric columns with the initials of
Ferdinand and Isabella
, their shield, the Emperor, and the motto "Tanto monta" in the centre.
Above the porch
is a window with two arches, separated by a columella, decorated with the sculptures of Ferdinand and Isabella's victories.
To the right
, near the bell tower and joined to the main entrance, the Convent was built.
Opening Hours of Santo Domingo Church in Granada
The Church of Santo Domingo of Granada is open during prayers.
From Monday to Friday: 18:30-20:00 h. Saturdays and Sundays for liturgical celebrations.
Mass schedule: Monday-Saturday mornings 9:00 and afternoons 20:00.
Sundays and public holidays: 10:00, 12:00, 13:00 y 20:00 (from 1 July to 15 September there will be no mass at 13:00).
Location and How to Get to Santo Domingo Church
You can reach the church in
Granada city bus
: route C30 and C32, bus stop 'Santo Domingo'.
Address
: Santo Domingo Church, Granada - Plaza de Santo Domingo 1.
Telephone
: 958 227 331.
You Might Also Be Interested In
Page Updated: Jul 28, 2020
©
Copyright
• LoveGranada.com • Any use of the content, including copying of it in whole or in part is prohibited.
Opinions about Santo Domingo Church in Granada
Little Baroque and Gothic styles church
A pretty small active church Located in Plaza Santo Domingo. The interior is decorated in Baroque and Gothic styles and has several side altars and beautiful paintings. Open only before Mass at 9, check the mass schedule.
In front of the church you can find the statue of Dominican priest Fray Luis de Granada.
Beautifiul portico and life size carving
The impressive the 16th Century building with an original facade, arched columns, the shields of the Catholic Kings Ferdinand and Isabella and frescoes decorating the portico.
Life size carving of the Last Supper on the right as you enter is remarkable. This church was part of the Santa Cruz Monastery. Located in the old Jewish neighbourhood of Realejo. Worth a quick visit.