Archaeological Museum of Granada - Casa de Castril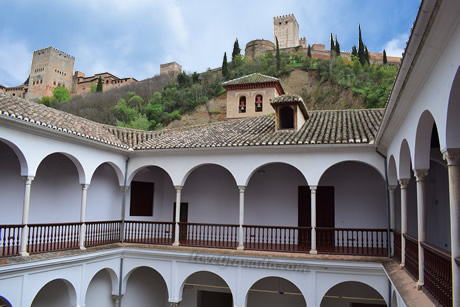 The
Archaeological Museum
is located at the
Casa de Castril
, a XVI century palace
built in 1539
by the heirs of Hernando de Zafra, the secretary of the
Catholic Monarchs
.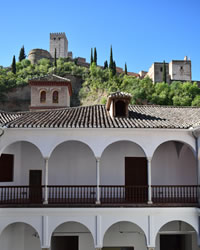 ☞
If you want to
enjoy a special visit
these guided tours offer unique opportunity to discover Granada.
☆
Alhambra + Albaicín + Sacromonte Tour
: a
combination of the complete tour
of the Alhambra (Palaces, Alcazaba, Generalife) + the Albaicín + the Sacromonte.
☆
Albaicin and Sacromonte Guided Tour
: discover this
old arab quarter
of Granada with this
guided tour
.
Its outstanding facade, in a plateresque style, is considered to be
Sebastian de Alcantara's work
.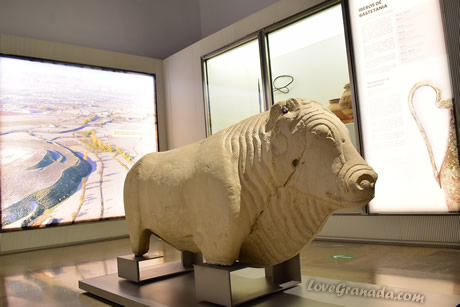 It was
founded in 1879
, becoming one of the first archaeological museums in Spain.
The Archaeological Museum of Granada has two floors and a
beautiful courtyard
. There are three galleries which host a collection of items from different historric periods.
Through valuable objects found in the province of Granada it shows the everyday life of the Iberians, Phoenicians, Romans and Moors, who
lived in Granada
many centuries ago.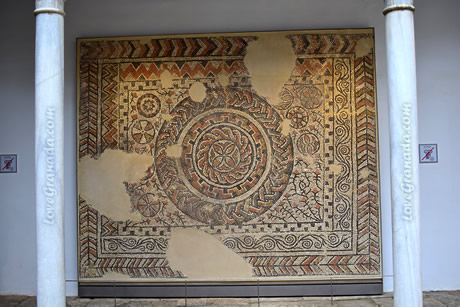 Room 1
explores human settlement in Granada through the Palaeolithic and Neolithic periods. There are very interesting items from
Orce
and the
Cueva de la Carigüela
.
In Room 2
the exhibition explores Phoenician and Greek culture through remains found in Granada.
Room 3
displays surviving objects from the Roman age and some treasures from the
Nasrid period
, such as the Ibn Zawal's astrolabe found in the Albaicín in 1481.
A final section in the patio displays large items, such as mosaics and capitals.
Entrance Fee
EU Citizens free. Other countries: 1.50 euros.
Archaeological Museum Opening Times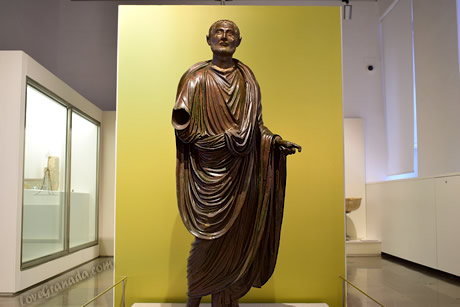 From September 1 to June 30
Tuesday to Saturday from 9:00 to 21:00. Sundays and public holidays from 09:00 to 15:00.
From July 1 to August 31
Tuesday to Sunday and public holidays from 09:00 to 15:00.
Closed
Closed on Mondays. Open on public holidays. Closed on 1 January, 6 May and 24, 25 and 31 December.
Contact Details and Getting to the Museum
Address and Telephone
Address
: Carrera del Darro 41, 18010 Granada.
Telephone
: 600 143 141.
How to Get There
You can get to the Archaeological Museum by bus C31, C32 or C34. Or you can get to the Isabel la Catolica Square near the Cathedral and walk for 2 minutes.
More Information in
Granada Buses
.
You Might Also Be Interested In
Page Updated: May 17, 2022
©
Copyright
• LoveGranada.com • Any use of the content, including copying of it in whole or in part is prohibited.
Opinions about Arqueological Museum in Granada
Interesting museum but not must see
Has three areas, each offers different periods of the history of Granada. The artifacts are nothing special but the museum has lovely courtyard with amazing view of the Alhambra from the second floor.
Probably the best artifact is the beautiful bronze Roman statue of a man.
Explanation boards in Spanish and English. Not a must museum but you can visit it if you are in the area.
History of Granada up to the Christian conquest
The recently reopened museum located in a beautiful old building called Casa de Castril built in 1539 on the Carrera del Darro. Has artifacts starting from Paleolithic.
Here you can learn about the history of Granada up to the Christian conquests and visit the gallery of the Moorish times. Some artifacts are thousand years old.