Fine Arts Museum in Granada - Information and Opening Times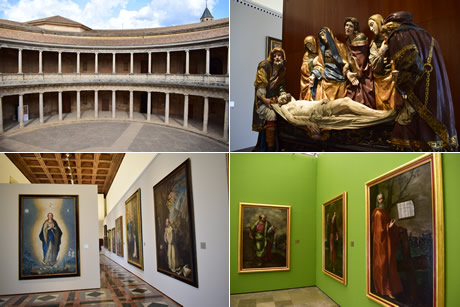 The
Fine Arts Museum in Granada
was the first
public museum
in Spain. It was
founded in 1839
and was temporarily located in different places until 1958, when its collection was finally brought to the Palace of Charles V, in
the Alhambra
. Today the museum has
over 2.000 items
.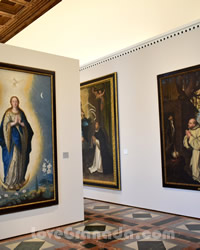 A good way to get to know Granada and its history is by taking a tour. There are several interesting free and private tours offered by Civitatis: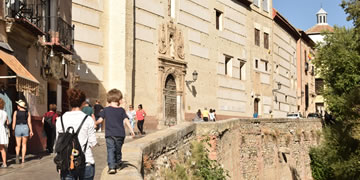 What better way to get to know the hisotric centre of Granada than on a
free walking tour
with a local expert guide?!
Discover the hidden treasures and secrets of Granada
exclusively just for you
and your partner, friends, or family.
An
essential part of its collection
is made up of religous art created for the many important monasteries and convents that
floursihed in Granada
under the patronage of the Catholic Monarchs.
There are paintings and sculptures from relevant
local artists
such as Alonso Cano, Machuca, Mariano Fortuny, José María López Mezquita o José María Rodríguez-Acosta.
One of the
most impressive item
is the sculpture "The Burial of Christ" by Jacobo Florentino (photo).
The
museum is located
on the first floor of the
Palace of Charles V
and
has nine rooms
for its permanent collection and one room for temporary exhibitions.
Artworks have been displayed in chronological order, beginning with Room I dedicated to the end of the XV century and Room IX focusing on contemporry art.
The Fine Arts Museum of Granada
has a library
specializing in Renaissance and Baroque paintings and sculptures.
Fine Arts Museum Opening Times
From 1 April to 14 October
Tuesday - Saturday from 09:00 to 20:00.
Sunday and Public holidays from 09:00 to 15:00.
Closed on Mondays (except on Mondays preceeding a public holiday). Also closed on 1 May.
From 15 October to 31 March
Tuesday - Saturday from 09:00 to 18:00.
Suday and Public holidays from 09:00 to 15:00.
Closed on Mondays (except on Mondays preceeding a public holiday). Also closed on 1 and 6 January, 24, 25 and 31 December.
Entrance Fees
The ticket price is 1,5 €.
Free entrance (with accreditation) for:

- Students.

- European Union citizens.

- Citizens over 65 years.

- ICOM members.

- Persons with disabilities (+ 33%)
Contact Details and How to Get to the Museum
How to Get to the Fine Arts Museum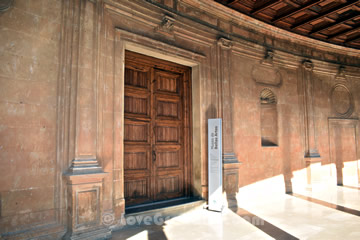 By Bus
: You can reach the museum in bus rutes C30, C32 or C35, the bus company is called
Alhambra Bus
, the bus stop where to get off is called 'Alhambra'.
By Car
: you can use Alhambra parking for your car. More information in
Alhambra parking
.
On Foot
: More information in
How to get to the Alhambra
.
Fine Arts Museum Contact Details
Address
: Explanada Palacio de Carlos V s/n, Recinto de la Alhambra, 18009 Granada.
Telephone
: 958 563 508.
You Might Also Be Interested In
Page Updated: Aug 20, 2020
©
Copyright
• LoveGranada.com • The reproduction of the whole content or parts of it is prohibited
Personal data
protection policy
.
Opinions about Fine Arts Museum in Granada
The best fine arts museum in Granada
The best fine arts museum in Granada, just above the Alhambra museum (which you should visit as well). Good selection of art pieces from ancient monasteries and churches of Granada.
This art museum has several rooms with more than 2000 beautiful paintings and sculptures by the finest artists of Andalucía like Alberto Cano, very famous sculptor and a painter. You can find a lot of his work in Granada.
The period of history starting from the Nasrid era up to the present day.
Worth a visit, only €1.50 entrance fee.
Good local art museum
The museum is located on the top floor of the Carlos V Palace inside of the Alhambra compound.
Good collection of the painting and sculptures from the Granada's artists from the 17th - 20th century.
In the 9th century the Spanish government expropriated all religious art from the monasteries and churches. Most of the objects found here are those expropriated items.