The Rodríguez-Acosta Foundation - The Artistic Legacy of Granada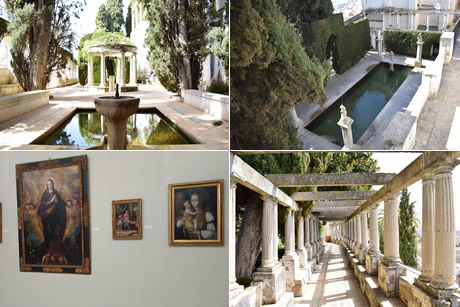 Jose María Rodríguez-Acosta
(1878-1941) was a famous Spanish painter from Granada who completely devoted himself to his art.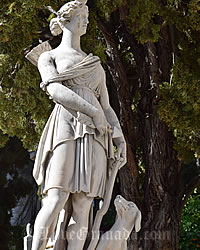 ☞
If you want to
enjoy a special visit
these guided tours offer unique opportunity to discover Granada.
☆
Alhambra + Albaicín + Sacromonte Tour
: a
combination of the complete tour
of the Alhambra (Palaces, Alcazaba, Generalife) + the Albaicín + the Sacromonte.
☆
Albaicin and Sacromonte Guided Tour
: discover this
old arab quarter
of Granada with this
guided tour
.
He built this beautiful
carmen
(traditional house with a garden) between 1916 and 1930 to take refuge and work here. It was declared a National Monument in 1982.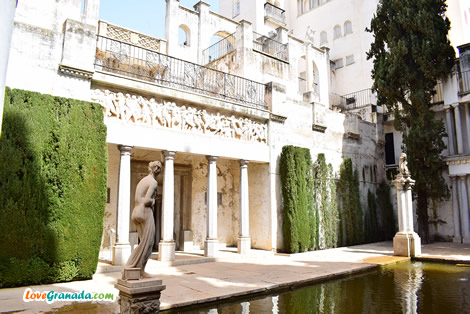 The house is a compendium of styles and was decorated with objects brought from all over the world, hence its exotic appearance.
It has beautiful romantic gardens with ponds, Palomino frescoes, statues, carvings from Baptist and paintings from Bocanegra, magnificent views over Granada and hidden tunnels.
It is located in the area surrounding the Alhambra, in the Mauror hill. This white house on top of the hill can easily be seen from all over the city.
The Foundation was established in 1941, after the painter's death, and in 1973 the Gómez-Moreno Institute was founded here too.
Its splendid collection includes the legacy of the Rodriguez-Acosta's family, the archaeological and artistic legacy of
Manuel Gomez- Moreno Martinez
(1870-1970), and the work of the painter
Manuel Maldonado Rodriguez
( 1915-1984), an essential artist in Granada, and the photographic legacy of
Jose Martinez Rioboo
(1888-1947).
Rodriguez-Acosta Foundation Entrance Fees
The Rodriguez-Acosta Foundation
can only be seen with a guided tour
.
This museum has
several types of visits
: standard tour, special tour, combined ticket Alhambra-Foundation and combined ticket Foundation-Madrasa.
Tickets can
only
be purchased online at fundacionrodriguezacosta.com. For group tickets (over 10 people) please contact: visita@fundacionrodriguezacosta.com.
Rodríguez-Acosta Standard Tour
The
standard tour
includes a tour of the different courtyards, terraces and the
museum
, which includes the private collection of the Granada historian Manuel Gomez-Moreno Martinez.
The general visit lasts
approximately 1 hour
and costs
5 euros
(the Library is not included).
Available from Monday to Sunday 10:00 to 14:00. Guided tours will
take place every hour
, 20 people maximum.
The underground gallery has been temporarily closed.
Rodríguez-Acosta Foundation Reduced Fees
EU citizens over 65 yrs: 4,00 euros.
European Youth Card holders: 4,00 euros.
Children 12 - 15 yrs (must be accompanied by an adult): 3,00 euros.
Children under 12, people with disabilites (over 33 %) and members of ICOM o ICOMOS: free entry.
The special tour is a more comprehensive visit, since it includes the painter's library and some other rooms.

It is available on Saturdays at 16:00 (15 Oct - 31 March) and at 18:00 (1 Apr - 14 Oct). It costs 11,20 euros (no discounts available).

Due to the small size of some of the areas included in this visit, the maximun number of people who can take this tour is 10.
Combined ticket Alhambra-Foundation
The
combined ticket Alhambra-Foundation
allows you to visit the Alhambra and the Rodríguez-Acosta Foundation with the same ticket.
You can buy the combined ticket only on the official website of the
Patronato de la Alhambra y el Generalife
.
It costs 17 euros (free for children under 12, but you have to get a ticket for them too).
Flexibility
: keep in mind that you don´t have to visit this museum the same day you visit the Alhambra.
You could visit the Rodríguez-Acosta Foundation a day before, the same day or a day after the date that appears on your combined ticket. Make sure you keep the ticket in a safe place, so you can use it again.
Combined ticket Foundation-Madrasa
The
combined ticket Foundation-Madrasa
allows you to visit the
Madraza de Granada
and the Rodríguez-Acosta Foundation.
This ticket can only be acquired at the Reception office in the Madraza. It costs 5 euros.
There is a walking distance between them of 20 minutes aprox. Make sure you keep the ticket in a safe place, so you can show it when asked in both places.
Free entrance
: on Fridays and Sundays at 13:00 and at 14:00 h.Tickets are given at the Foundation on the same day.
Rodríguez-Acosta Museum Opening Times
The Rodríguez-Acosta Museum is temporarily closed.
Special reduced opening times: Monday to Sunday from 10:00 to 14:00h.
Closed: 25 December and 1 January.
There are tours every 30 minutes.
Contact Details and How to Get There
How to Get to the Rodríguez-Acosta Foundation
Take the minibus
Alhambra Bus
route C30 and C32 from
Plaza Nueva
, get off at "Carmen de los Martires' bus stop.
The stop is only 100 meters away.
Tip:
it is impossible to park nearby. It is advisable to use
public transport
or walk.
You can also leave your car at the
parking of the Alhambra
.
Contact Details
Address
: Rodríguez-Acosta Foundation, Granada, Callejón Niño del Royo 8.
Telephone
: 958 227 497.
You Might Also Be Interested In
Page Updated: May 17, 2022
©
Copyright
• LoveGranada.com • Any use of the content, including copying of it in whole or in part is prohibited.